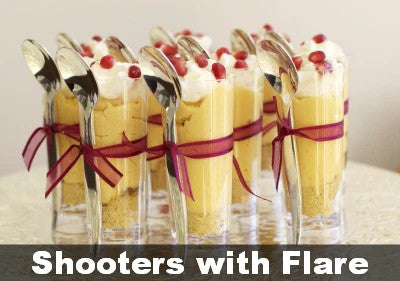 Dessert Shooters with Flare
Hello Smarties! We have bought some pretty unique dessert ideas for your next special event today. Yes, your guests will love them, whether it is served at a birthday party or a business gathering. And it goes without having to be said; they are perfect for satisfying your sweet cravings. 
You've heard us say it before, and we'll repeat it now. It's all about the presentation! Your delicious food will look even more delectable with how and on what you serve them. As long as you remember that, you will have an easy time pleasing your guests. After you make these yummy cheesecake shooters, wrap the shot glasses with ribbon, and stick a mini spoon behind the knot. Simple touches do have a significant effect. Then arrange the shooters in any way you like. How did we put our shooters? We circularly set them and placed them on a stand to make a beautiful display.
Dessert Shooters Recipe
For a delicious treat, fill the shooters with cheesecake filling (shown above). Want to know why we love making these treats? Because they are pretty simple and come together without much of a hassle. Plus, this dessert is a no-bake dessert! 
The ingredients needed to make these yummy treats:
Graham crackers or digestive biscuits

Heavy cream

Cream cheese

 Confectioner's sugar

Passion fruit pulp

Vanilla extract
Directions:
Step one - Put the biscuit or crackers you chose into a ziplock bag and bash them with a rolling pin to make them crumble. You can also use a food processor to form the crumble. And set this aside.
Step two - Whip the heavy cream until stiff peaks form using an electric beater. If you have a lot of time on your hand, go ahead and use a balloon or a French whisk. After beating the cream to the right consistency, refrigerate it. 
Step three - Put the softened cream cheese and confectioner's sugar into a bowl. Add a dash of vanilla extract. And then beat until well combined. Then add the passion fruit pulp, and beat until the mixture is smooth. 
Step four - Take the whipped cream out of the refrigerator and slowly fold it into the passion fruit-cream cheese mixture.
Step five - Take the crumble and place about one and a half teaspoons in the bottom of your shot glasses.
Step six - Place the cream cheese mix in a piping bag. Then carefully fill the shot glasses until it is ¾ filled.
Step seven - Finally, garnish with whipped cream and cherry. You can also use strawberries, mango, kiwi, pineapple, or pear. And then refrigerate for about two to three hours before you serve them. Don't forget about the ribbon and the mini spoon! 
See more tips and variations on the recipe here. 
What do you Smarties think about this convenient AND super classy spoon/shooters combo? Let us know on the Smarty Facebook Page!
Strawberry Muffins with Whipped Cream
Let's move on to our second dessert recipe, shall we? This recipe involves muffins and whipped cream, and strawberries. 
To make the muffins, you will need:
Two eggs

125 grams of butter (you need to melt it)

250 grams of icing sugar

250 milliliters of milk (You can use whole milk, semi-skimmed milk, or non-dairy milk)

250 grams of caster sugar (You can use the regular or golden caster sugar)

400 grams of All-purpose flour (You have to sieve the flour)

12-14 grams of baking powder
Directions:
Line muffin trays with cases. (Here's a tip for you. Place little rice grains in the trays before placing the cases. The rice will absorb the grease that usually collects in the bottom of the tray.)—Preheat the oven to 200 Celsius. 
First, beat the eggs in a bowl for about a minute or two. Then add the melted butter and milk and beat until combined. Next, add the caster sugar of your choice and beat it until you get a smooth mixture. 
Add the flour and the baking powder and beat again. You should maintain a smooth consistency. You don't need to beat a lot. Beat until combined only. (We like to add chocolate chips into the batter. You can also add dried fruits and nuts if you want. Don't go overboard with them, though)
Finally, fill the muffin cases with the batter until ⅔ full and bake for about 25 minutes. And set them aside to let them cool. When the muffins have completely cooled, crumble them. Then place about half a tablespoon of the muffin crumble in the shot glass of your choice. (A layer of crumble should cover the bottom of the glass) Gently pat it down.
Then, get the whipping cream and whisk it until fluffy and holds the shape of the peaks when you take the whisk out. This should take about 8 to 10 minutes. Finally, add a layer of whipping cream to the glass.
After that, place a layer of fruit (We love to use strawberries, cherries, blueberries, or pomegranates. We often pair two fruits. You can use chunks of fruits of your choice)
Place a layer of muffin crumble again and top it off with more whipped cream. Finally, garnish with more fruit. And then, place the glasses in the refrigerator to let them cool for a while.
Oreo Cheesecake
Here is the third recipe for you all.
The ingredients needed are:
Melted butter

Oreo cookies

Cream cheese (Softened)

Whipping cream (Heavy whipping cream is recommended)

Vanilla extract

Icing sugar
Directions:
First, crumble the Oreos using a food processor or by bashing them. You should have fine crumbs in the end. Then put it into a bowl and add the melted butter. Mix well so that the crumbs are moist. Next, place a layer of Oreo crumbs in a jar or a shot glass. Pat it down firmly. Keep aside.
Beat the whipping cream until stiff peaks form. And then, in another bowl, beat the cream cheese till smooth, add the icing sugar, and beat again. Whisk in a dash of vanilla extract. Then fold in the whipped cream. Break some Oreos into chunks and add them to the mix too.
Then fill the shot glass or jar with the cream cheese filling. Sprinkle some Oreo chunks and crumbs on top of the second layer. And refrigerate for about 3-4 hours. 
Which recipe did you enjoy, do let us know?