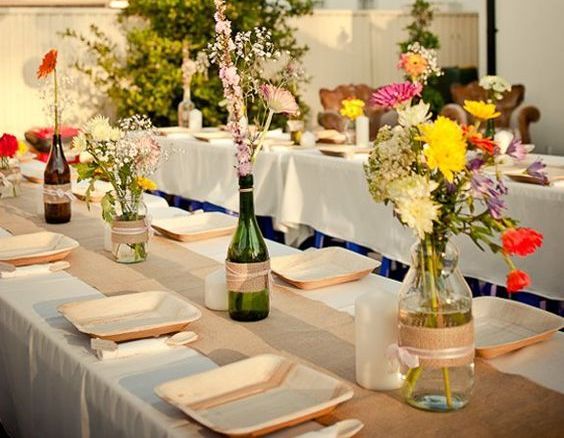 Creative Outdoor Party Ideas for the Summer
People seek joy in the summer season, and there should be no reason for them not to want an exciting party. The festive consumption of food and drinks is the most convenient way of socializing with your friends. So, make sure you get your hands on the most elegant and biodegradable outdoor party tableware. We are here to give you a blast this season. Smarty Had A Party gives you an absolute monumental summer party experience with its eco-friendly partyware. Due to its practicality and durability, you can have our eco-friendly tableware at all your stirring summer events. Here are a few fun-filled outdoor party ideas where you can use our aesthetic and sturdy eco ware.
Summer is the perfect season for fun. Longer days offer a more relaxed atmosphere as people head outside to enjoy the warmer weather and various activities such as hiking, camping, and campfire singing. Take the opportunity to build relationships by hosting an outdoor event that will allow you to get to know your neighbors better and relieve stress while friends and family talk and laugh together.
Having guests over is one thing, but keeping them out takes some forethought. Invest in some outdoor lighting, even if it's just a few lanterns or torches, and keep supplies like spray candles and citronella on hand to keep pesky bugs at bay. Gathering with friends and family is one of the joys of summer, so here are six fun activities that will keep your guests outdoors. 
Savory Outdoor BBQ
Satisfy the love of your outdoor cooking with the most delicious meat in your savory outdoor BBQ party. Decorate your backyard with all the love and elegant supplies and make the place look stunning. You can also include fish and shrimp in the meal to satisfy everyone's taste buds. Serve these delicious meals on our biodegradable plates. Don't forget to add barbecue side dishes to give your guests an even more thrilling BBQ night.
Set Up an Outdoor Bar
With all the comfort of an interior, a high-end bar, plus the benefit of your unique personal touch, the outside bars look perfect on a hot summer party day. Your guests deserve to be served some refreshing drinks during the outdoor summer celebrations. Set up your little bar and include everyone's favorite drinks to make them feel special. Serve them in our eco ware to take the step forward towards saving the ecosystem. Also, our elegant wine glasses and champagne flutes are everything an outdoor bar needs.
A Sustainable Garden Party
The perfect theme for a sustainable summer party is an outdoor garden party with its absolute serenity. Plan a relaxing afternoon in your garden and fill the whole place with a good balance of food, drinks, friends, and our eco-friendly tableware. Our disposable eco-friendly dinnerware is made of BPA-free plastic, which is safe for your green and serene garden parties. In addition, Smarty's biodegradable plates degrade into the environment in no more than 2 months, releasing Earth-friendly materials which benefit the Earth. Therefore, no more dishes waiting in the sink, and you can finally forget about the long-lasting cleaning up.
Refreshing Pool Party Ideas
Throw a beach-theme pool party to beat the heat most fabulously. Fill your tables with shrimp, garlic bread, fries, and coconut drink. Serve these drinks in our disposable drinkware to maintain elegance. You can also make your drinks or set up a small bar near the pool to give your guests a mesmerizing experience of a perfect pool party.
Summer Evening Bonfire
The most fun way to celebrate a summer evening is by hosting an evening bonfire at your place. Consuming appetizing tender meat, chattering with your friends and family, and living in the moment is what an evening summer bonfire offers. Serve the freshly cooked meal in our elegant outdoor compostable party tableware, which is beautifully designed to make your delicious meals taste even better.
Organize a Neighborhood Party
Planning an outdoor community event is a great way for neighbors to meet and reconnect. Get a few friends involved to help by sharing the responsibilities among willing families in the neighborhood. Choose a few yards, a cul-de-sac, or a shared roof as a place to set up.
Regardless of where the party is held, don't feel you have to spend much money. Instead, have everyone bring food and see if anyone in your community has fun skills. Who knows? You might discover that your neighbor can dance a tune or perform stand-up comedy like a pro.
Organize a Themed Movie Night
Sure, you can just have a movie night, but do it right by taking it outside to watch a movie under the stars. Buy or rent a projector and use a sheet or wall as a temporary movie screen. Research the movie and create a menu based on the items in the movie. Use bulletin boards and create captions that feature quirky quotes from the movie.
Ask people to come in a costume related to the movie and host a contest with prizes, such as silly dollar items or gift certificates, to a local coffee shop. Get creative with your movie night, whether you're showing an old classic or watching something cutting-edge. Just stick to quiet neighborhood hours.
Creative, original vases, jars, pots, and different forms of green plants bring fun and warmth and a fresh look to any interior.
If you are creative and have dexterous hands, you can decorate old pots with the decoupage technique using decorative napkins. Then, write just one interesting message with glass paint, or stick it on your favorite pieces of old textiles, and you can also use your photos.
Small ceramic containers found in almost every home, with no particular purpose except decorative, can now be used for fragrant green herbs that will become a real decoration for your party.

Cheers to a Fun Summer Party!