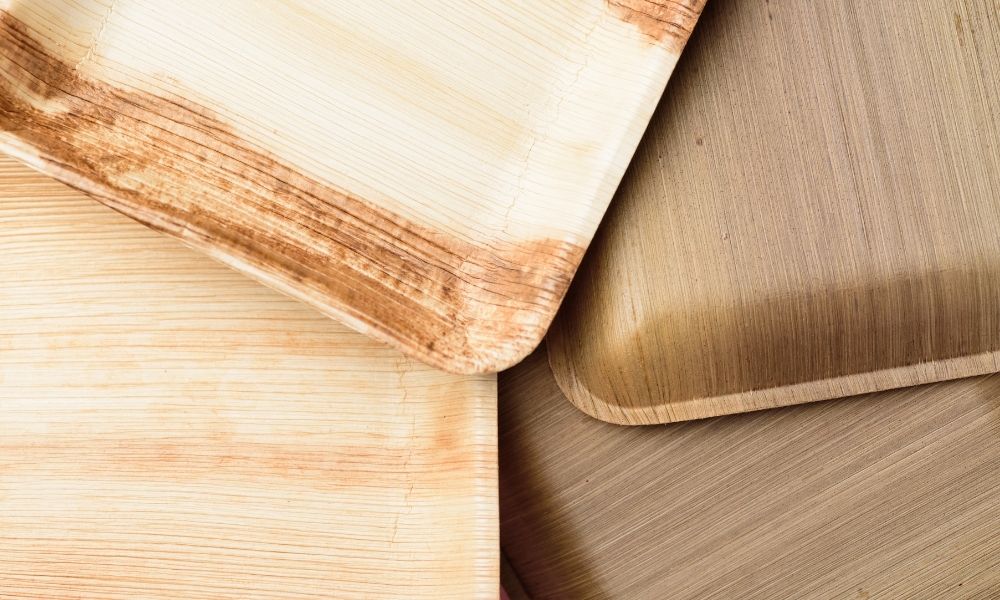 What Are Palm Leaf Compostable Plates?
Hi there, smarties! Here at Smarty Had a Party, we are always looking for ways to make party planning easier and more stylish. That is why we offer a wide variety of attractive single-use dinnerware options for you all to choose from, ranging from simple classics to artistically themed sets. But, of course, the thought of plastic waste sitting in landfills for a virtual eternity doesn't sit well with many people.
That includes us. While we encourage recycling our single-use plastic products after proper rinsing, we realize that doesn't always go far enough. That's why we've expanded our offerings to include palm leaf plates and flatware—an attractive and environmentally friendly single-use line of products for your next event. Oh, we forgot to add that these were compostable. But what are palm leaf compostable plates, exactly? You are going to find out.
How They Are Made
The plate-making process begins with the fallen fronds of areca palm trees. If you've been to South Florida, Southern California, or anywhere else where palms grow, you know that those plants constantly shed old fronds and fall to the earth as new ones replace them. Unlike the lush, tropical-green fronds on the tree, these discarded versions are orange-brown and look more like wood than leaves.
Let's shift our focus from California boulevards to the tropical jungles of Africa and Asia, where palms aren't just decorative additions but prevalent native plant life. Farmers harvest fallen fronds for processing. These fronds would have been burnt. By making these plates, the manufacturers are simply reusing something perceived as useless by some people to create an item of use. Unlike plastic plates, it doesn't take much to turn this plant waste into an attractive part of your dinner table. The process continues with a series of thorough rinses to remove any dirt or other materials from the palm fronds. Next, the fronds are washed at least three times thoroughly. One rinse involves water mixed with turmeric. After the rinse, the fronds are left to air-dry. The attendants try to gently flatten them to avoid curling or warping. After this, it's time for the palms to truly take shape. Before the dried fronds are put through any machine, they are stretched by hand. Finally, a single frond is used to make several plates. This works to minimize the number of scraps that would remain. It's safe to say that almost all the fronds are put to use without wastage.  
Heated presses do the work of molding leaves into recognizable forms. Applying high heat and pressure is all it takes to shape palm leaves into plates, flatware, and anything else for your table. And what is even better is that these heated presses use only a little energy. An individual needs to put the sheath through the heated press. That's another fact that is special about these plates. These palm leaf plates are not mass-produced in machines. 
Do the manufacturers treat the plates with any chemicals? No, chemical treatment isn't necessary or used to achieve the finished product.
Why Palm Leaf?
Being nothing but compressed plant matter, palm leaf plates are eminently eco-friendly. While they take the appearance of wood grain, they are simply the product of what would otherwise be refused. They are biodegradable, and you can even add your used palm leaf plates to your compost heap. Add palm leaf products to your pile of banana peels, coffee grounds, and old newspapers for a green alternative to the garbage—one that you can even put in your plants' pots or backyard garden.
Here's why it is another excellent choice to add to your compost pile. Vegetable and fruit scraps that find their way into your compost pile are high in Nitrogen. Palm leaf is rich in carbon, which helps to maintain a balance between Nitrogen and carbon levels. This is what palm leaf compostable plates are all about. 
What Are The Other Advantages Of Using Palm Leaf Plates?
These plates have a natural pattern similar to expensive wooden plates. Your party table will have a classy look with these plates, and you won't even spend anywhere near what you would have to spend to purchase wooden plates. What makes the natural pattern more remarkable is that every pattern is unique. It is also not only the pattern. It's the color too, that makes these plates look wooden. Plus, imagine your guest's face when you reveal to them that this is, in fact, not a wooden plate but a palm leaf plate. It would be priceless and would also be a great conversation starter. 
They have a smooth finish and are lightweight, allowing the diners a sense of comfort and luxury while dining. 
These plates do not flip off or chip, so you can use the knives to cut your meat without fear of being embarrassed by the plate flying off. 
When using plastic plates, you must worry about toxins mixed with food. With palm leaf plates, you can stop worrying about chemicals and toxins getting added because, as we said, they are entirely natural. 
Palm leaf disposable plates are perfect for serving your piping hot food. They won't release toxins, nor will they break apart or shrink. With any other disposables, you wouldn't be able to serve hot food.
Did we tell you that palm leaf plates can be microwaved? We didn't? Oh well, now you know! 
Where Can You Use Palm Leaf Plates? 
Literally, in any party, they are both durable and sleek, so they can be used at any of your casual and formal events like get-togethers, birthday parties, weddings, and business events. 
Go Green with Palm Leaf
Looking to make your next party environmentally friendly? Check out our selection of disposable plates. Palm leaf plates and equally sustainable birch and bagasse products will make for the perfect setting for your next outdoor party.