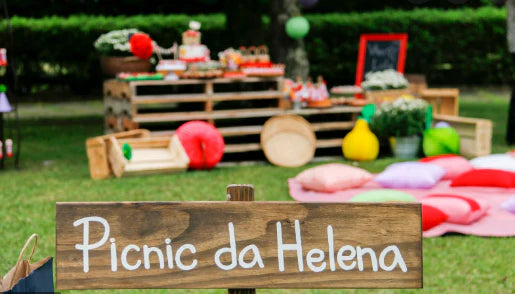 Trendy Summer Picnic Party Ideas
Let's say that we have already come to terms with the fact that we will spend this summer at home and that the sea is not entered our calendar for next month. So, we have already practiced thinking creatively and finding new ways to invent summer in the city, escape to nature, to the river, to the park. So, on that occasion, here are tips on organizing a perfect picnic and making yourself a great summer pleasure with a little effort.
For a perfect picnic, for a start, you need a good team. Yes, it may sound like the worst cliché, but it is. Whether you go with a loved one, family, or friends, you must be all willing to get up a little earlier, bring everything you need and give yourself a break to enjoy good company one day, and leave your worries at home for a while. Still, if you have a pet, the happiness of going to nature will probably never end. So this is a sure way to spend quality time with your loved ones this year, and at the same time, it is practical and does not require too much effort.
The summer picnic parties are a fun way to spend your day off with your loved ones. So many people love to throw parties indoors at night but believe me, if you haven't tried going out with friends and arranging a picnic party outdoor, you haven't experienced that hype.
It seems challenging to host an outdoor picnic party, but choosing the best location and arranging an epic table setting can make an exquisite difference in your overall picnic experience. We've got some super trendy ideas for your summer picnic party this year to assist your arrangements.
Choosing the Best Location
Positioning is the first and most crucial step. Assess which side the sun is coming from, and ideally, find a place near a larger tree that will give you shade even as the sun moves. You may move the mat a little during the day, but you must have your small area. Of course, you may be in an open space that does not have such conditions, so in that case, it is better to provide yourself with an umbrella in advance and settle somewhere where you simply have a beautiful view.
It all depends on your nearby area. If you live in a busy city with buildings and skyscrapers, going to the countryside can be a great option. The banks or shores are the best places to gather if you live near a river or ocean. The nights are usually cold, so camping at such places can become an epic memory for the rest of your life. Any place you can think of or physically reach out to can be an option. However, a mountain top would be an epic place to throw a party.
Pack Smart
The key to a picnic is not to forget something necessary. So, pack a rug on which you will take everything out later. Then, it would be ideal to pack the food in a tight bag that will not allow anything to spill or mix. After that, dishes and utensils, and only then everything else. Next, prepare sunscreen, even though you may think you are "already tanned and you don't need it," a hat or cap, and clothes in case the evening gets cold even though the day is beautiful. Finally, don't forget the mosquito cream or spray, the mentioned board games, and a good mood - and you are ready for a picnic!
Prepare a Varied But Simple Menu
I understand you will spend the whole day in nature, and you must bring a large amount of food. You want everyone to be satisfied, the question is who is allergic to what, and you want to show yourself as a culinary master, but then it all becomes complicated and makes you enjoy less in a day that should serve just that. So, share time with friends who will bring what so that you are "covered" with everything. So a simple main course, a light salad, an appetizer (a couple of types of cheese, olives, ham), fruit, drinks, and dessert (keep in mind that it is something that does not melt quickly). If you have no ideas, here are suggestions for a simple and tasty recipe for the main course you will prepare before leaving. 
Setting Your Table Up
After choosing a location, another hectic task is to arrange a table setting for the guests at such an ordinary place. But, of course, you can't just bring your crockery to a mountain or a nearby beach. There are hundreds of disposable picnic tableware options that you can choose to make your party hassle-free. We have a list of summer party dinnerware sets that can assist you in arranging a perfect table setting for an epic summer party.
Our wide range of disposable plastic cutlery and disposable party plates will make your party go smooth without worrying about cleaning those dirty dishes afterward. Our professionals know what you might need to throw an outdoor picnic party - that's why we've designed all-purpose elegant plastic drinkware. These drinkware sets include plastic glasses in different shapes and sizes and high-quality party cups, allowing you to have some coffee.
To cater to your needs of serving in the best way possible, we've got a bunch of unique designs of premium disposable serving ware. Now, to make your serving ware look complete, our range of flatware will do the job perfectly. However, instead of purchasing items individually, you can also try our fantastic value sets that might cover all your picnic party needs in just one single purchase.
Some Lighting, Balloons, and Fresh Flowers
After deciding where to throw a party and how to serve your guests, there's a time to focus on the decorative part of the party. Of course, the LED light strips are the must-to-have items for both day and night parties. In addition, a lightweight wooden board with some engraved titles of anything you find interesting can be a great option to make your portraits with.
Moreover, the balloons are optional, if you've some kids with you, you can consider it, but it's just another hassle to blow them up. Instead of balloons, you can use fresh flowers to spread an aroma around the premises.