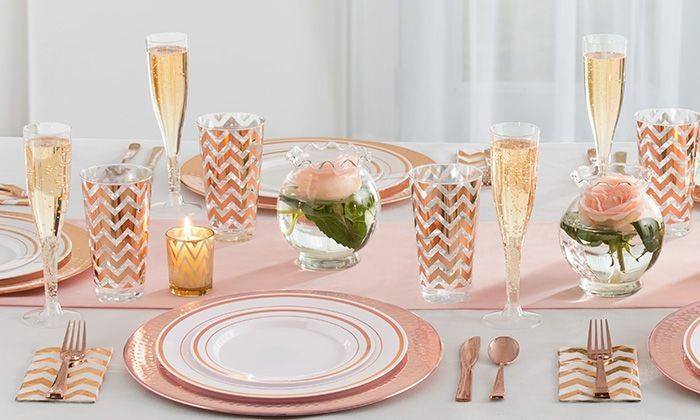 Charming Decor Ideas for an Idealistic Wedding Party
The pre-wedding activities, including the wedding party decor, are equally important so the guests can have a wonderful time celebrating your union.
Whether you want to throw you and your partner an intimate gathering or a lavish party with all your friends, the big day's party comes before the actual ceremony. You can opt for an outdoor reception with a limited number of guests or invite everyone to a private venue where you can explore different reception ideas to suit your taste and budget.
Whether it's about finding the perfect location for indoor or outdoor activities or hiring catering services for a delicious spread, there are numerous things that you need to plan if you want to give your guests an unforgettable experience.
How To Choose the Best Wedding Party Theme?
The first question that pops up in your mind while planning your big day is, "What kind of party should I throw? Depending on the number of guests, your budget, and the environment where you want to host the party, you can choose from many different party ideas.
A Small and Intimate Gathering: If you want to host a small party with your closest friends and family, you can go for a backyard bash or a casual cocktail get-together at a restaurant.
A Grand and Extravagant Bash: If you want to throw an extravagant wedding party with many people, you can go for an outdoor or indoor party. To throw the wedding outdoors, you can hire a marquee for a luxurious look or opt for a casual theme where your guests can enjoy food and drinks while lounging on a lawn.
An Enchanting Environment
The location of your wedding party is as important as the party theme. For example, if you want to host an outdoor wedding party, you can visit a scenic spot or a garden. If you want to book a hotel venue, you can choose from different hotels, ranging from five-star hotels to luxury boutique hotels.
If you are fond of exploring nature, you can go for an adventure-themed wedding where you can bring elements such as ropes, bridges, and pulleys.
If you want to host a party with a vintage charm, you can go for a rustic-themed venue where you can add vintage elements, such as antique furniture and lamps.
Confetti Cannons and Dancing Shoes
Once you have finalized the wedding party theme and the location, you can now think about what can make your guests enjoy to the fullest and have a great time at the party.
If your wedding party falls on a winter night, you can go for a casino night party where you can set up a casino table and invite guests to play blackjack, roulette, and poker.
You can hire a party planner to help organize the event, serve drinks and snacks, and even provide musical entertainment.
Masquerade Ball: If you want to host an elegant and classy party, you can go to a masquerade ball where you can dress up in your gorgeous attire and enjoy the evening.
Tiki Party: If you want to host a tropical party and invite your guests to relax and unwind, you can go for a tiki party where you can look for décor items such as pineapples, palm trees, and paper lanterns in tropical colors. You can also hire a fire dancer to add to the party vibe.
A Delicious Wedding Party Buffet
You can also choose from various wedding party ideas related to food and drinks so that your guests have something to munch on throughout the party. For outdoor parties, you can go for a barbecue menu or a Mexican menu where you can serve tacos and quesadillas.
You can go for a buffet menu where guests can serve themselves a variety of cuisines, such as Indian, Chinese, and Italian. You can also hire a caterer who can provide a delicious three-course menu for your guests.
It's up to you whatever menu you choose; however, one thing is for sure; you must serve it exquisitely. Therefore, you should have this sturdy and beautiful disposable dinnerware for weddings. Check out our vast collection of elegant disposable tableware for weddings and get the one that matches your party theme and menu.
You need to have the best disposable wedding dinnerware sets, to serve the food to your loved ones as nothing is better than a delicious meal at a wedding reception.
If you are looking for dinnerware that's both high quality and affordable, Smarty has some fancy plastic dinnerware for weddings. In addition, you can get plastic dinnerware sets for weddings within an affordable price range.
Stunning Backdrops and Decorations
Once you have finalized the wedding party theme, you can now think about the decorations and other things that can make the venue look stunning.
If you want to host a themed or motif party, you can go for a Hollywood theme or a vintage charm with retro elements such as antique furniture and lamps.
You can also go for a Hawaiian theme where you can serve tropical food and drinks, such as Hawaiian fruits and cocktails. Hawaiian cocktails include Hawaiian Blue cocktail, Blue Hawaii and Lychee Martini.
Live Performances: If you want to host a live performance at your party, you can hire a magician who can perform mind-blowing tricks at your party, or you can also go for a live band to play music for your guests.
Bridal Shower Ideas
If a bridal shower follows your wedding, go for an outdoor shower where you can play games like lawn bowling and badminton or host an indoor shower with a wide variety of fun activities, such as charades and trivia.
You can also go for a spa-themed shower where you can pamper your guests with a spa massage and body wraps.
Since the wedding party is about celebrating the bride, many different themes and ideas are perfect for this occasion. Choose what suits you the best.