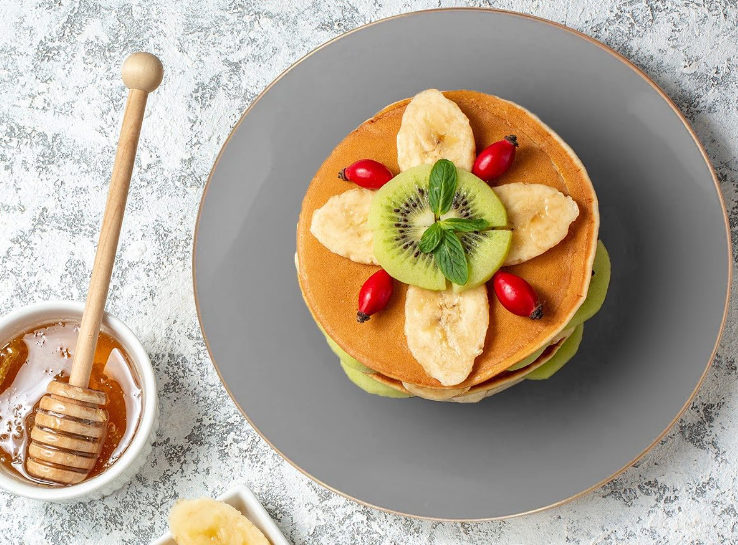 How Do You Host a Pancake Breakfast?
Pancake breakfast is the best excuse to get together with people. Whether you have moved to a new city or want to spend quality time over the weekend, hosting a pancake breakfast is a budget-friendly, simple and fun event. 
It's so simple that you wouldn't believe it was so convenient and stress-free to manage everything on the event day. However, hosting a pancake breakfast is not more manageable if you haven't done it before in a while. 
Here's a complete guide on how you host a pancake breakfast. In addition, we have decor pancake recipes and entertainment ideas to help you be an excellent host to your guests. 
Date & Invitations
The first thing to start planning for the pancake breakfast is the appropriate date. Most people have to go to work during business days. So it's preferable to stick to Sunday, as most of your guests would be free to join you without any problem. 
Once you have decided on the date of the events, the next comes in sending out the invites. It's just telling people to attend the event for the free food, so you don't have to brainstorm. You can invite them a word of mouth or electronic invites, or you can send them funny and attractive cards.
Locations/Venue
Do you just want a casual meet-up with your friends and family? Or the cause of the event is fundraising? These are the questions you should ask while deciding on the location if it's just about a get-together with friends and family. But, of course, your home is the best venue for it. 
If it's for a social cause, look for the church, school, mosque, or even a company that can donate a public hall for the event. Otherwise, look for commercial venues to hire at a minimum budget because the less you spend on the locations, the more you can save for the cause. 
The Decorations
You don't have to do a lot of birthday decorations while hosting a pancake breakfast. But retouching everything present in the scene will make everything stand out. Like, change the furniture settings if it's not appropriate. 
To serve guests with a buffet, you must set up your tables and seating arrangements accordingly. Moreover, ensure a designated place for the kids to enjoy their own company. 
Table Decor
The same goes for table decor - you don't have to do much with table settings. However, consider placing some enchanting centerpieces, floral runners, and flowers to make it refreshing for the guests.
Just grab a pitcher or a glass jar and a few fresh flowers and make the jars hold them. That is all it takes to create a last-minute centerpiece for a nice, neat, clean look on your table. 
You can copy this idea to set up a buffet table but expect a few things. Like you won't have to set up individual place settings. Instead, you would need stacked plates, cutlery, and other serving wares placed on the start of the tables. 
Get elegant mini party supplies and fancy disposable mini partyware at a fraction of the cost. We at "Smarty Had a Party" have a wide range of mini plastic ware consisting of mini plastic cutlery and mini dessert plates - perfect for serving the guests with style and honor. 
Food Menu
Food is essential for any event, especially for a pancake breakfast where your guests have joined the event to eat. So make delicious pancakes for your guests and please them with your cooking skills. Below are the ideas and recipes for pancake breakfast. 
Easy Pancake Recipe
It's one of the easiest ways to make pancakes; at home without much effort. So easy that all the required ingredients would be most present in your kitchen's cabinet. 
Ingredients you would need: 
Egg (1, large).

All-purpose flour

Sugar (¼ cup) 

Salt (1 pinch) 

Milk (½ cup) 

Oil (1 tablespoon)

Vanilla essence (1 tablespoon).
How to make it?
Start with the egg in the bowl, and add sugar, salt, milk, oil, and vanilla essence. Mix it well until it becomes a smooth batter. Next, add the all-purpose flour to the mixture and start mixing it up. Finally, all the ingredients become one mixture.
When the mixture is ready, oil the pan with tissue paper; so it doesn't stick to the surface. When you add the batter, take ½ cup or two tablespoons of batter to cook it on the pan. Don't flip it over until the bubble transformation stops. After flipping it, cook it for at least 1 to 2 minutes. 
In the end, serve it with maple syrup and butter to create a sweet combination in taste. 
Syrup
You don't have to buy syrup from the market. Else you can make it at home. Save some extra bucks to spend on other things like juices and fruits for the guests.
There are a lot of online tutorials to learn how to make syrup at home without much effort. Make the syrup days before breakfast and store it in the refrigerator. 
Serve Fruits
For breakfast, fruits are full of nutrients and the ultimate source of instant energy, along with the other sweet treats, beautifying your table with fruits. You can have strawberries, cherries, blueberries, bananas, and whatever options you have in the seasonal fruits. 
Don't Skip Juices
Juices are also a critical food menu item, so you should not skip them. Juices are ideal when it comes to starting a productive day. You make the juices of seasonal fruits. However, orange juice is what most people prefer for breakfast. But the choice is all yours. 
Entertainment & Games
Though it's not a party, it's a get-together of people to spend quality time together. After your guests are free from breakfast, you must plan some entertainment activities to make the event enjoyable for them. 
If the event will take place indoors, consider playing the board games. You can play many board games like ludo, cards, carrom board and much more. Moreover, outdoors you can plan ladder ball and horseshoe games.