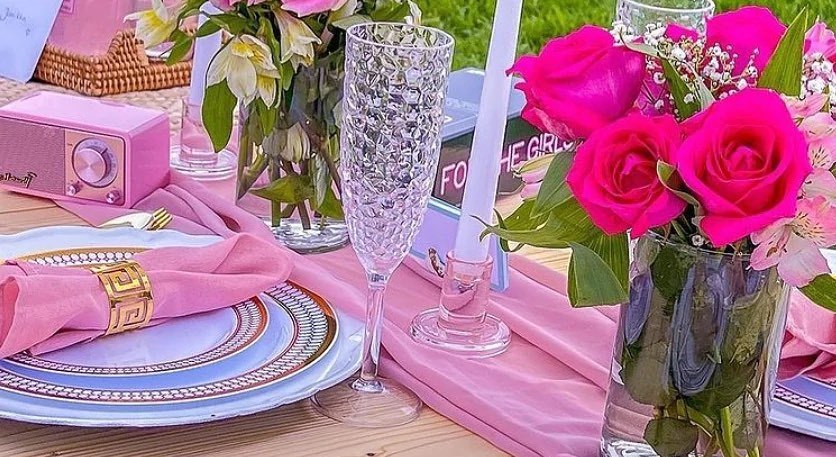 Champagne, Sunsets, and Love: Crafting Your Perfect Summer Bridal Bash
Warm sunsets, the gentle clinking of champagne glasses, and the soft whisper of love in the air – something undeniably enchanting about a summer bridal bash. It's a time when the beauty of nature and the promise of everlasting love come together to create a truly magical experience.
Setting the Stage for Elegance and Romance
In this blog post, we invite you to dive into the world of "Champagne, Sunsets, and Love: Crafting Your Perfect Summer Bridal Bash." So, let the planning begin, and let's embark on a voyage to create the summer bridal bash of your dreams.
The Color Palette: Pink, Gold, and White Magic
The Psychology of Color: Evoking Romance and Luxury 
Different colors can stimulate various emotions. Pink is commonly associated with tenderness and love, while gold is often linked with luxury and celebration. White, on the other hand, provides a sense of purity and serenity.
The Dominance of Pink: A Symbol of Love and Joy 
Consider using pink as the main color for your summer wedding. It's beautiful and symbolizes love, happiness, and new beginnings. With various shades available, you can create a unique experience for you and your guests.
Glistening Gold Accents: Adding Opulence and Sophistication 
Consider adding gold accents if you want to create an extravagant and sophisticated feel for your event. Eye-catching candle holders can be a great way to leave a lasting impression of opulence.
The Timeless Elegance of White: A Canvas of Memories 
White adds a sense of unity and a classic touch to any occasion, highlighting each aspect's true essence.
Crafting the Dreamy Atmosphere
Wooden Tables: Rustic Charm Meets Refined Elegance 
Picture this: rustic wooden tables that effortlessly blend the warmth of nature with the sophistication of an upscale event. These tables provide the perfect foundation for your dreamy atmosphere. The texture of wood creates an inviting and authentic touch, while its neutral tones serve as a canvas for the vibrant colors of your chosen palette.
Pink Table Runners: Adding Depth and a Pop of Color 
Consider using pink table runners to infuse depth and a burst of color into your tablescape. These runners anchor your décor and draw the eye with their vibrant hue. Against the backdrop of wooden tables, the pink runners provide an immediate focal point that sets the stage for the rest of your design elements.
Incorporating Pink Flowers in Vases and Along the Tables 
No summer bridal bash is complete without the presence of nature's most romantic ambassadors – flowers. Opt for pink blooms in vases that adorn your tables, enhancing the atmosphere with their delicate fragrance and vibrant color. From roses to peonies, the sight of pink flowers creates an undeniable aura of romance that speaks directly to the heart.
Fancy Gold Candle Holders: Casting a Warm, Flickering Glow
Candlelight has an enchanting ability to create a warm and intimate ambiance. Elevate this experience by choosing fancy gold candle holders that not only cradle the flickering flames but also reflect the golden accents of your color scheme. As the sun sets and twilight takes over, the gentle glow of candles will cast an ethereal radiance over your celebration.
Pink Decorations and Accessories: Every Detail Matters 
Attention to detail is what transforms an event from ordinary to extraordinary. Incorporate pink decorations and accessories to enhance the overall aesthetic. From hanging lanterns that sway gently in the evening breeze to draped curtains that frame your venue, each choice contributes to the immersive experience you're crafting.
Elegance in Simplicity: Choosing the Right Tableware
Elegant Plastic Plates: The Look of Fine China Without the Worry of Breakage 
Gone are the days when plastic plates were merely functional. Modern plastic plates offer the appearance of fine china, boasting intricate patterns and designs that rival their porcelain counterparts. The advantage? You and your guests can enjoy a worry-free dining experience without compromising style. These plates bring both aesthetic charm and practicality to your tables.
Fancy Plastic Champagne Glasses: Toasting in Style with a Touch of Convenience 
A toast to love and happiness is integral to any bridal bash. Embrace the convenience of fancy plastic champagne glasses that add a touch of glamour to your celebration. These glasses, often adorned with delicate details, allow your guests to raise a toast in style while ensuring safety and ease of use.
Disposable Gold Silverware: Effortless Sophistication That Doesn't Compromise on Aesthetics 
The gleam of gold adds an unmistakable touch of opulence to your table setting. Opt for disposable gold silverware that combines the convenience of disposable design with the allure of sophistication. These utensils beautifully complement the overall color scheme while keeping the setup hassle-free.
Pink Napkins and Gold Napkin Rings: A Finishing Touch of Color and Refinement 
Napkins may seem minor, but they are crucial in tying your table setting together. Choose pink disposable napkins that echo the dominant color of your palette, adding a harmonious touch. Pair these with gold napkin rings for an exquisite finishing detail that captures the essence of luxury.
The Perfect Bridal Sip: Champagne Selection and Presentation
Choosing the Right Champagne: From Sweet to Dry 
Choose your champagne wisely. Consider the variety of flavors, from sweet to dry, and match them with your guests' preferences and the desired atmosphere. A sweeter option can be paired with desserts, while a dryer is more elegant for toasting and celebrating.
Presentation Matters: Chilling Champagne in Stylish Ice Buckets 
The presentation of your champagne not only adds to the aesthetic appeal but also sets the tone for the entire event. Elegant plastic ice buckets are a functional and stylish way to keep your bubbly chilled throughout the celebration. Choose buckets that harmonize with your color scheme, enhancing the overall décor while ensuring your guests enjoy their champagne at the perfect temperature.
Creating a Champagne Bar: Personalizing Drinks with Garnishes and Syrups 
Create a personalized champagne bar for your guests with fruity garnishes, syrups, and fresh fruits. Let them customize their drinks for a fun and unique experience.
The Sweet Farewell: Party Favors and Gratitude
Pink and Gold-Themed Party Favors: Tokens of Appreciation 
A parting gift is more than a gesture; it's a tangible expression of gratitude for your guests' presence and well wishes. Choose pink and gold-themed party favors that encapsulate the essence of your celebration. Whether it's delicate trinkets, sweet treats, or personalized keepsakes, these tokens are cherished reminders of the love-filled day they've shared with you.
Handwritten Thank-You Notes: A Heartfelt Gesture 
In the age of digital communication, the handwritten note carries a sense of intimacy that's truly irreplaceable. Take the time to pen down thank-you notes to express your heartfelt appreciation for each guest's attendance and contribution to your special day. This personal touch adds a layer of sincerity and warmth that resonates deeply with those who've celebrated alongside you.
Encouraging Guests to Capture the Evening: Sharing Photos and Memories 
The moments captured during your bridal bash aren't just for your albums but for sharing and reliving. Encourage your guests to capture the evening through photos and memories and to share them on social media using a specific hashtag. This interactive element allows everyone to enjoy the joy and excitement, creating a collective tapestry of memories that will live long after the celebration ends.
Frequently Asked Questions (FAQs)
1. Can I achieve an elegant look with plastic tableware and decorations? 
Absolutely! Modern plastic tableware and decorations are designed to emulate the sophistication of traditional materials while offering practicality. The key lies in selecting high-quality items with intricate designs and finishes that mimic real materials like glass and porcelain. Your guests will be amazed at the elegance you've achieved with this approach.
2. How can I ensure the pink and gold color scheme doesn't become overwhelming? 
Balancing colors is essential for a cohesive and visually pleasing atmosphere. Use the dominant color (pink) for larger elements like table runners and flowers while incorporating gold as an accent in candle holders, napkin rings, and other minor details. White is a neutral backdrop that helps prevent the scheme from overpowering.
3. Can I create a luxurious champagne bar on a budget? 
Absolutely! Start by selecting affordable yet quality champagne options that fit your budget. You can enhance the presentation with DIY decorations like glitter-dipped champagne flutes or personalized drink stirrers. Create a stylish backdrop using inexpensive materials like draped fabrics and string lights to add a touch of glamour without breaking the bank.
4. How can I make the summer bridal bash more interactive and engaging for guests? 
Incorporate a photo booth with pink and gold-themed props where guests can capture fun and candid moments. Consider arranging interactive games or activities that tie into the color scheme, such as a scavenger hunt for pink and gold items around the venue. These elements encourage guests to interact and create lasting memories.
May your love story continue to unfold, and may the memories you've crafted on this day be a source of joy, inspiration, and connection for years to come. Here's to the perfect summer bridal bash, where champagne flowed, sunsets painted the sky, and love was celebrated in all its magical glory.
Party on, Smarties, With love, Smarty had a Party!