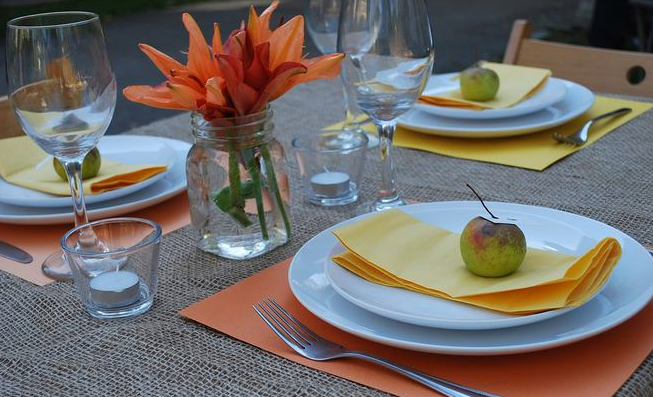 Best September Party Themes
The start of a new season calls for a celebration! So your September gathering should have delicious food, beverages, plastic wine glasses, and games that fit the theme, just like any other seasonal celebration.
However, for any fall event theme, you decide on, you may always include the following things in your celebration. Continue reading for a detailed guide of unusual and innovative September party themes that will impress your guests and leave them with pleasant memories for years to come.
Everything You Need to Know About September Parties!
The holiday season is months away, and the long, scorching summer is past. It seems like there is a lot of room for creative party planning in September. So don't wait until Halloween if you want to host a party. Then, start the celebration with one of several unique ideas we got for you.
A Dreamy Theme: On September 25, World Dream Day, a remarkable overnight party should be held to honor all of your wildest wishes. This party will not be a regular sleepover, though. Set up individual tents for the children to spend the night, and ask your child to invite their friends to wear their most elegant pajamas.
They can spend the evening making unicorn marshmallows and dream catchers and decorating disposable plastic tumblers. Then, have a movie marathon in the tents to round off the evening so they can go off to sleep and dream the night away.
Glitter and Gold: Glittery sparkles are not just for winter celebrations. Gold offers the ideal complement to nature's magnificent display as fall colors have already begun to appear. To complete the look, decorate lanterns with gold glitter glue, hang plush textiles from stairs and walls, and use glistening gold candles as your event centerpieces.
Farm Tour: Harvest time comes in the fall; therefore, farms are at their best during this time of year. Many sites provide informative tours of their farming operations, equipment, and livestock management.
Even enjoyable seminars like those for making pies or cans might be offered. You can always call and ask if they would be willing to run one for a private group, even if they don't currently provide those events.
A Fun Movie Night: Organize a movie marathon party featuring September release movies. A fantastic autumnal treat to munch on while you watch would be creamy popcorn. Hosting your event in your home theater may give these movies the star treatment they deserve and allow you to experience the excitement of seeing them on a large screen.
Fantastic September Party Menu!
Organizing a festive dinner party for the fall? With a ton of fall recipes, decorating suggestions, and delectable autumnal sweets, we're here to put an end to your planning worries.
Mayan Pepita-Chicken Stew: An expertly roasted blend of spices and seeds, crushed into a coarse paste with roasted tomatoes, is used to season the chicken stew. The paste thickens and flavors this comforting fall dish when it is added to the stew at the end of cooking.
Crispy Ricotta-Kale Tacos: Warm the tortillas in a hot skillet before stuffing them with the ricotta-kale mixture. Before stuffing and cooking them, warming them up first makes them more flexible and less likely to shatter. Choose good organic yellow corn tortillas; they are more satisfying when fried and tend to be chewier.
Apple-Ham Quiche: Rolls of thin apple and ham slices are placed in a creamy, herb-infused custard with crisp white cheese. Use a frozen 9 deep-dish pie shell that has been blind-baked per the directions on the package for a weeknight meal that is quicker and tastier. 
Baked Pumpkin Soup: When pumpkins are baked whole, steam is trapped inside the vegetable, creating a rich, smooth soup and making the peels simple to remove. To balance the richness of the pumpkin, butter is reduced with a dry white wine.
Wine and Dine with The Best Quality Tumblers:
One of the most crucial aspects of any event is the drinks. Typically, guests can't wait to relax and enjoy the festivities with a drink. Drinks are a requirement for all occasions and celebrations. A fantastic food spread is one thing, but the party really gets going when the corks pop.
At your next September party, choose disposable drinkware to serve drinks. Designed effectively and with great care, our plastic drinkware cups capture the elegance of the occasion while still being affordable and valuable.
As more relaxed, environment-friendly party supplies for a relaxed yet sustainable event element, vibrant or transparent plastic stemless glasses work well.
September Party Décor!
The decor is unquestionably one of the most essential elements of any party, so it deserves just as much consideration as your party attire and meal.
Balloon Garland: You may absolutely build a cherry balloon event garland if you want to test out a really charming summertime concept for your party. Pieces of paper, red balloons, and thread are all that are required.
Confetti Wall: You may make a confetti wall that serves as a backdrop if you want a fantastic location for all of your friends' Instagram pictures. It's really simple to construct and pretty great.  
3D Décor: You may use 3D paper apples as table place cards by writing your guests' names and placing them on the table. They are incredibly simple to make. Everyone will be able to grab them and take them home as party favors while also knowing where to sit.
Pom Poms: You can quickly and easily make fabulous tissue paper pom poms for your September party. Of course, you'll need some free time and a few tissue papers, but we're confident you can make it work.  
Summer Pinata: Kids' parties require pinatas! You can make them if you have a little garden, and the kids will enjoy trying to bash them open to see what candy falls out. Undoubtedly, there will be a mess, but cleaning it up will be much more enjoyable.
We've gathered some fantastic suggestions for their fabulous party. We hope you will undoubtedly have a memorable celebration with our ideas.