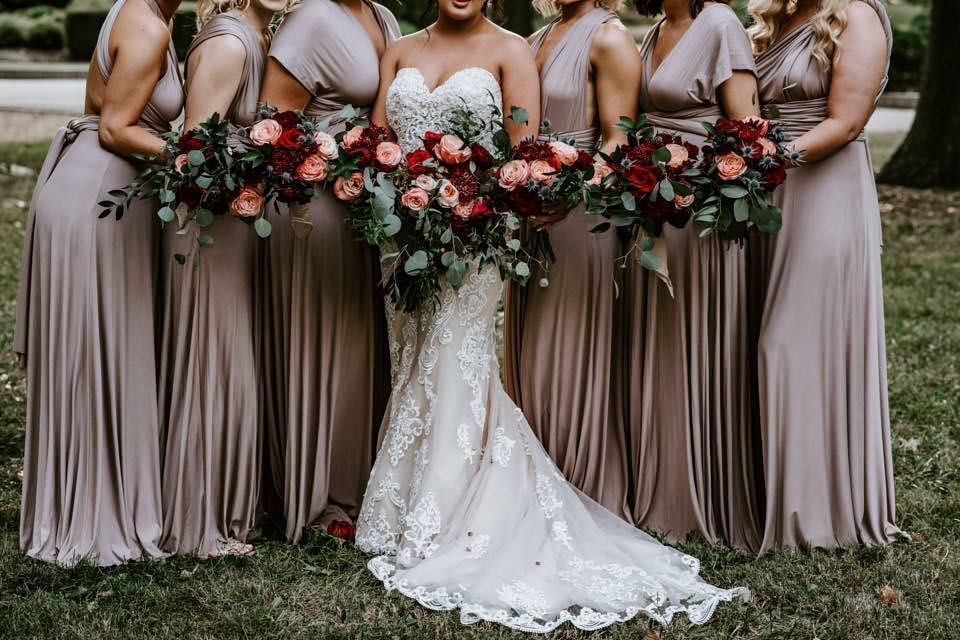 What Are the Wedding Colors for September?
The wedding season has arrived! We are finally at that time of the year when everything looks naturally pretty. The beautiful yellow-orange color of the leaves and the stunningly rich golden hour make the fall season the perfect time to host a wedding.
One great thing about September weddings is the gorgeous color combinations. If you've attended an Autumn wedding, you know how stunning the colors look. Read along to find out what colors to choose for your September wedding.
Colors for a Gorgeous September Wedding
Even though trends keep changing, September color combinations are always dramatic. They usually combine the subtleness of fall and a touch of bright hue from the summer. However, you can go with whatever suits your taste - bright, pastel, or both!
Neutral Colors
While bright colors are typical in summer, spring is more of a neutral colors season. They match perfectly with each other and with other colors too. Here are the neutral tones you'll see this wedding season.
Mocha
Mocha is a very light shade of brown and looks perfect in indoor weddings. It has a lustrous look and pairs best with a warm tone, like red or maroon.
Decorate the table using mocha-colored disposable wedding plasticware sets and candle holders. When pairing mocha with other colors, add a touch of pink to enhance the overall look of the venue.
Charcoal
Charcoal sits well with almost all colors, so it's a better choice for September weddings. Pair it with a darker color, like royal blue, and add a slight touch of magenta.
The most elegant thing about a charcoal wedding is the ring. Charcoal grey wedding gowns look gorgeous too!
Olive Green
Most people don't consider it neutral because of the dark green undertone. However, it makes other colors pop when combined with them. That's why we classify it as neutral.
Olive green looks good in outdoor weddings, where natural greenery complements your wedding's theme color.
Pastel Colors
You can never go wrong with pastel colors! They are cool and give a calming effect to the wedding venue, making them a perfect choice for fall weddings. You can pair them with each other or with a darker color to bring the best out of them.
Spring Mint
Spring mint is a very light shade of mint and has the slightest blue undertone. It is paired best with peach color. Make a backdrop using spring mint and peach-colored drapes. Incorporate this combination in wedding cakes, candles, and dresses.
Lilac
Lilac is a pale shade of purple and pairs best with the darker colors of its family (purple, magenta). It is the perfect shade for a September wedding and looks great when combined with lilac or lavender flowers.
Bright Colors
Bright and bold colors are associated with summer weddings but can make an Autumn wedding slay if given a slight touch. Fall's most common bright shades are orange, red, and magenta. Other than those, you can use green to add greenery and a natural effect to the venue.
Red
Everything looks magnificent in red! Whether it's a roses centerpiece or gorgeous wedding attire, red goes with everything. Pair it with sage green and add a touch of rifle green.
Make the venue look dramatic by adding other bright colors like orange, green, and blue. Get red disposable plasticware for weddings from here.
Magenta
Imagine entering a magenta-themed wedding with a fresh fragrance of lavender scattered throughout the venue. Even the thought of such a wedding is magical.
Pick Magenta for your September wedding and pair it with neutral or pastel shades. Then, add a golden chandelier for a royal effect.
Green
Green is the color of nature and adds an organic element to the wedding. The bridesmaids would love to wear a green dress to your wedding. Click here to get green plasticware sets for the wedding.
Dark Colors
Dark colors will give your September wedding a warm feeling. However, they are more appropriate for an evening wedding.
Castleton Green
Garden weddings are always fun and dreamy! Castleton green is the best theme for a daytime September wedding. The natural greenery will decorate your venue, and the flowers will add a pop of color.
Royal Purple
Make your September weddings royal with this color. You have no idea how gorgeous your wedding venue will look if you use it wisely. Get purple plastic plasticware for weddings from Smarty.
September Wedding Color Combinations
You can create a gorgeous color palette for your September wedding by combining the colors wisely. Here are some of the perfect color combinations.
Desert Dawn+Green+Mocha
Desert dawn belongs to the orange family and pairs perfectly with bright green and mocha. Therefore, keep desert dawn and mocha in high proportions with a touch of green (backdrop or foliage).
Lilac+Royal Purple
All shades of purple go perfectly well together. One such example is lilac and royal purple. Royal purple has been trending as the theme of the Queen of England's platinum jubilee this year. So make your September wedding trending with this combination.
Charcoal+Red+Metallic Silver
The magic of red combined with charcoal gives a perfect combination for September weddings. To add a dreamier effect to this combination, add a glimpse of metallic silver.
Tips to Incorporate the Colors in Your September Wedding
It becomes difficult to incorporate the different colors when you choose a combination. So here are some clever ways to use color combinations at your wedding.
Use Flowers
Florals can bring so much difference to your wedding venue, irrespective of the color scheme. There are several ways to use flowers in your wedding; in centerpieces, bouquets, and backdrops.
Get the Right Dinnerware
The dinnerware is the most notable element on the table after the centerpiece. Make sure you have elegant disposable plasticware for the wedding to set the prettiest table. Mix and match the different items in the dinnerware for the perfect tablescape.
Use the Colors in the Centerpiece
Spend a reasonable amount of time making the centerpiece. Then, use the different color combinations in it to use all the colors.