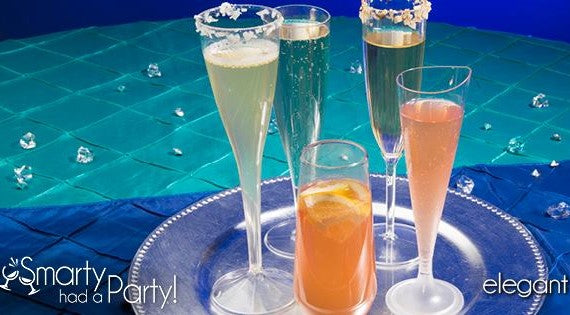 An Amazing New Year's Eve Champagne Bar
New Year's Eve is one of the most exciting nights. It's a time to celebrate with friends and family, and if you're hosting your own party, it's also an excellent opportunity to show off your creative side. One way to ensure everyone has a fantastic time is by putting together a fun and festive champagne bar. The best part? You can put this together in no time at all! Here are our tips for creating an elegant yet entertaining NYE champagne bar:
How to Set Up an Amazing New Year's Eve Champagne Bar?
New Year's Eve is always fun to celebrate, but it can also be a little stressful. With so many people to entertain and options for doing so, it can take time to figure out the best way for you to ring in the new year. While there are no right or wrong ways to celebrate, having a fantastic champagne bar at your party is one of the most fun ways I've seen people do it. You'll want basic supplies like disposable plates, plastic glasses, snacks, and drinks like champagne or sparkling wine from your favorite store. You'll also need accessorizing items such as color-changing lights, which come in red or white, depending on what color scheme you choose! So when setting up your space, ensure that all of these things are within reach since guests will find them very helpful!
Champagne Flutes & Glasses
Disposable champagne flutes are a great way to serve champagne, especially if you don't have a lot of experience using them. The flutes are easy to use and clean up.
Champagne flutes are fun to clink - making any celebration official, they are stylish, and they make a great photo! The look of plastic champagne flutes is iconic, instantly bringing sophistication and class to mind. They offer a wide range of shapes and designs to suit your occasion, bubbly, and event color palette. They give the champagne more intensity and add a touch of elegance and refinement to complement any soiree. Thus, whether you are into classic shapes or highly elegant or looking for luxurious stemless champagne glasses, we are sure to have the option to complement your party theme and enhance the bubbles and aroma of the sparkling beverages you adore!
Napkins & Straws
We love reusable products! However, sometimes you may want a disposable alternative (like if your reusable straw gets lost). That's why we recommend you t get handy plastic straws—you can use them once or twice before throwing them away!
Paper straws are great, but what about when you need to wipe your mouth? Have no fear! We've got fancy disposable paper napkins for that. They'll help protect your hands from getting messy while eating all of that delicious food.
Servers & Plastic Trays
Plastic trays are a great way to keep things organized, and they're perfect for parties because you can use them to serve food and drinks. If you're worried about your guests being able to clean up after themselves, consider using disposable plates and utensils. This will allow you to do all the work beforehand without worrying about cleaning up afterward!
You will also want some servers for your event. Servers can be used as an alternative to traditional waiters or waitresses by placing bottles of champagne on their trays to look like they're carrying them around! They are also great at carrying multiple drinks at once; this makes it easier for people who want something cold but want to avoid one glass after another (or two).
Corkscrews & Bottle Openers
Corkscrews are a must-have for any champagne bar. They come in various styles and prices, so you can find the best one for your needs. If you're having many people over, consider buying multiple corkscrews so guests can easily open their own bottles.
A champagne bucket is also a great addition to your bar. These buckets can hold up to 10 bottles of champagne and are perfect for chilling the contents. The best thing about them is that you can also use them for other types of drinks.
Bar Tools & Cocktail Accessories
Cocktail Mixer Sets

 - These essential items include everything you need to mix up any cocktail! They come with a shaker, strainer, and jigger (or measuring cup). Find a shaker that is also double-walled so that it won't sweat when being used with ice or other cold ingredients.

Bar Trolley

 - This unique piece allows guests to serve themselves and enjoy their beverages elegantly without disturbing other patrons nearby who may be enjoying their drinks at another location within our beautiful venue! The ample space underneath provides extra room for storing bottles of alcohol, such as rum or vodka, that might otherwise clutter up your countertop area during busy times when there aren't enough hands available around the bar.
Mixers & Syrup
Now that you've got your base spirit, it's time to start mixing! The cocktails in this guide will use either a mixer, syrup, or both.
Mixers are a simple way of adding flavor to your cocktail without watering down the base spirit too much. Mixers can be anything from soda water to fruit juice to Listerine® (if you're feeling adventurous). Syrups are a bit more involved than mixers, but they add an extra layer of complexity to your drink and help keep things interesting.
Syrups are concentrated sweetened liquids that add sweetness and flavor without dilution on the part of the drinker—so they're great if you prefer strong drinks or if you're dealing with an ingredient that doesn't play well with others (e.g., vermouth). You can make syrups using any sweetener: granulated sugar, honey, agave nectar, or even maple syrup! Syrups also provide sweetness and additional flavor components, such as vanilla extract for vanilla syrup or rosewater for rose-flavored syrup.
Desserts & Garnish
Desserts should be easy to make and serve. You don't want to spend the entire evening in the kitchen, so making many small desserts is not a good idea.
Your desserts should be delicious, festive, affordable, and easy to clean up! Fancy foods are great, but you can do many other things with your favorite ingredients to save time (and money) while still being impressive.
A Fun and Festive Champagne Bar Can Make a Great Addition to Your NYE Plans
A champagne bar can be a great way to get the party started. It's simple to set up and requires minimal effort, but it's also a great way to entertain guests and put your own personal touch on your NYE celebration.
Here's how you can make a fun and festive champagne bar:
Fill a large container (like a punch bowl) with ice cubes, non-alcoholic sparkling grape juice or champagne, and other non-alcoholic beverages like lemonade, fruit punch, or even orange juice. Adding some garnishes, such as sliced lemons or oranges as well. This will make it look fancier!

Use smaller containers for your mixers—these could be pitchers or vases of water—and then fill them with juices like cranberry juice and sugar syrup if desired; tonic water is another option! Ensure they're clearly labeled, so guests know which goes into each glass when they grab their glass from the bar area later this evening.
A champagne bar is an excellent choice if you're looking for ways to make your New Year's Eve celebration stand out. It can be as simple or as complex as you like, and it's sure to impress your guests with its festive fun. We hope this article has given you some ideas for creating one of your own!
Party on, Smarties! With love, Smarty had a Party!