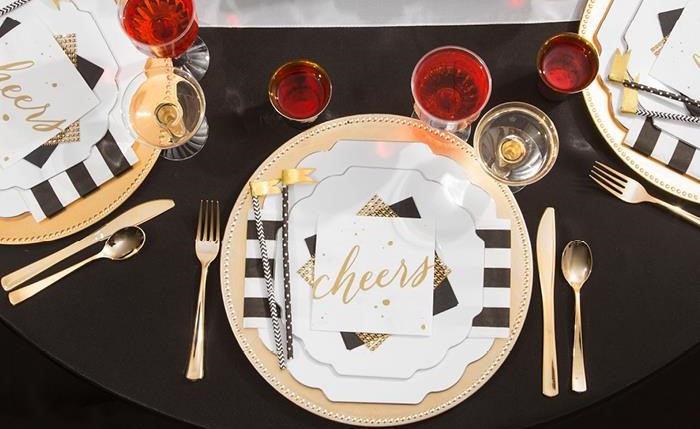 Elegant New Year's Eve Tablescape Ideas
Out of all the parties we host the entire year, the New Year party takes the cake regarding glitz and glam. Finally, the New Year is here, so it's time to start planning your New Year's Eve decorations. It is when everyone gets together with friends and family to say goodbye to a year and welcome the new one.
If you are hosting a New Year party, it's time to decorate your table to impress your guests. With our unique and stunning tablescape ideas, you can easily spice up your table setting.
1. Tablecloth
We know that a New Year party is all about gold and glitter, so it's time to incorporate some glitz and glam into your table décor. For this, you can start off by covering your table with a shimmering golden tablecloth. This will entirely transform the look of your table.
Now that your tablecloth is all glittery and sparkly, it's time to mix other colors. With a golden table setting, black goes the best. Try to include black decorations in your table setting. Black vases, black candles, black flowers, black placemats, napkins, and charger plates can totally elevate your tablescape.
Besides table decoration, the kind of dinnerware you choose matters the most when creating a beautiful tablescape. With a golden table theme, you need black tableware. Smarty offers a beautiful collection of plastic plates available in different colors.
The best thing about using disposable plastic plates is that they are easy to handle, and since they are available in various colors, they go well with any table setting. Visit Smarty and get your favorite collection of elegant plastic plates.
2. Confetti
If you have a simple table, it's time to turn it into something super unique. You can choose a plain table runner and throw some confetti to make it colorful and festive. Confetti comes in many colors, including silver and gold. If you want a glitz and glam look, it's best to throw golden and silver confetti on your table. 
3. Centerpiece
Centerpieces always amaze us with their quality of enhancing the table décor to a great extent. The table setting is always incomplete without centerpieces. On this New Year's Eve, if you are going with the glam look for your tablescape, it's time to include golden, black, and silver centerpieces for your table. You can also add white to your centerpiece if you want.
You can make your own centerpieces at home. Take a big, round gold charger plate and top it with a small black plate. Now you can place glass jars and vases on this plate.
 You can fill these glass jars and vases with artificial shimmering golden flowers. In addition to this, these jars can also be filled with golden or white candles. Finally, your perfect table centerpiece is ready, and you can enliven your table with it.
4. Silver and Golden
Silver and gold are definitely a match made in heaven. If you have a simple table and don't want to cover it fully, skip the tablecloth and use a silver table runner instead. For a fantastic look, pick a silver table runner and match it with silver and gold decorations.  
Silver disco balls decorated on any table look mesmerizing. For your upcoming New Year party, decorate silver disco balls on your table by mixing together small and large disco balls in a row and pair them with golden candles.  
With this table setting, you can use transparent glasses with golden rims. To enhance it further, it's best to use golden flatware.
5. Keep It Rustic
Who says you must go all glam when it's New Year's Eve? You can skip the glitz and glam and keep it rustic instead. For a rustic look, you can use a floral table runner. You can also make your own floral table runner by combining green ferns together.
Decorate a few pine cones around the floral table runner, or you can also decorate pine cones on napkins. Lastly, add some votive candles around the floral table runner to give your table a soft glow. To jazz up your table, you can also use glass jars and vases and fill them with pine cones and faux acorns.  
6. Decorate Glittery Drinks
Shimmering and sparkling drinks and mocktails are in fashion. If you want to add some fun to your New Year Party, you can use transparent glasses and cover the outside of these glasses with glue and decorate them with glitter dust. This way, you can have sparkling and shimmering drinks and mocktails, enhancing your table's beauty.
7. Paper Lanterns
Who doesn't love paper lanterns? Paper lanterns look incredibly beautiful, and they work in almost every setting. For your New Year party, it's best to use colorful paper lanterns. You can hang these paper lanterns over your table to balance out any vibrance at the party.
8. Winter Decorations
New Year's Eve decorations can also be inspired by the winter season. Snowflakes, snowmen, snowballs, Christmas baubles, and Christmas trees can be decorated on your table.
If you want, you can paint your Christmas tree silver or golden color and decorate it with different Christmas ornaments. Then, you can mix and match these decorations with white and golden candles, and that's how you can achieve a fabulous New Year tablescape.
9. Candles
Candles are always appealing to the eyes, and they possess the quality of adding magic to any table setting. With suitable candles, you can jazz up any table. They also have a calming effect on our minds and bodies. You can use white, black, or golden candles for your upcoming New Year's Eve.   
10. Lights
Celebrating New Year's Eve with lights is possible. You can also decorate your table with string lights. All you need to do is to take golden lights and put them in glass jars. You can also use colorful lights. These glass jars can make wonderful centerpieces for your table.
Party on, Smarties! With love, Smarty had a Party!