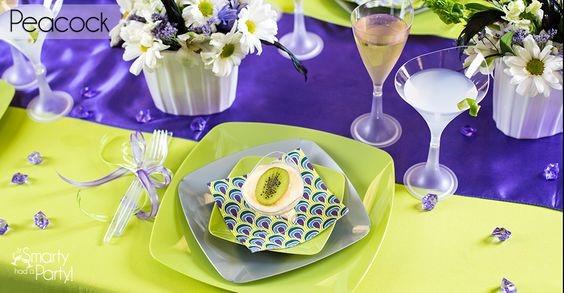 Amazing St. Patrick's Day Party Ideas
St. Patrick's Day, or the Feast of St. Patrick, is soon to arrive! It is a green-filled celebration of the Irish culture when wearing green clothes, drinking green beer, eating green sweets, and celebrating all things Irish is a must. And you don't even have to be Irish to celebrate St Patrick's Day (everybody is Irish on St. Patty's Day, after all!). All you need to do is host a joyful feast day for your closest friends and family members in the comfort of your home with Irish inspired menu, some Irish music, and green-themed, enchanting, and whimsical decorations to bring in the lucky festive cheer and include all the joyous St. Patrick's Day traditions to celebrate Irish pride and make your celebration stand out.
If you are unsure about how to get your party supplies in advance and all in one place to decorate your St. Patrick's Day party without going to the store, you don't need to worry! Smarty Had A Party has everything you need at an exceptional wholesale price! To help you turn this festive feast day into a memorable celebration with a pure Irish feel, create a magical tablescape for St. Patrick's Day with decorative plates, trays, disposable flatware, chargers, wine glasses, champagne flutes, disposable party dinnerware sets, and other plasticware, order your St. Patrick's Day tableware from our online store and get inspired by our impressive table decor ideas to add that gorgeous oomph factor to your party. 
Send original invitations to your friends in the form of the famous green clover with three leaves! Let a dress code accompany them in the form of green hats, Scottish skirts, and everything green and plaid! It can also be the idea of ​​a table arrangement! Plaid tablecloth and green napkins with a picture of a clover! The accompanying drink of this party is Whiskey and Balis, and coffee lovers will enjoy Irish coffee!
To make you inspired in advance, we have arranged this easy yet beautiful Peacock table setup, which will win over any leprechaun! Setting a fabulous table for St. Patrick's Day will make a stunning first impression on your guests and get everyone in a celebratory mood. Style your table with a green tablecloth and pair it with a blue table runner to impart a charming elegance. Choose our disposable dinnerware to ensure your tablescape is gorgeous and clean-up after the party safe and hassle-free. Arrange our green dinnerware set and silver cake plates with clear cutlery and colorful napkins on your table for a chic flair. Furthermore, choose our elegant wine glasses and champagne flutes to let your guests toast to their blessings with a pint of cheer.
No matter how many green items you include in your party, treats will always play the first fiddle. So have some dessert with your drinks...or some drinks in your dessert! To this end, we prepared a perfect, fancy-looking boozy St. Patty's Day Push Pop Recipe to help you feel the luck of the Irish. Cupcake push pops are a great treat for any party, and they are so easy to make! Simply layer mini cupcakes (choose your favorite recipe) with icing and sprinkles, and you have tasty and trendy treats to serve for any occasion. We made Guinness cupcakes with Bailey's Frosting for our St. Patty's Day push pops. Mmmmm! Pair these push pops with our Display Stand for the perfect presentation! We also carry a decorating stand that'll hold 24 pops while you decorate them. 
Guinness Cupcake Push Pops with Bailey's Frosting Recipe
What you need:
Push Pops Treat Containers
Mini Guinness cupcakes and Bailey's frosting
Pastry bottle or bag
Green sprinkles
Ingredients:
1 cup unsalted butter
1 cup Guinness stout
2/3 cup Dutch-processed cocoa powder
1 cup brown sugar
2 cups flour
1 cup white sugar
1 teaspoon baking soda
1 teaspoon salt

2 eggs

1/2 cup sour cream
Bailey's Frosting
Baking directions:
Preheat the oven to 350 degrees. Grease a mini cupcake pan or use liners.

Heat butter, Guinness, cocoa, and brown sugar in a saucepan on low heat and whisk until butter is melted and the mixture is smooth. Remove from heat and let the mixture cool.

Whisk flour, sugar, baking soda, and salt. Add eggs, sour cream, and chocolate mixture and beat on medium until smooth.

Pour into the mini cupcake pan and bake for 20-25 minutes. Let mini cupcakes cool completely.

For the frosting, cream butter until fluffy and slowly add sugar. Add Bailey's and milk and mix on low until it's the right consistency.
Party Ideas
Place your treats on your table with a green table runner. On the wall above the table, create a rainbow with a pot of gold at the end out of streamers, full of gold chocolate coins. The table should have sweet treats, rainbow cups, napkins, and plates for your guests to dive right in with pleasure!

It is the cocktail day! And who doesn't like cocktails? Just spice it up by making green punch, Shamrock shakes, or even Bailey's Irish! You can make most of these drinks without alcohol! Simply leave out the alcohol from the beverages for a child-friendly version of each cocktail. This way, the holiday can be enjoyed by children and adults alike!
Download printable St. Patty Day decorations, and put them on your wall. Of course, you will also need accessories to take amazing pictures. For example, you can download and print photos that you may attach to sticks, so your party guests can hold the images up to their faces and take a selfie!
All of these ideas are fun and inexpensive to put together. You will be able to save money and put a little personal touch on all of the party favors. The favors are especially fun to give out to kids and younger guests. The games, food items, activities, and decorations are great for all ages. I hope these St. Patrick's Day party ideas helped plan your event, but enjoy the party!
Happy St. Patrick's Day, Smarties!