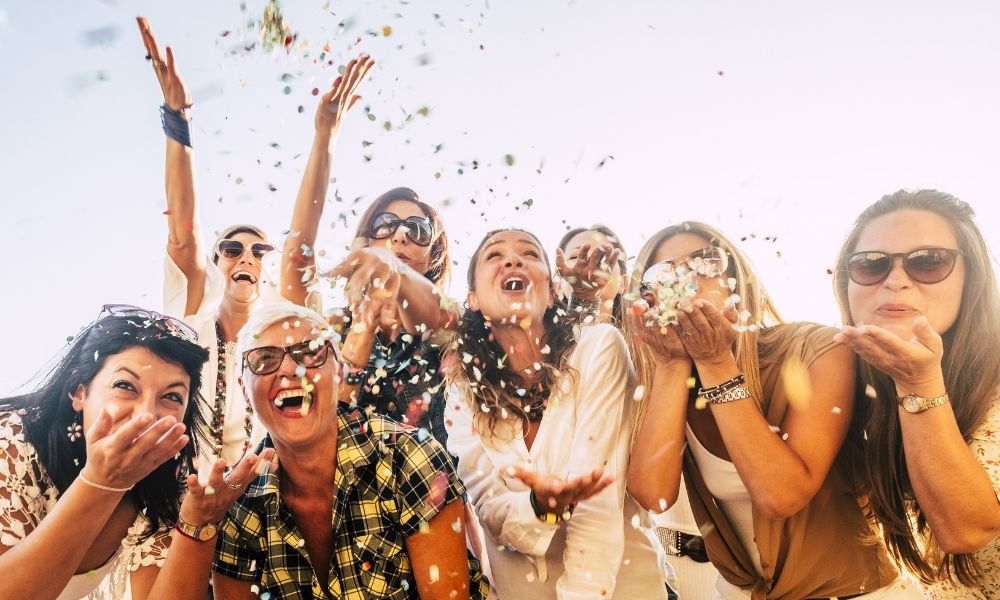 The Ultimate Birthday Party Supplies Checklist
At Smarty Had a Party, helping you plan parties is what we do. With our expansive array of party supplies, we provide everything you need for a memorable event. After a very challenging 2020, all our celebrations in 2021 and beyond have to be big—we have a whole lost year to make up for. So to help you plan birthday parties and more this year, we've prepared a list of must-haves. Don't throw your next birthday party without checking these items off our ultimate birthday party supplies checklist.
Want to Elevate Your Event Appeal? We've Got You.
Get 10% Off Your First Order
Invitations
Every party begins with saving the date. Whether you go digital or analog with them, birthday party invitations provide a perfect canvas to show off your artistic chops. They feature the interests, hobbies, and passions of your guest of honor. Stationery stores sell pre-designed invitations, of course, but also blank invitation stock for you to customize at will. The possibilities are endless if you're reducing your carbon footprint and postal burden by going paperless with your invitations. Even while working within the confines of social media platforms to coordinate your guest list, you can still personalize the invites with some well-chosen graphics and turns of phrase.
Tables and Chairs
Musical chairs are always a fun game to play at a birthday party—when that's the intention. Wherever you're hosting your party, leaving guests without a place to sit can leave them feeling like unwanted guests, which is no way to treat anyone you would invite. Even if it means resorting to steel folding chairs and card tables, go over your guest list as you're setting up and make sure no one will have to worry about going unseated. If you're using an event space for your party and want to shed that everywhere-and-nowhere feel as best you can, our elegant chair covers will attractively and affordably cover up those factory-standard banquet chairs and add a touch of restrained style to any room.
There Will Be Snacks
You can't expect everyone to hold off till the birthday meal and cake, right? So keep your snack supply plentiful with lots of sweet and salty treats for your guests to graze on. But, of course, more adult tastes might look for a little more nuance. That's where veggie platters come in. Celery and carrots always make healthy snacks, even with those indulgent sour cream dips, and will keep guests appetized as they make conversation, enjoy the day, and wait for the big meal.
Napkins
If you're hosting a party for kids—whose table manners can still be a little uncouth—you won't want to skimp on napkins. Depending on the age range of the guests, themed, vividly printed napkins may or may not be appropriate. Still, extra napkins are a must with ample snacks, a big meal, and the supernatural tendency of birthday cake frosting to end up in all sorts of places beyond our mouths.
Disposable Dinnerware
Save the paper plates for weeknight dinners at home. A proper party calls for eye-catching and memorable dinnerware. One of the perks of disposable dinnerware for a themed party is that it allows you to incorporate even more of the setting into your theme. Color-coordinating your dinnerware and drinkware wouldn't be possible if you just tried to make do with what you had on hand. With the dinnerware collections available from Smarty Had a Party, you can tastefully but colorfully bring more life into your party with single-use dinner sets full of bright colors, unorthodox patterns, or even restrained but stylish designs for more grown-up parties.
Balloons
Whether they're latex or mylar, balloons have become synonymous with birthday celebrations, and no party would be complete without some—or, let's be honest, a lot. With balloons available in so many colors, make sure that you incorporate the birthday boy or girl's favorite color into the décor. If inflating all those balloons with your own hot air is going to get you feeling light-headed, don't forget to pick up a pump to go with them. You may opt for a helium tank from your local party supply store to keep your balloons flying high.
H-A-P-P-Y B-I-R-T-H-D-A-Y!
Cliché? Maybe. Necessary? We think so. It's not truly a birthday without hanging that banner that reminds everyone exactly why they're there. Birthday banners are low-cost, easy to hang, and whether they're hung in earnest or with a wink of camp and kitsch, it's a small detail you can't skip.
Birthday Cake
Truly the pièce de résistance of any good birthday party for celebrants, young and old alike, no special day is complete without a delicious and well-decorated birthday cake. With so many cakes to choose from, the highwire act of selecting the right cake is about finding one that the guest of honor will enjoy but also one that will appeal to as many guests as possible. Favorite flavors like German chocolate may be a little too rich for everyone else, while an upside-down pineapple cake can be too unorthodox for a wide group of well-wishers. Some picky eaters eschew the entire notion of a birthday cake, opting for birthday cupcakes or, in some rare cases, a birthday pie or even a troika of pies. However, you and your birthday celebrant choose to go forth with the big dessert—you can't have a birthday party without satisfying each guest's sweet tooth.
Party Favors
As we wrap up the ultimate birthday party supplies checklist, let's tie up any loose ends with that big catch-all: party favors. First, of course, you'll want to send your guests home with some souvenirs, even if edible offerings are so tempting that those favors don't exactly make it all the way home—or all the way to the car. For kids, that could be candy. Adults may prefer small gifts or homemade arts and crafts. Either way, perfect party favors ensuring that in your guests' hearts, the party doesn't end when the event does.