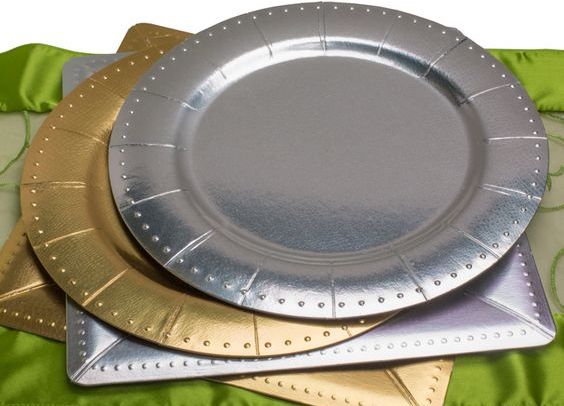 What Is a Charger Plate?
What Is a Charger Plate? Its Uses, Purposes & Materials
Charger plates are the backbones of any formal table setting. In this blog, we'll learn a lot about charger plates.
Want to Elevate Your Event Appeal? We've Got You.
Get 10% Off Your First Order
What Is a Charger Plate?
A charger plate is known by different names in different parts of the world. Most commonly, charger plates are referred to as service plates, underplates, and in most regions, chop plates. Charger plates are larger than dinner plates and placed underneath the dinner plates or bowls. 
In formal events, the charger plates are placed before the arrival of the guests. Moreover, the white charger plates are used for formal occasions, but that's not a mandatory thing to keep an eye on. Black charger plates are also used, and they look fantastic. Charger plates prevent any strain or spill and help keep the table and outfits of your guests clean and tidy.
What Is a Charger Plate Used For?
Apart from being a great centerpiece, charger plates are used for multiple purposes. If you're wondering, 'what is a charger plate?' Charger plates are not your dinner plates, so don't try to serve your food on a charger plate. That would be so embarrassing!
The primary purpose of a charger plate is that they're just there to hold your dinner plates or bowls or anything in which the food is served. Charger plates go under your dinner plates, preventing spills from straining the table cloth or your expensive suit.
Charger plates give the table a nice and elegant look at formal events. Mostly, caterers get creative with the charger plates by using different colors, which makes the table look fascinating.
Charger plates are also known to maintain the temperature of the food and keep it hot for an extended time.
Charger Plate Materials
In most formal events, ceramic charger plates are used. This is because they look royal and have an excellent finishing. But managing ceramic dinnerware is risky, so caterers usually prefer plastic charger plates.
In the market, charger plates are available in different materials and shapes.
Glass: Glass charger plates make the most noise but have a great texture.

Wood: Wooden charger plates are usually eco-friendly and can only be used once since they absorb moisture.

Ceramic: Ceramic charger plates are pretty heavy, and when it comes to mobility and traveling, caterers don't usually prefer ceramic ones since they're extremely heavy.

Charger plates can also be found in rattan material with a vintage feel.

Plastic: Disposable plastic charger plates are lightweight and easy to carry. They can make any party hassle-free with their disposable design.
Charger Plate Features
If you're selecting the charger plates for an event, choosing the right set of charger plates can save you a lot of money on your party arrangements. To get the best deal, you need to be looking for features like:
1. Are charger plates dishwashers safe?
It all depends on the type of charger plate you're looking for. If you're up to ceramic charger plates, you must look for any statement or symbol about its guarantee in the dishwasher. Disposable charger plates, like plastic and eco-friendly ones, don't need to go in the dishwasher, so that's an exception.
2. Are charger plates environment-friendly?
Most charger plates are eco-friendly and reusable. For single-use dinnerware, eco-friendly plates make the table look more natural.
3. What shapes do they come in?
Mostly, charger plates are in round and square shapes. However, the market is full of unique and inspiring shapes of charger plates.
Charger Plate Etiquettes
For formal events, it's extremely important to learn the etiquettes of the charger plates. 
1. Enters early and leaves with dinner plates.
Charger plates are always dressed before the guests arrive and are removed along with the dinner plates when the guests are finished with their main course. Finally, the table is cleared to make room for dessert.
2. Charger plates are not for desserts.
Desserts must never be served on the charger plates. Charger plates must be removed along with the dinner plates.
3. Watch for perfect alignment.
The charger plates are placed one inch away from the table's edge for perfect alignment.
4. Charger plates are not dinner plates.
Never serve food on charge plates. Instead, use dinner plates or a bowl to serve the food instead of serving it directly on the charger plate.
When to Use a Charger Plate
For formal events, charger plates are considered to be the must-have items. However, they can also be used when you need to keep things sane and sound. For example, charger plates can maintain the food's temperature or keep your guests' outfits safe from stains.
Charger Plate vs. Dinner Plate
Charger plates are usually larger than dinner plates and go right in front of guests. The dinner plate is placed on top of the charger plate to serve the food.
The average size of a charger plate is around 13 inches, and that of a dinner plate is about 10 - 10.5 inches.
Alternative Uses of Charger Plates
Charger plates can be used to place centerpieces on the table. They can provide a clean space to put some centerpieces on and grab the attention of your guests.
Charger plates can also be used to hold the candles. So if you're planning to have a candlelight dinner, you can place scented candles on top of charger plates, and you're good to go.
Buy Disposable Charger Plates at Smarty Had a Party
Amazed with the uses of charger plates? Smarty Had a Party has got you a great variety of fantastic charger plastic plates and fancy disposable plates. You can buy plastic charger plates in bulk to save a substantial amount on your order with Smarty.
Moreover, we also provide disposable paper charger plates that are incredibly light in weight and highly mobile in nature.
Want to Elevate Your Event Appeal? We've Got You.
Get 10% Off Your First Order
Frequently Asked Questions (FAQ)
Do you use placemats with charger plates?
Charger plates perform the same function as placemats. You don't necessarily have to place placemats with charger plates. Both keep the tablecloth from getting stained with spills.
Are charger plates safe for food?
Charger plates are not usually cleaned like dinner plates because everyone knows they're not used for serving food. So, it's better not to eat your food on charger plates.
Are charger plates out of style?
In formal settings, charger plates are still considered to be an integral element of the party. However, charger plates don't hold much importance for informal party settings.
How do you decorate a charger plate?
You can place a napkin fold with a ring, place a centerpiece on a charger plate to make it stand out, or you can also decorate it with LEDs, rose petals, or some scented candles.