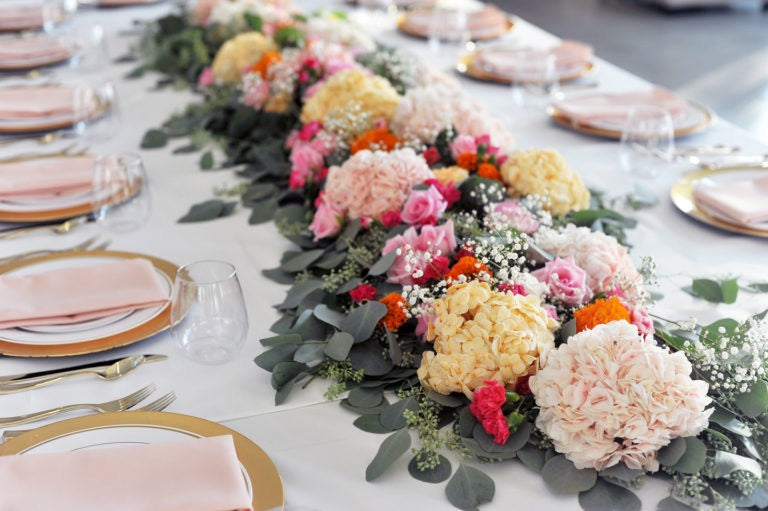 Amazing Spring Wedding Inspiration Ideas
When you hear the word 'spring', you think of new beginnings. The flowers, the leaves, and the wind - everything sheds off the quietness of the winter and takes a new start all over again. Since our moods are also very much affected by weather conditions, the spring season makes us want to feel the goodness of it.
If you are planning to host a party or a wedding this year, now is the perfect time to do it. In case you are already having a wedding this season, you are lucky! Because we are about to drop some spiffing spring wedding ideas to make your big day memorable.
Spring Wedding Themes
Deciding a theme makes it a lot easier to decorate the venue. Here are some of the party themes you can pick for a spring wedding.
Dark Academia Inspired Theme
Ah! The aesthetics of dark academia. Give your wedding a vintage touch and take yourself back to 19th-century art which is the most loved and adorned art form, especially among Gen Z. Picture a scene from Harry Potter and your dark academia-themed wedding should look something like that. 
For the dress, choose a tweed or wool fabric in charcoal or slate color. Skirts and gowns, often paired with a white blazer, are mostly preferred in this theme. Red lipstick and dark smokey eyes will complete your look exceptionally. 
Decorate your dark academia cake with blueberries, blackberries, and green foliage and serve in our disposable dinnerware for weddings. The dark accents of the decor, when rightly paired with the dinnerware, will give your wedding a one-of-a-kind look.
While it may not look like a traditional wedding, your wedding venue will surely be the talk of the town.
Royal Blue Peacock Theme
Peacock feathers make up for an attractive decor because of their magical colors. They hold a special place in the hearts of the event decorators as they are aesthetic enough to entice up any event. You can incorporate peacock feathers in your peacock theme wedding in a lot of ways. 
Take long, narrow-mouthed bottles and customize them with paint, glitter, white beads, and pearls. Put peacock feathers in the bottles and place them on your tables. Keep in mind that the tableware you select should complement these centerpieces. Get our royal blue elegant disposable dinnerware for the wedding to enhance the looks of these peacock feathers.
Tropical Theme
This theme uses lush greenery elevated by the vibrancy of colorful flowers. Tropical themes provide you a great opportunity to cheer for summer and get that island beach vibe. Typically, most designers prefer aqua, turquoise, blue, green, and pastels for a tropical theme, and mainly organic colors. 
If your wedding destination is a beach, it will be even better because you will get to truly experience a perfect tropical wedding. Set up a tropical bar and serve martini, mint margarita, and peach juice.
Beach Theme
A beach theme mainly contains bright colors like citrus colors. The waves from the ocean touching the sand feel so relaxing, and the pictures come out very alluring.
Color Themes
Themes can be based on color schemes, although this choice is a subjective matter. Some people would prefer a color scheme, and some would hate the same colors. A lot of it comes from the psychology of liking and disliking a particular color. There are a few rules that you are supposed to keep in mind before setting a color scheme.
Don't make a jumble of bold and bright colors. No one finds them attractive. Instead, use only three to four colors in the decor and stick to them. Since 'Less is More', keep the representation of the colors low-key, and your decor will look extremely beautiful. But if you are confident and think you can ace a color scheme, forget all the rules and go with what your heart says; because at the end of the day, you need to make yourself happy.
Here are a few color combinations that are perfect for a spring wedding.
Purple, Lilac, and White
Purple represents bravery and wisdom, while white represents purity and simplicity. There is some magic to the color white, making it look great with any other color. 
Minimalist Green, White, and Fuschia
Green makes the world go round! It would be safe to say that the color that brings us close to nature is green. A minimal green, white, and hints of Fuschia - perfect combination for a spring wedding.
This combination is particularly great for a tropical theme. Our plastic dinnerware for weddings is available in different textures and colors to match your decor and theme.
Decor that Stands Out
Humans love what pleases their eyes. It is thereby important for your wedding venue to attract the attention of your guests. With elegant centerpieces, beautiful decor, and alluring tableware, your wedding venue will surely be remarkable.
Go all out with the decor, and don't forget to decorate the ceiling so that it looks interesting as well. Reuse old champagne bottles, paint them white and apply glitter and hang them from the ceilings. They can also be used as flower vases for your wedding tables.
Make decor pieces that hang from the ceilings because no one wants to see a boring white ceiling at a wedding. Make DIY decor out of old plastic bottles, light bulbs, and flowers.
Flowers are a 
Must
Flowers are the most important part of a spring wedding. They are the real deal and really make a wedding look grand. They can be used as wall hangings, ceiling decor, and centerpieces for your wedding tables. You can also make small bouquets out of them and give them to your guests as a gift.
Small packets of flower seeds can also be given to the guests as a wedding favor.
Make an elegant flower arch at the entrance so that your guests can fall in love with the decor the moment when they enter the venue.