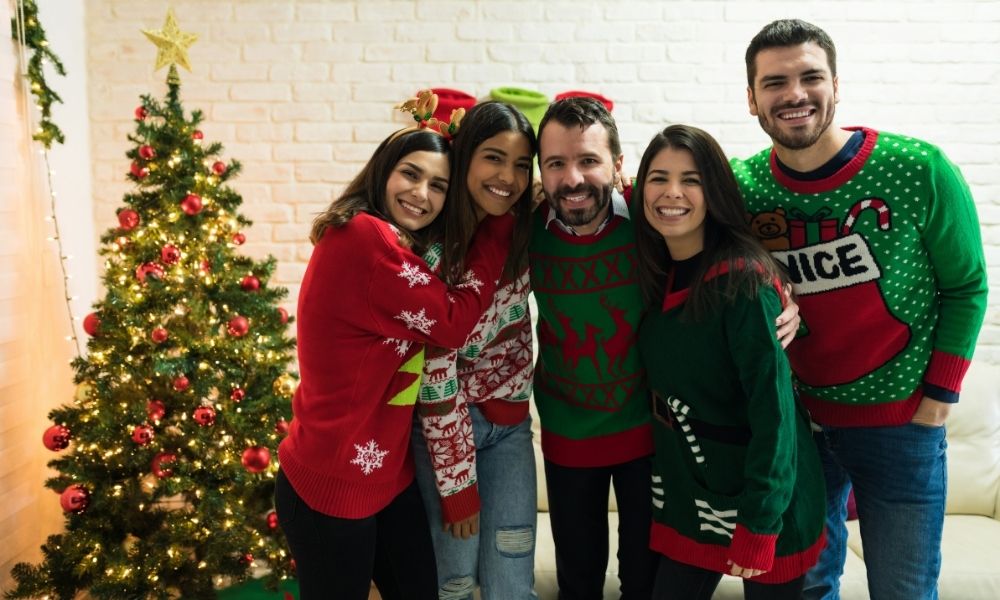 Alternative Holiday Party Themes To Consider
While the holidays are merry celebrations that we all love, they can sometimes be stressful or monotonous. However, one way to spice things up this holiday season is to throw an alternative holiday party.
If you aren't sure which ones to try out, don't worry; we have you covered. 
Here are some alternative holiday party themes to consider:
Ugly Sweater Party
If you want to try out a hilarious holiday party theme, you should have an Ugly Sweater Party! Everyone has seen an ugly holiday-themed sweater on the racks at a store or on the back of a loved one. Embracing the charm and humor in wearing ugly sweaters can help set the mood of good tidings and cheer.
The best part is that you can ask one of your relatives to see if they have an old one you can borrow. However, if you can't find any in your grandma's basement, you can always stop by your local secondhand store to see what they offer. Then, you can award the best sweater wearer with a prize to take home at the end of the night, such as a bottle of wine or a gift card.
World Holidays Party
Almost every religion, culture, or nation celebrates some holiday during the winter. If you want to host a holiday celebration that is inclusive to all, you can host a gathering that acknowledges many winter holidays worldwide.
From Christmas and Hanukkah to Ramadan, Bodi, and Kwanzaa, you can designate specific areas in your room for each holiday and have everyone enjoy the best that each has to offer. Also, you can bring everyone together by hosting a potluck where each friend brings cuisine from a specific culture. This will ensure that there will be food that suits everyone's tastes, and it will give you a chance to try something new.
Murder Mystery Party
Murder Mystery Parties are fantastic for building teamwork among friends and family. Hosting one this holiday season will also be a great way to ring in the new year. At the beginning of the party, someone will get "murdered," and the rest of the party will need to figure out who the culprit is by asking questions to each of the characters that your friends and family will play.
You'll have to guess which person did it at the end of the party. If you want to make cleaning up easier for your holiday party, try using elegant disposable party supplies for some old-fashioned charm.
Overall, the holidays are a particular time for all of us. And you can keep them engaging with changes to enjoy the celebrations even more. Now that you know some alternative holiday party themes to consider, you shouldn't have trouble keeping things fresh and exciting!
Pajama Party
Everyone must wear pajamas, preferably holiday or winter-themed. The whole point of this game is that the pictures from the party are beautiful. You have to convince your friends to show up in their sleepwear, and that's it! And the fun is super expensive and very comfortable!
Seriously Fancy Party
This may sound like more work, but it's the opposite of pajama parties - everyone has to show up in formal clothes. The party immediately becomes more classic, and everyone looks fancy. So many opportunities for glamorous selfies and other ideas!
Scifilent Night
This topic is not simple, but it is not that demanding! You can make a big old TARDIS on the wall from blue painting tape and Christmas lights, and then we invited people to come dressed as science fiction characters if they want. We didn't do much else, but the TARDIS was enough to sustain the theme for the night. It became a photo booth, which is funny when you think about how pictures look like travel and what you can do with them!
Additional Party Ideas
20 years later  
We decided to have a party on this topic, where we all pretend that 20 years have passed since then. You need to come up with the last story about what your life is like now and what you did, with the opportunity to bring photos of your dear people or dogs. Be sure to dress up as 20-year-old people will be fascinating!
Arabian Party in the Tradition of Morocco
You can adapt the traditions of Morocco or any other Arab country. Imagine - dancers, traditional Moroccan mint tea, and exotic clothes. 
Madonna party 
No need to buy unique costumes and no problems with music, dress in her famous creations, and listen to Madonna all night.  
Mexican party
Tequila and fiery Mexican food and music will make the night unforgettable!
Jazz Party
Create a famous club in New York from the 1930s to the 1950s at your home. Retro style, cocktails, and jazz music. 
Party Princess Competition
Let all the girls wear tiaras and dress like princesses! 
Spa Party
Why not invite your friends to a spa party? You can organize a manicure contest and let all the guests wear face masks. It will be a relaxing party!
Al Capone Party
Inform your friends to train in black and white. Hats are a must! Play Carlston and watch Capones movies!
Indian Evening 
Dress up in Indian dresses, cook Indian food and watch Indian series! It is also an ideal opportunity to learn Indian traditional dance!
Casino Party 
You can make a casino out of your house. You just need to provide a lot of snacks, beer, and a big table with cards! But no money! He plays in stripping or something!
We hope we helped you make the evening unforgettable! There are so many topics and ideas for fun that it's hard to decide! But let your friends help you with that! Vote, so allow a more significant number to choose! Then, whatever topic you decide on, you will spend, at the very least, an exciting evening with friends, with unforgettable photos that will remind you of this beautiful moment!