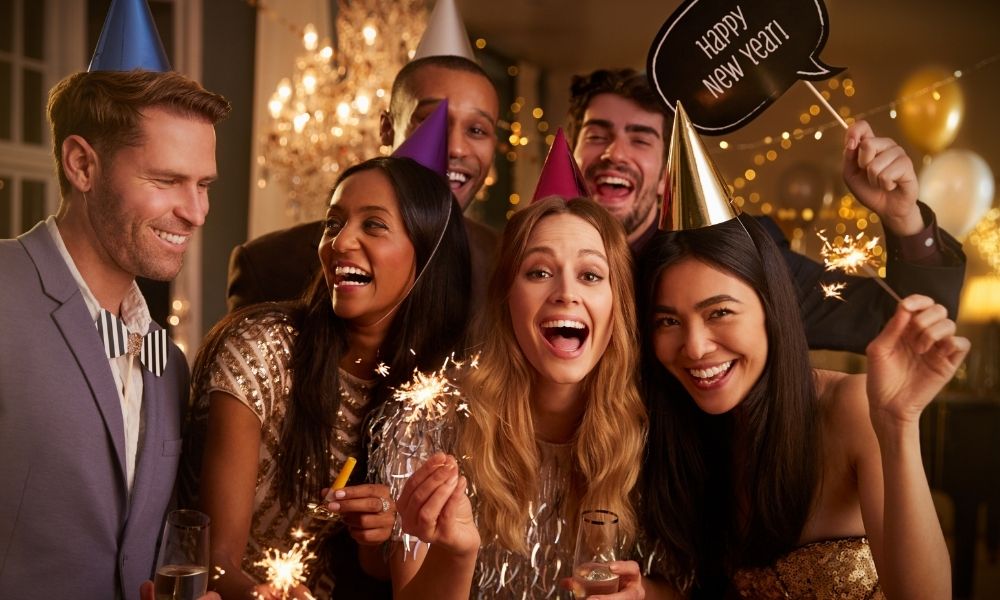 Tips for Throwing the Ultimate New Year's Eve Bash
If you want more respect from your friends and relatives, hosting a fantastic New Year's Eve extravaganza is one of the best ways to do this. As long as you know what you're doing, it's relatively easy, creating memories that will last a lifetime.
Your guests should be thankful that you are helping them avoid pricey New Year's Eve event tickets, and this will also allow them to enjoy more drinks for less money. Nevertheless, hosting an unforgettable party requires lots of careful planning, so if you don't have all the time and effort to put the event together, don't hesitate to ask for help.
Setting out some chips and drinks won't be enough if you truly want to wow your guests, so you need to plan everything you want for this party. Some things you can put on this list might include appetizers, cocktail ingredients, decorations, specialty cups, and even entertainment for the evening.
Once you put in all the time and see the fruits of your labor, you will appreciate all the hard work you put in, and then you can finally enjoy the party! With that in mind, here are some tips for throwing the ultimate New Year's Eve bash.
Pick Out a Distinct and Obvious Theme
Giving your friends one more chance to wear a costume can elevate a regular New Year's Eve bash into a truly unforgettable one. You can pick any theme you like, but you must ensure that all your guests know what it is before the day comes.
That's why you need to send out invitations at least two weeks in advance, so your guests know where you are hosting the party and what they need to wear or bring. Some fun themes could be an 80's party, a Star Wars theme, an opposite day, or even one inspired by internet memes. Your imagination is the only limit to the creative possibilities, so get those invitations out as early as possible to give guests plenty of time to plan what they wear.
Schedule Your Party So There's Time for Everything
Although you want to pack as many fun things as possible into your New Year's Eve bash, you don't want to cut anything short due to time constraints. However, if you have too many activities planned for the main event, you might discover that the countdown to midnight has come sooner than you thought.
Scheduling out how long you want each section of the party to last is a fantastic way to ensure that there's enough time for all the festivities. This will give your party a nice pace so that you can entertain your guests for the entirety of the event without any downtime or boring bits. Keep in mind that the more activities you want to include in the party, the earlier your guests must arrive in order to get to everything.
Bring Drinks That Everyone Will Enjoy
New Year's Eve is obviously one of the biggest drinking holidays of the year, so you want to ensure that your libations are as unique as those of the people who drink them. A case of light beer and a punch bowl won't cut it this year; don't be afraid to pick some top-shelf stuff for your guests to sip on.
If you want to serve beer, try serving local or craft beers with unique flavor characteristics. Also, if anyone on your guest list won't be partaking, include something for them to enjoy, such as eggnog, tea, or juice cocktails. Finally, serve your drinks in disposable cups to make cleaning up easier.
Create the Ultimate Party Playlist and Allow Your Guests To Contribute
You must pick the perfect tunes for the occasion to set the mood right. Booming drums and bass are fine after the clock strikes midnight, but it can be a bit overwhelming if that's the first thing your guests hear as they walk in the door.
Try to find a balanced mix between singalongs, club jams, and background chill tunes, so there's something for everyone. In addition, you can use apps like Spotify or Soundcloud to create a public playlist for your guests to add to throughout the evening.
However, ensure that people agree on what types of music they like beforehand, so there isn't any clashing. After all, you don't want your friend to blast heavy metal right after a Bob Dylan song.
Cook Delicious Appetizers for Your Guests
No matter which holiday you celebrate, any good party should have tasty food. With all the other planning involved in setting up a New Year's Eve bash, you might want to ditch dinner and just serve appetizers.
Still, you can make the event more tasteful by using fancy disposable dinnerware sets so your guests can feel extra classy. When deciding which food to serve, have a mixture of cold food such as salad and charcuterie and hot food like pigs in a blanket and meatballs. You might want to include fruit, bread, cheese, and crackers.
Use Icebreaker Games To Get Everyone Acquainted
If you invite a huge group of guests, they might not all be acquainted with one another, which is why you will want to break the ice with some party games. It's an excellent method for getting everyone to learn each other's names and some facts about them, which will help your guests bond well into the evening.
You can also use this as an opportunity to reward the designated drivers by having them play a different game from the rest and giving them all prizes. Whichever game you decide to play, confirm that everyone in your group knows how to play and understands the rules they must follow before starting.
New Year's Eve is one of the most enjoyable holidays of the year, so your party needs to be exceptional. Now that you know a few tips for throwing the ultimate New Year's Eve bash, you should be well on planning the party of the year!