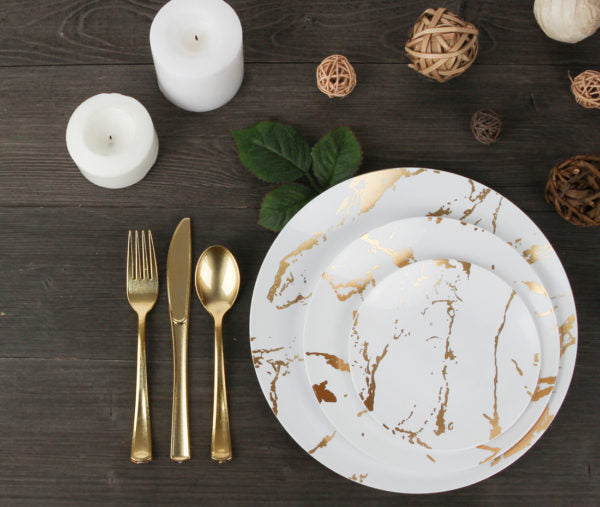 Attention: It's Cyber Week Sale!
How's it going, Smarties? It is almost the end of another year, isn't it? It felt like January was just last month. At the end of every year, we see that many sales are offered nationwide. Isn't there a sale here on Smarty Had A Party? 
After making our smarties wait for an extended period, we are happy to say the wait time is over! The much-awaited cyber week is finally here. Those, who have been eagerly waiting, should start preparing to spend a lot on their favorite items. Is your favorite item the elegant-looking dinnerware set? Or are you looking for party supplies to make your events more beautiful?
Take a scroll to discover the best deal on the dinnerware sets, party serving wares, and many more! After you go through our products, you will want to get your hands on everything.
Elegant Dinnerware and Partyware Set Sale
Buying dinnerware sets and party supplies is an expensive affair. And if you have to buy them every year to host different events, that will surely make a hole in your wallet! However, we all know the secret to buying these for a much lesser price. The best strategy to buy this dinnerware is to wait for a Cyber Sale. Which is here now! Cyber week sale is the best time of the year to get your hands on your favorite dinner sets and many other essential items. 
If you are fond of hosting parties, you must be looking for new dinnerware sets for each party. After all, the party lover in you won't like to repeat the same dinnerware again and again. But when you think about it, that's quite difficult as it might not fit your budget. 
That's why we recommend shopping on Cyber Monday! You are sure to get yourself the best deal offered on this day. The prices of the dinnerware are pretty low. You will end up paying only a fraction of its actual cost! 
We offer a wide range of elegant dinnerware sets in different shapes, sizes, and colors. Some of our most loved colors are white with gold, black, black and white, lime green, black and brown and white, blue, grape purple, aqua blue, black with coral and pink, sea aqua, and Burgundy. If we go on to tell some of the shapes of our plates, there are square-shaped plates, round plates, and botanical leaf shapes. We also have leopard, wave, zebra, and marble printed plates. 
Are you excited? Curious to know which one of these is going to be on sale? That is for us to know and for you to find out! 
So get your wallet ready for the Cyber Monday sale and start shopping for the best dinnerware sets and other kitchen items you think you will definitely use while hosting all your parties and other special events.
Don't we have any disposable dinnerware options available? We sure do, loves!
Our Disposable Dinnerware Sets
If you are wondering about taking full advantage of the Cyber Sale, you must need a guide. Why do you need a guide? So you fall on the right product and place to find it. Many new dinnerware sets and party supplies are launched daily in the market. So it gets difficult to find the best fit for your kitchen and needs to be fulfilled. 
Lucky you are! We have covered you with our elegant-looking and stylish dinnerware sets and party supply sale that you can store for the entire year without worrying about outdated style as they are modern. And because we offer a wide range of dinnerware, you won't have to worry about limited options. But, of course, a little mix and match can take you a long way, too! 
Our disposable dinnerware sets are perfect for any event such as a wedding ceremony, birthday party, brunch, get-togethers, upscale parties, picnic parties, and casual parties. Moreover, we have everything in stock that your guests will use while having a delicious meal on the table. With their high quality, our products give your guests a pleasing experience. 
As our dinnerware sets are disposable, you won't need to get your hands soaked in the freezing water to clean them. Instead, you can dispose of them quickly. Plus, all the items are made of plastic, making them lightweight, durable, and easy to carry even at your picnic party. With our disposable dinnerware, you don't have to worry about cleaning a mess that might end up hurting you. Because of that, these plates can be handed over to your kids too. Here at Smart had a party, we believe everyone should have the chance to experience the elegance of our products. 
We think you'll love the range of salad plates, plates, and bowls we have offered. Our favorites are the black flair salad plates, White with Black Zebra Stripes Round Disposable Plastic Dinner Plates, Oceanic Reef Oyster Reusable Melamine Shell Bowl, and Botanical Leaf Reusable Melamine Salad Plate. Are your favorites on sale? Hurry! And check them out! 
Eco-Friendly Tableware Sets
We have offered some of our eco-friendly tableware for a much lesser price this season for the sustainability-minded smarties. Are you looking for palm leaf trays for less than 30 dollars? You are at the right place! Want bear-shaped, fish-shaped, and frog-shaped biodegradable trays for your birthday party? They are in the sale! We gotta agree; they will surely complement your animal-themed birthday party. Do we have boat-shaped trays? Why don't you check for yourself? We are full of surprises, after all! 
Cyber Sale on Dinnerware Sets
Disposable dinnerware sets not only offer you practical benefits but would also help you save the money you have been spending on buying ceramic. Moreover, it's a cyber-week discount, so the prices are minimized. 
Look around and get the wholesale plastic dinnerware for the next party, or else you can buy in bulk to throw parties without any hassle.