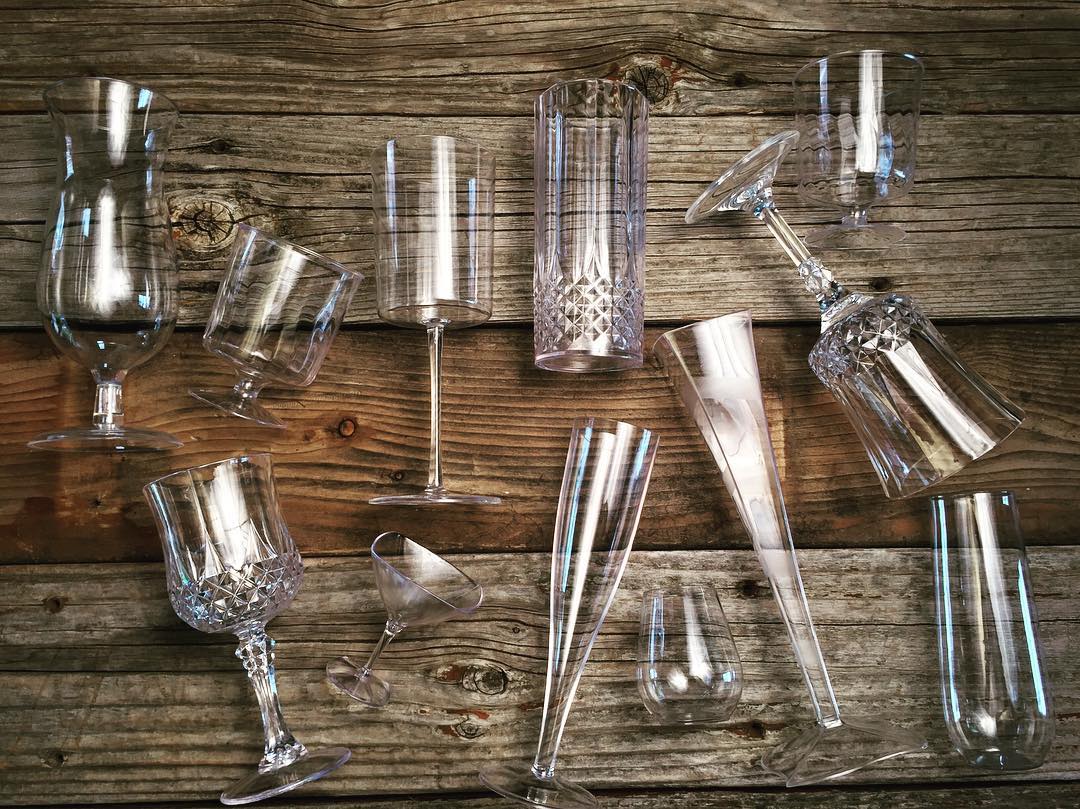 9 Types of Cocktail Glasses
9 Types of Cocktail Glasses for Every Kind of Drink: A Complete Guide
Suppose you're throwing a party with a fully-furnished bar loaded with tons of flavors and colors, but when it comes to serving your guests, you only have uni-styled drinkware. Will you really put Martini and Coke in the same type of glass? Sounds weird, right?
Every drink needs to go with a specific type of drinkware. The style, design, depth, height, volume, everything matters to make every sip taste supreme. If you have no idea about the different types of cocktail glasses, sit back, we've got you covered with our complete guide on nine types of cocktail glasses for every kind of drink!
What Are Cocktail Glasses?
Initially, when cocktail glasses started to emerge in the markets, there were mainly stemmed and were more like martini glasses. The reason was to keep the temperature of the drink cold because the cocktails are always served chilled. But today, we see a lot of cocktail glasses types without stems, and they have their own charm.
Why Invest in Different Types of Cocktail Glasses?
Nowadays, cocktail glasses are designed for only a few types of drinks. You can't just serve all kinds of cocktails in one-single glass design. You need to come up with a range of cocktail glasses to make your bar look complete.
People are savvy enough and already know about the different cocktail glasses and the drinks that go with them. So, having multiple cocktail glass types is the only way to make a statement about your love for 
Surprisingly, you don't necessarily have to buy a separate glass for a specific drink. Instead, you only need 9 of them and use them for every kind of drink.
Cocktail Glass Materials
There are quite a few materials that are commonly used when it comes to the types of cocktail glasses. Glass is the most common and traditional. However, most mixologists also recommend copper and tin because of their insulation characteristics. Along with metal drinkware, people also love to have drinks in acrylic and plastic cocktail glasses (aka plastic beakers).
Now, which material to use depends highly on which drink you will serve. But that's not the only thing to pay attention to; your drinkware's style also matters a lot.
Cocktail Glass Styles
Stemmed cocktails are the most traditional and iconic ones. But, as we mentioned earlier, every design has a different function to perform. For formal occasions, stemmed cocktail glasses will do the job pretty well, and for casual hours with friends, you can use a stemmed or lowball glass, as long as it matches well with the drink type.
Types of Cocktail Bar Glasses
1. Highball Glass
A highball glass is tall, straight, and holds around 8 to 12 ounces. The tall shape helps preserve carbonation, keeping the ice stacked in the glass and the drink equally chilled. Highballs are used to serve:
Sea Breeze Cocktail

Vodka Tonic

Long Island Iced Tea
2. Collins Glass
A Collins glass is just like a highball, but it's usually tall in size. It holds around 10 to 14 ounces, and its function is almost the same as a highball glass but is used to serve:
Tom Collins Cocktail

Pink Virgin Tom Collins

Lyre's London Dry Collins
3. Martini Glass
A martini glass has a V-shaped bowl which allows drinkers to get the most scent out of it. The steep sides of a martini glass were designed to keep the ingredients in place, but the problem was that martini glasses were responsible for most drink spills.
It gives your bar a modern look, and you can serve the following drinks with a martini glass.
Cosmopolitan 

Pineapple Martini

Virgin Piña Colada
4. Lowball Glass
A lowball glass is a shorter version of a highball glass but is used for drinks that contain insoluble ingredients like lemon zest, orange rind, mint, and other herbs. Most cocktails go best with lowball glasses. Lowball glass can be used to serve:
Negroni

Gin Sour

Whisky Smash
5. Champagne Flutes
Consider it a highball on a large stem. Its purpose is to maintain the carbonation of the drink, and it's commonly used for drinks that are served with herbs like:
Blushing Mimosa

Blood Orange Mimosa 

Cotton Candy Cocktail
What Are Specialty Cocktail Glasses?
Specialty cocktail glasses come with designs that are so unique and attractive that your guests will definitely ask you, 'where did you get those from?'.
You can spice up your ordinary drinks by enhancing the presentation of your cocktail glasses with spirals, slices, or crushed sugar.
Types of Specialty Cocktail Glasses
6. Stemless Glasses
Stemless glasses are perfect for various cocktails. The elegant shape and wide-open silhouette make the stemless glass the ideal vessel for serving cocktails. In addition, the flat-bottom structure keeps things sturdy on your bar, drink station, buffet, and tables.

Pomegranate Moscow Mule

Orange Moscow Mule

Virgin Moscow Mule
7. Punch Mug
Punch mugs look funky and may or may not have a handle attached to them. Drinks that are strong in taste are usually served in punch mugs after mixing in a separate bowl or a cocktail shaker.
Virgin Mojito

Shirly Temple

Virgin Strawberry Daiquiri
8. Margarita Glass
Margarita glass has the most designs available in the market, and it really looks impressive when ice condenses its side walls. Drinks that go perfectly well with margarita glass are:
Vampire Margarita 

Virgin Cara Cara Margarita

Seedlip Margarita 

 
9. Coupe Glass
Coupe glasses are easy to handle and have a very low spill rate compared to a martini glass. The coupe glasses are usually kept broad from the top (but less broad than a martini) to make the drink more aromatic. The bubbles dissipate too quickly because of the large surface area, and this is why the drinks that fit perfectly well with coupe glasses are:
Sparkling Lime and Sage Gimlet Cocktail

Blueberry Coupe Cocktail

White Empress
Where to Buy Disposable Cups & Plastic Drinkware Glasses in Bulk?
Wondering where to get all these different types of cocktail glasses, Smarty is the place to check in! We offer a wide range of fantastic drinkware glasses. We know how difficult it is for bars to keep their operational expenses under control; this is why we have a unique product line of plastic wine glasses in bulk that are incredibly affordable and look fantastic.
Moreover, we also provide eco-friendly party supplies to give your gatherings a natural look.
Frequently Asked Questions (FAQ)
How many types of cocktail glasses are there?
There are 21 different types of cocktail glasses available in the market. Each one has a different design and is used to serve other drinks.
What glasses should cocktails be served in?
Choosing a cocktail glass type depends on factors like carbonation, aroma, and temperature. However, bartenders know which drink goes with which variety of glassware.
What are the different types of drinking glasses called?
Cocktail glasses are of different types, and every type is known for its unique name. For instance, a few famous names for drinking glasses are highball glass, lowball glass, martini glass, coupe glass, Collins glass, and champagne flutes.
What is a cocktail glass called?
A cocktail glass is also known as a stemmed glass or martini glass; in some regions, it's simply a wine glass.