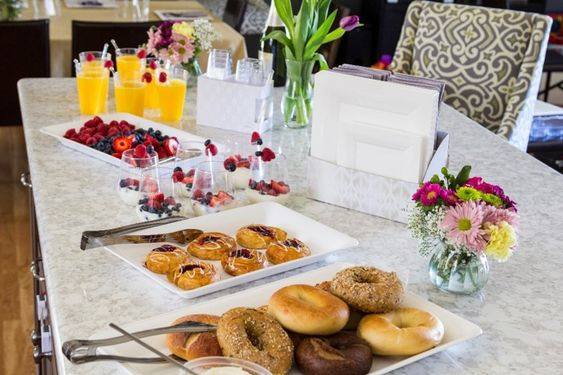 10 Types of Serving Trays
For the most, serving trays are ordinary serving ware, so they don't bother to choose the right one. However, the serving trays come in various designs, each with prominent features. 
To maximize the utility of the serving trays, one needs to learn about the types of serving trays and their uses for the settings they are supposed to be used. 
Whether you are looking for a variety of serving trays to buy or surfing the internet to find out the history of the serving trays, look no further. We have curated a list of 10 different types of serving trays, their uses, and the settings they're designed to use. 
Want to Elevate Your Event Appeal? We've Got You.
Get 10% Off Your First Order
10 Different Types of Serving Trays: An In-Depth Guide
Here's the in-depth guide on the serving trays available in the market. You'll also learn about the little history of the serving trays. 
A Brief History of Serving Trays
It is believed the serving trays have been used since ancient times, and the Etruscan Black Earthenware Tray is the oldest one from that time. However, the serving trays came from ancient times, back in the 6th or 7th century B.C.
The trays known as "Salver" without the handles got famous in 1940 and were only found in the royal household. The salver was used to serve the royalties of England and had to go through a poison test. The handless tray denoted that the food was safe to eat for the king/queen. 
Later, salvers were used by restaurants and cafes to serve the customers. And, then the salver becomes the necessity of every house.
Types of Serving Trays Based on Their Functions
Plain Trays
Plain trays are the most common serving trays used for commercial and household purposes. However, you must have simple trays at home that you use to serve multiple purposes. 
The restaurants used these types of serving trays to serve fast food and beverages on a surface covered with paper. The paper is placed on the surface of the plastic trays to eliminate the sanitary factor so they can be used to serve other customers later.
Tea Serving Trays
Tea serving trays originated from the England culture to serve tea traditionally. But, they are also popular in North America. Tea serving trays come in various materials, but the most common ones are wood and metals. These types of serving trays elevate the tea serving style making it elegant and traditional.
Metal Compartment Serving Trays
The compartment serving trays are ideal for scenarios when you have to serve multiple dishes all at once. They eliminate the hassle of making short trips to the kitchen for refilling. They are primarily used for the Indian menu but also for other dishes. 
Compartment serving trays can be used for buffet dining style for commercial purposes, events, and catering functions. Moreover, they can also be used to serve food for the kids. 
Types of Serving Trays Based on Materials
The different types of trays used for serving food come in various materials and have distinguishing features. However, plastic, metal, and wood are the most commonly used serving tray materials. 
Plastic Serving Trays
You would have seen those plain plastic trays in restaurants or cafes while dining. These plastic trays are primarily used for catering and commercial purposes and come at a very low price. 
They are made of high-quality plastic material, making them relatively rigid and durable enough to bear floor drops. The plastic serving trays come in two types; disposables and non-disposables.
Wooden Serving Trays
Wooden serving trays are purely out of wood and provide a traditional feel to the serving style. In addition, the wooden material of the serving trays makes them sturdy and durable enough to bear the accident floor drops. 
Wooden serving trays can be used to serve multiple items, from main courses to tea and beverages. Generally, you would see these trays in restaurants and coffee shops.
Metal Serving Trays
Metal is one of the most durable materials amongst the other ones used for the manufacturing of the serving trays. Thus, the metal serving trays are durable and likely to last longer. 
Metal serving trays are ideal for carrying heavy items of food on them. However, just because they're made of metal doesn't mean they would be hefty. On the contrary, they are lightweight and easy to carry for serving purposes. The stainless steel serving trays are ideal for formal settings. 
Differences Between Disposable and Non-disposable Serving Trays
While hunting for the best serving trays, it's essential to know the difference between disposable and non-disposable serving trays. 
Non-Disposable Serving Trays
The non-disposable serving trays are mainly designed to be reused and require washing after you finish them. Non-disposable serving trays come in various materials such as metal, plastic, and wood. 
The reusable serving trays are relatively expensive as compared to the disposable ones. However, they are primarily durable enough to last ages, and the price you pay for them is worth it. 
Disposable Serving Trays 
The disposable trays are most commonly used for commercial and catering purposes. Buying the disposable serving trays is saying a farewell to the washing or cleaning up a pile of trays at the end of the party. 
Disposable trays are the best options when hosting a large crowd at a special occasion or a casual get-together party. 
They also come at a fraction of the cost, which makes them quite affordable to any budget. Moreover, they offer convenient features like being easy to carry because they are lightweight and easy to store. They won't cover much space and are durable enough to bear significant punishments. 
Buy Disposable Plastic Serving Trays for Parties at Smarty Had a Party
Planning to buy disposable plastic serving trays? Smarty had a party that got you back with fancy and elegant serving trays for parties. We offer a wide range of party supplies, from different types of food serving trays and disposable party plates to eco-friendly party supplies.
Whether you need different types of trays for casual settings, special occasions, or commercial purposes, smarty had a party is a place to get the affordable, stylish, and elegant types of serving trays.
Want to Elevate Your Event Appeal? We've Got You.
Get 10% Off Your First Order
Frequently Asked Questions (FAQ)
How big should a serving tray be?
There are different sizes of serving trays available in the market. However, an ideal big-size serving tray length should be around 18 inches. 
Do I need a serving tray?
Serving trays provide the ease of carrying multiple food items and serving ware all at once. You must get a serving tray set if you plan to do so.
What makes a good serving tray?
The serving trays can be used to carry heavy food items like main courses, lunch, and dinner to lightweight items like glasses, cups, and soup bowls. Non-slippery surface, comfortable handles, and firm surface of the serving trays practically make it the best serving tray. 
What is a tray service style?
It's a foodservice operation that mainly occurs in restaurants and hotels. The guests order the food, and it's taken to their room on a tray by a server.