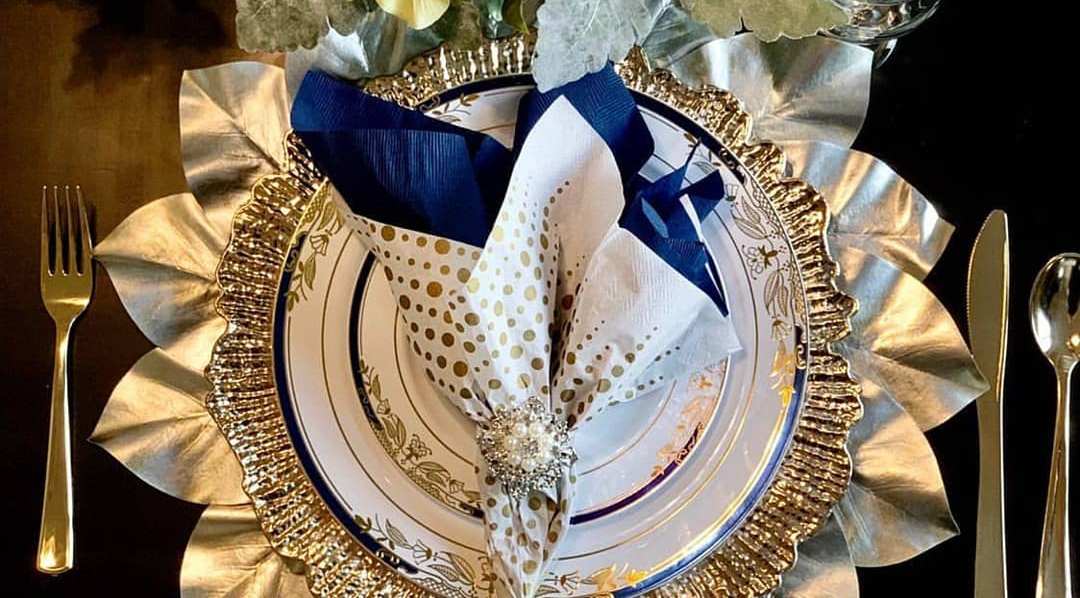 8 Elegant Party Table-Setting Ideas
You must have noticed that food tastes better when served at a nicely decorated table. When presented in an appealing atmosphere, even basic dishes served in plastic dinnerware might appear as masterpieces.
Dining at home allows guests to enter your world and spend hours making themselves at home in your hospitable dining room, flourishing garden, or elegant terrace. A stunning table setting also encourages lively conversation and sets the mood for the event.
Just as important as choosing the meal is the decor. The events are made happier, cozier, and more reflective of the season's richness with a beautifully arranged table. 
All year long, from New Year's lunches to spring parties to birthday feasts, we have you covered for your table-decorating needs.
How To Set a Perfect Table for Your Loved Ones: A Complete Guide
If you enjoy entertaining guests and holding dinner parties at your home, you must learn how to prepare a lovely table. Start by learning formal table settings that you can use for events like weddings, reunions, and holidays. Then, you can let your imagination run wild with your unique "tablescape" designs.
1. Table Setting with Flowers
Fresh and pretty flowers add a lovely touch of color to a table setting and create an outstanding presentation with great care. The center of the table, with one to two centerpieces, will make the space vibrant.
To keep the flowers fresh, use florist foam to secure them in compact pots. Another idea is to make tiny, unique centerpieces for each place setting using plastic stemware. Finally, put a floral gift tag with each person's name and the fresh flower centerpiece on plastic plates and cups.
2. Setting a Tropical Table
With tropical fruits like banana, pineapple, mango, and coconut paired with lilies, succulents, or orchids, make a stunning tropical centerpiece.
Another idea is to arrange citrus fruits like lemons, oranges, and limes in glass vases. Hibiscus blooms made of silk should round the containers. Include artificial flowers or palm leaves. Place circular placemats at each dining table. Set out your lovely dinnerware at each place with a tropical theme.
3. Asian Table Setting Ideas
Serve your preferred Asian meal at a dinner party with an Asian theme. Fill small jars with water, some polished rocks, and a few pieces of bamboo to make modest table centerpieces. Add pieces of Asian dinnerware such as a rice bowl, appetizer plate, and salad bowl, depending on what is being served.
Including plastic dinnerware for parties would also be great. To make it simple for guests to serve themselves, place the sushi, crackers, and steaks on a bamboo turntable. And you're good to go!
4. Setting a Romantic Table
With just a few decorative elements, you may transform a cozy space for you and your loved one. 
Fill a vase with several red flowers. Red or maroon candles of various sizes should be placed all around the vase. Put a red wine bottle, a small ice bucket of wine, or champagne nearby. Decorate the table with rose petals. A single rose on the plates would look beautiful. 
5. Ocean-Themed Table Setting
A seafood meal, a seaside venue, or a summery tabletop are all ideal settings for an ocean-themed dinner party. 
Ideas for centerpieces include a small bowl with candles, seashells, sand, banana leaves with seashells, and an extensive coral reef piece.
Ideas for table settings include Using coral, light green, or blue tablecloths with an ocean theme. Place a tea light and seashells filled with sand at each table setting. Use tableware sets with a monochromatic look.
6. Vibrant Table Settings
Set a beautiful, color-coordinated table that is both elegant and appealing. For a presentation that pops out, use colors with strong contrast. Since it makes other colors stand out against them, black is a good backdrop color.
When combined with lighter hues like yellow, gold, orange, or red, other dark colors like maroon or blue also look great. Next, choose 2 to 3 contrasting shades, such as red, white, black, navy, silver, burgundy, gold, or black, yellow, and red.
A dark tablecloth, table mat, or placemats should be used to cover the table. To contrast with the black background, add colorful elements like candles, flowers, fruit, napkins, or disposable dinnerware for parties.
7. Setting The Table in a Formal Way
The basics of a formal table arrangement include five pieces of essential dinnerware and five pieces of basic flatware.
Among five-piece dinnerware are disposable dinnerware, spoon, fork salad, dinner knife, plastic value sets, and plastic cups. As long as you have a broad sense of where things go, don't worry too much about the precise arrangement of the dinnerware.
A more formal aspect is added using table linens, including placemats, cloth napkins, table runners, and tablecloths. 
Place glasses on each place setting's right. Salad forks should be placed on the plate's exterior, followed by dinner forks, so guests can use the silverware in that order. If there are knives for each course, stick to that schedule. Knives must be placed to the right and forks on the left.
8. Non-traditional Table Setting Ideas
Here are some tips for unique dining room table settings:
Start with a floor-length transparent tablecloth, then use lovely thin green ribbons positioned opposite one another to divide the table into four halves. This is an excellent technique to distinguish the place settings and give the tablecloth's skirt some visual flair.
The napkins, which are also given to guests as gifts, are the next layer of the table. They include ornaments linked with ribbons that serve as napkin rings. If desired, add the guests' initials using a paint pen or glitter glue.
Place the chairs with their backs toward the table to give them a festive feel. The host can place lovely, wrapped gifts on the lucky diners' seats.
Whatever design you decide on, the entire table must have a thoroughly coordinated appearance to make it as attractive as possible and amaze your guests.