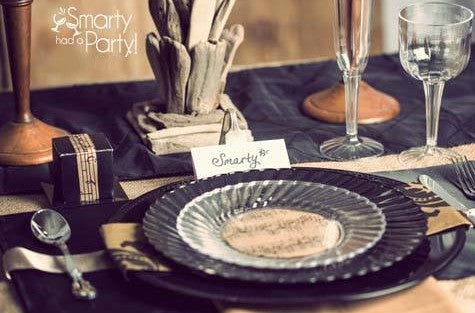 10 Elegant Fall Tablescape Ideas to Capture the Beauty of Fall
The most ideal and romantic season that most brides consider for their celebration is fall. If you want the best autumn day for your wedding, embrace magical decor ideas with trending fall colors and creative ideas. In addition, you will get to know about essentials and accessories for table decoration ideas. 
The most trending ways which have popped up in recent years is the use of respective season's themes using natural materials, tones, and colors. Seasonal natural elements like pumpkins and autumn foliage have grabbed people's attention as these make an impression on your table decor.
#1 Metallic Vibes
Gold, silver, and copper accents. Metallic colors are pretty in for tablescapes, especially those of fall. The theme can be golden, silver or copper, or you may make a combo and try it. 
Mostly the tables are simple with a metallic or nude color runner, and the eat wares are given a metallic touch. The accessories may include candle stands, vases, or centerpieces. 
The tables with the shiny and brighter look are kept simple otherwise as the decorations and accessories are minimal to maintain the accentual overall look. 
#2 Pumpkins And Centerpieces
Pumpkin has been used as a symbolic accessory for fall dining. You may choose from the varieties of pumpkin styles, mainly used as centerpieces, but you may mix and match the color variations depending on your schemes. 
Pumpkins give a spooky modern, formal look to your tablescapes and bless you with choices for informal parties. 
#3 Pumpkins As Vases
Pumpkin vases are made by emptying the pumpkin and putting in some flowers. Similarly, this seasonal element is painted matching the theme to be spread or kept as a central piece. 
Its use is not limited to the central pieces; you may use small pumpkins to place cards on tables. It not only gives a celebrity vibe to the guests but also adds a feel to the whole environment.
#4 Rustic Plasticware
For this beautiful season, get yourself some disposable plates you would love to display on your table. Fall party plates are not just aesthetically pleasing but are also in trend. The fancy disposable plates that look too good to be plastic will elevate your table's look, compelling the guests to ask you about where you got these from.
This is a sign to get some disposable fall party plates if you plan to have a party soon enough. The use of these elegant disposable plates for fall is not just confined to partying. Instead, you need to get some for your everyday meal.
#5 Seasonal Colorful Fruits
Your focal point for fall dinner may vary from a more neutral and harvest look to a colorful, brighter, and sharp vibe. 
To make your table colorful, choose fruits like oranges, apples, peaches, and the fruits of your liking to be displayed as decor. The extra festive look can be given by packing them on transparent sheets or glass and binding them with ribbons. 
Comparatively smaller fruits like berries in antique vases can create another way for decoration.
#6 Using Colors 
Fall dinings give you an excuse to break out of the traditional summer ideas as the season demands different, decent ideas to be expressed in your celebrations. 
There are various color options for tablescape decorations, like seasonal or colorful fruit colors like orange, red, yellow, rust, etc., going widely different with black, white, blue, or even nude shades. 
Fall tablescapes also give you room for experimentation, and you can go grand with flowers, mix and match, and celebrate the harvest.
#7 Tea Lights Decoration 
Apples can be used in various styles, with cutting and tethering to hold tea lights. The fashion for using tiny lights at parties was never out, so how could fall tables get complete without tea lights and candles? 
You can cut the upper side of the apples and fix some tea lights, making them light apples. Apples of different colors like green and red and a tealight sparkle make the table decorative enough to go for a decent, lit, and hit party. 
#8 Candles Decoration 
In addition, the pillar candles can be used to give a festive look to the ceremonies as the picture texture of pillar candles go with the vibe of the surroundings. Another advantage is that you can mix, match and contrast these candles with the other accessories, and everything works well. 
#9 Indoor Dining Tables 
You can play with colors in indoor dining more than outdoors. Both neutral and vibrant colors make the themes of indoor table spreads. In addition, you can use sharp contrasts like black and white for decor or mix and match different colors (both dull and vibrant) depending upon the overall scheme of the event. 
In recent years blue contrast with white has made an impending way to give a more royal and classy look to your celebrations. 
Candles and tealights stand out more in indoor tablescapes compared to the outdoors. All these elements give a cozy yet healthy feel to the celebrations and events.
#10 Outdoor Dining Tables 
The outdoor table setting is generally a large get-together, and thus, you arrange a grand decor for it. In outdoor dining, small centerpieces don't do the job; therefore, you may use centerpieces with branches of dried leaves to fill the table. It also makes it more coherent with the surrounding environment. 
Single stems with flowers also get the job done, as these bunches of blooms give the table a simple but decent look. 
One may use faux and natural elements for this dining to mix, match and merge with the area giving it a more cozy autumn flair. 
Wrapping Up 
This beautiful season can help you give a new glow to your parties, and decorating your table correctly is the key element. For more cherry on top, get a collection of beautiful plastic dinner plates and salad plates so that your fall-themed table always looks happy and complete.