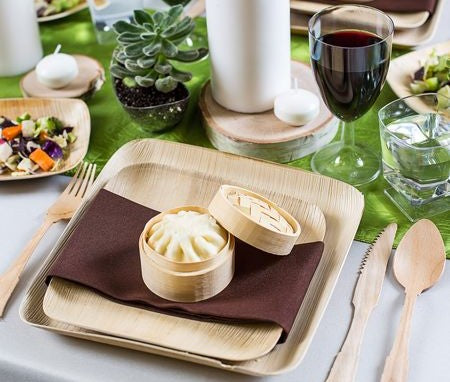 10 Best Eco Party Favors Decoration Ideas
Have you ever come home from a party with a gift bag filled with useless decorations? The decorations that will end up in landfills and are incredibly harmful to our environment? We certainly have, and we all should be paying heed to it for our planet's sustainability.   
Millions of tons of waste produced every day end up in landfills and become the cause of disruption to our environment. And parties play a role in this waste creation. This is primarily because of non-recyclable party supplies, including tableware, napkins, decorations, gift wrapping, and party favors.
What if there are ways to decorate party favors that look more functional, sustainable, and environmentally friendly? This blog will share some of the 10 best eco party favors decoration ideas to help you package favors creatively yet eco-friendly. 
10 Best Eco-Friendly Party Favors & Decoration Ideas
We have rounded up some of the best eco-friendly party favors and decorations ideas to help you make your guests smile while expressing your love for the earth. 
Think Green
When thinking about giving your guests a party favor, go green and add something in the goodie bag that will eventually help the earth grow. For example, get plant and flower seeds from the nearby farmer's market and provide your guests with seed packets — so they remember you when the plant grows. 
Bamboo Sticks Showpieces
When it comes to environmentally friendly options, bamboo sticks are the always hot item on the list. So think about doing some DIY projects and making an elegant showpiece for your guests using cute paper bamboo sticks. Pinterest is a great platform where you can find DIY projects for inspiration.
Consider Fabric Bags
Little fabric bags are a great way to present your guests with a lovely party favor. Instead of using other materials, you should prefer fabric bags, such as linen, sustainable viscose, silk, recycled textile fibers, organic cotton, etc. They look cute and can be easily decorated in no time. 
Don't Overlook Cardboard.
You'll generally get some cardboard as part of the packaging for your various items, which usually ends up as waste. Utilize these to present party favors to your guests. Unleash your creative instincts and decorate them creatively to make them look cute and appealing. 
Candy Jar
A great way to be environmentally friendly with your gifts is to give something edible or consumable that your guests will use and be able to dispose of. One example is providing a candy jar made from recyclable or biodegradable materials full of candies for the kids. 
Cookies Treats
Prepare some cookies matching your party theme and give them to your guests as a party favor. You don't need to spend hours preparing them - just keep them simple and tasty.
Color Pencils
Kids love coloring and drawing with pencils, not to mention the fond memories it creates from our own childhoods. So give the kids rainbow pencil colors. They look cute and present an affordable and biodegradable way for children to be creative.
Perform DIY Projects with Crayons
Grab all the old crayons from your old collection (if you have one) and mold them into little shapes in the oven. They can turn into something beautiful to give your guests as a party favor. 
Homemade Snacks Goodie Bags
Prepare homemade goodie bags. You can make DIY newspaper bags, decorated paper bags, fabric bags, paper cones, etc. And instead of sweets, you can fill them with biodegradable personalized gifts, such as plants, handmade magnets, painted T-shirts, mugs, etc. 
Wooden Toys
No matter how hard you try, kids are always drawn to toys. So to make them happy, give them eco-friendly toys in their goodie bags. Wooden trays are easily found in supermarkets that have eco-friendly sections.
Add Some Flair with Homemade Eco-Friendly Party Decor
Don't think that eco-friendly parties are challenging to keep up with newer trends. We will show you that it's super easy to decorate your party while being environmentally friendly at the same time.
Forget the traditional party supplies to decorate your party. Instead, use lots of paper and Cardboard to decorate your party. Instead of using balloons, use tissue paper balls or pompoms.
Being creative is a key to adding beauty and natural elements to your decorations. So, get creative with the Cardboard and paper and create an appropriate decoration for your party that matches the theme. 
Pinterest is the biggest platform where you can find eco-friendly DIY projects for your party. If you don't have enough time to do DIY projects, consider decorating your party with garlands, lanterns, and flowers. 
Eco-Friendly Party Decorations Using Recycled Paper and Drawing Utensils
Paper mache
We all have our drawers full of papers that we keep carefully but never use. Grab all useless paper waste to create eco-friendly party decorations without spending a penny. 
First of all, grab all kinds of paper waste and submerge it in the water to muddle it once it is soft. Once the paper is wet, rub and mash with your hand until the paper pulps become smoother.
Examples of favors you can create with paper mache:
Seedling pots

Lollipop pencils

Flower decoupaged hanging lanterns

Scrap fabric mache bowls

Papier mache ornaments

Paper mache bracelets

Paper mache dinosaur eggs
Best Biodegradable Party Supplies that Are Best to Buy in Bulk
The key to throwing an eco-friendly party is using as many items as possible that encourage you to go green. For example, decorate your party table with a biodegradable party supply that will decompose in a few days.
Smarty offers a great variety of disposable wine glasses and eco-friendly party supplies that come in various designs and styles. In addition, our eco-friendly dinnerware sets are made of compressed palm leaves, which enables dinnerware sets to decompose in under 30 days.
The wooden texture of the eco-friendly disposable party plates provides them a lovely, rustic finishing touch, making them the perfect party supplies to set up an elegant table for your Instagram selfies. Get unique eco-friendly party supplies in bulk and throw endless parties by going green.