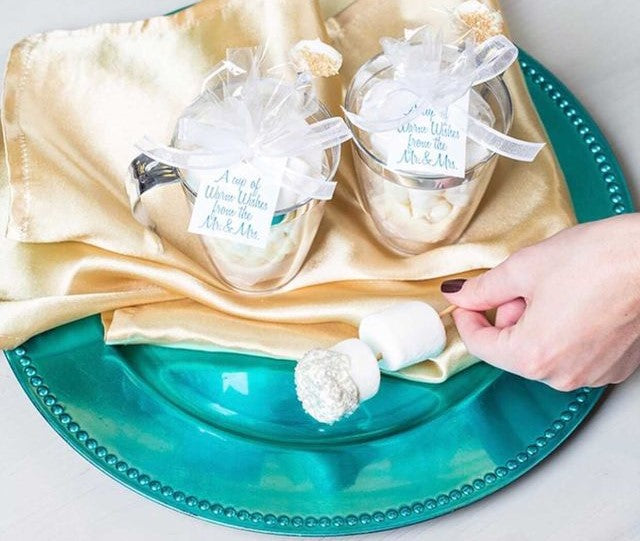 Winter Wonderland Inspired Desserts
Winter is all about keeping yourselves warm and refreshed with the help of delicious food. So do the desserts. With their sweet taste and yummy feel, no one would stop having them extra. However, when you are trying lots of desserts, you might be running out of ideas to add to your table with new desserts that would make your party guests fall in love with your cooking and hosting skills.
We have shortlisted some of the best winter wonderland-inspired desserts for you that you can try and gaze on through the winter. Read on to discover new ways to fill your empty dessert plates with delicious ones.
Peppermint Bark
This recipe is one of the most delicate, tasty desserts you would ever find as it's the best dessert. Once you have this on your party table, your guests wouldn't hesitate to ask for more and more. It comes with three different flavors that you try according to your taste and preference.
Moreover, whenever you make this lovely dessert for your next party, celebrations, or special occasion, you should ensure you aren't lacking in quantity so you won't get stuck in the kitchen. You can find the recipes easily by surfing the internet.
Snowball Cookies
Snowball cookies aren't just fun to make, but having them on your party table might make you play the snowball fight with your loved one. These are the cute and adorable-looking snowball cookies inspired by a winter wonderland.
If you are looking for something that would turn your party mode on, this fantastic recipe is the one that you should try for your next party or even for casual gatherings. Moreover, making these snowball cookies might take a little more time. So try these on your day off from work.
Banana Pudding
Banana Pudding is one more wonderful dessert inspired by winter wonderland that will help you keep yourself energetic and keep your taste buds sweet. Although banana pudding might look suited for wonderland dessert, it's always welcomed to winter parties and other special occasions. 
Try this Wonderland-inspired dessert for your next party to keep everyone refreshed and energetic throughout the party, as it's more like an ice-cream shake. 
The Most Beautiful and Fastest Recipe for Chocolate Cake
The best and most beautiful chocolate cake you will ever make and eat. It is easy to make, and no person will not like this cake. If the best chocolate cake in the world were chosen, this recipe would enter the top three, surely winning first place. This cake will be adored by children and adults alike, so make sure to make mistakes with it. It can be decorated in countless ways and made for every day or an extraordinary celebration, birthdays, baptisms, and even weddings because this cake will leave the sweetest ever sweet first bite. After this cake, we are sure that your children will ask which cake mom to make sure this is the best chocolate cake.
INGREDIENTS FOR CHOCO CAKE RECIPE:
Bark:
8-eggs

5-6 tablespoons of sugar

8-tablespoons flour

8-tablespoons oil

2-tablespoons cocoa

1-baking powder
File:
1/2 liter of sweet-sour cream

200 g dark chocolate

200 g of milk chocolate

Crust dressing:

2 tablespoons cocoa

2 DCL of milk

1 rum extract
PREPARATION OF CHOCOLATE CAKE:
First, it is advisable to prepare the filling because it needs time to cool down.
Step 1:
Bark filling: Add 200 g of dark and 200 g of milk chocolate to half a liter of sweet-sour cream. Break the chocolate into cubes. Put everything together on low heat to slowly melt the chocolate, never to boil. Stir occasionally to combine the chocolate and sour cream. When the chocolate is completely melted, remove it from the heat and allow it to cool.
Step 2:
Peel: Separate the egg whites from the egg yolks and whisk the egg whites until a foamy structure is obtained, then add sugar. Add the remaining egg yolks, flour, oil, cocoa, and baking powder when the mass is firm. Preheat the oven before baking; bake at 180C for 35 minutes. After elapsed, check with a toothpick whether the crust is sufficiently baked. If not, continue baking for a few more minutes. When the crust is baked, leave it cool and cut it horizontally into two equal parts.
Step 3:
Topping: When the crust has cooled completely, make a mixture of 2dcl of milk mixed with 2 tablespoons of cocoa and rum extract. Soak the crust with that mixture.
Wash the wholly cooled mixture of chocolate and sweet-sour cream with a mixer until you get a solid mass. Start filling the crust. Put more than half of the cross on one crust and transfer the other half of the crust to the supplied part. Leave the rest to fill on the outside. If you wish, you can also put whipped cream over the filling.
We all adore it, and we could eat it all year round. However, we somehow enjoy the light and cold treats more during the summer and warm days. So I would say that the chocolate cake is the queen of the winter and winter holidays!
Party Supplies for Wonderland Inspired Desserts
When you plan to throw a casual or upscale party, you must know how much party supplies keep your table's profile elevated. Unless you are hosting for the first time, party supplies assist you in serving with a style that you carry in your personality.
You should replace your old party supplies with newer ones to keep your table updated with the current trends. If you are looking for the best deals on wholesale disposable bowls,  then Smarty Had A Party is where you can get all the disposable party supplies at a fraction of the cost.
Smarty offers fancy disposable bowls in different varieties that provide even more options to get the perfect fit for your next party. Look around to get the best plastic party bowls in no time.