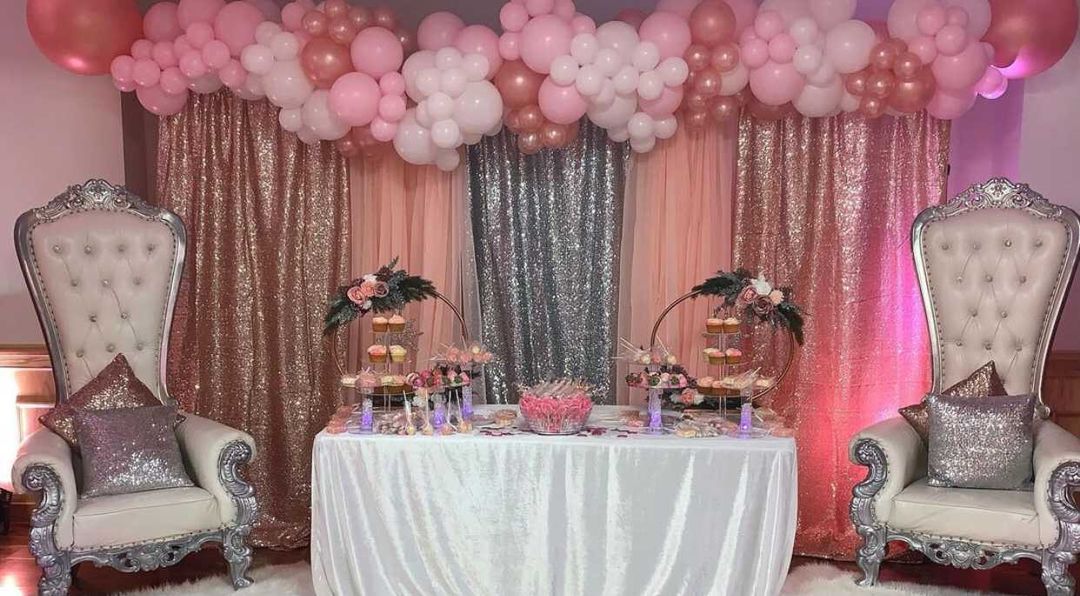 Lovely Ideas for a Christmas Baby Shower
Nothing is better than celebrating your little one's birthday with Christmas's spirit and enthusiasm. So while everyone is rooting for Christmas, you should throw a baby shower to celebrate your baby's arrival. It will be more like a 'celebration before celebration' kind of thing, and everyone will attend your event with great energy.
For a Christmas baby shower, you will need to prepare a few things in advance and fill up that empty cart with the necessary items. We are here to help you with that, and we will also give you some of the best ideas for a gorgeous Christmas-themed baby shower.
Christmas Baby Shower Invitations
Send thoughtful invitations to your friends and family for your Christmas-themed baby shower. Don't be shy to write sarcastic texts on the cards because your friends will only love it. You can write something along the lines of "Santa came to deliver a baby this time," or "We just wanted to celebrate New Year with our little one," or "Baby, it's cold outside," or anything you feel; it just has to resonate with your personality.
Ideas for the Right Location
Selecting the venue for an event is one of the most challenging tasks of throwing a party. We realize how daunting it must be for you as a mom-to-be. That is why we suggest you celebrate these special moments in the comfort of your home. You can easily create a magical space indoors or outdoors with a little effort. Your backyard is an ideal spot for a daytime baby shower celebration. Otherwise, indoors is still an excellent option if you want to stay warm the whole time.
Christmas Baby Shower Themes
It is up to you if you want to choose a minimalist or a vibrant, fun Christmas baby shower theme, but you will have fun no matter what you decide. For example, you can pick a "Winter Wonderland theme," a "Fantasy-Inspired theme," or a "Candyland."
You can also have a "Christmas Tree Party" where you will have all the fun decorating different trees with embellishments and lights. To make it more memorable, ask your guests to write a memo for the mother and father and hang it on the trees. Whenever you read them, you will feel loved.
A Pyjama Party never goes wrong! Whether it's a baby shower or a bridal shower, a comfortable pair of pajamas and cozy socks never go wrong. Also, this theme has been in trend for quite some time, especially during the covid-19 pandemic.
Christmas Party Tableware
Your party tableware should complement the decor and the theme. So what's left for you to worry about when you have Smarty with a wide range of varieties in colors and textures? For a perfect Christmas-themed baby shower, we have the prettiest fancy mini partyware and mini party cups. So spruce up your baby shower party tables with our disposable mini party supplies.
Unusual And Unforgettable Baby Shower Decorations
A baby shower as a surprise could be hosted by a future mom or girlfriend, grandma or future godmother. Opt for sprays, and we guarantee that Baby Shower will impress all guests, especially the future mother. Biscuits, cakes, cookies: all delicacies are welcome. There is only one condition: everything must be sprinkled with colored sprinkles! The choice of colors is quite broad because the sprays are available in a wide range of shades. However, we recommend that you choose rainbow sprayers.
Sprinklers have a great advantage. If you do not know the gender of the child, the use of colored sprinklers will allow you to take advantage of children's shower decoration with a universal theme. They are cheap, effortless to find, and clean at the end of the day. In addition, you can buy them in large quantities.
While we're at it, we'd like to bring you another idea that has become very popular. Let future parents discover the gender of their baby through the inner color of the cake. So how are you doing? The pastry chef makes a surprise cake. The baby's gender is announced during the Baby Show when the whole family gathers. If the biscuit is blue - it's a boy. If it's pink - it's a girl!
Sprinklers Macarons — A Perfect Dessert for a Baby Shower
In addition to the phenomenal taste, these small cookies look too sweet, so they are an excellent option for a gift or serving at children's celebrations. No person can resist this perfect snack.
The best thing is that you can let your imagination run wild, play with colors and flavors, and make a new combination every time!
However, the disadvantage of this candy is that it has a very "tangible" process of making it, and if you do not follow the recipe, you are doomed.
To prevent this from happening, we bring you the most precise and detailed recipe for macaroni.
See and learn how to save them and completely delight your loved ones!
Ingredients needed:
For macarons:
90 g room temperature egg white (approximately 3 eggs),

30 g sugar crystal,

110 g almonds,

200 g powdered sugar.
For the cream (basic recipe):
2 egg yolks,

40 g crystal sugar

50 ml milk,

100 g butter at room temperature.
Preparation:
Step 1: Put the almonds in boiling water and leave them inside for just a minute. Then peel them and dry them well. When you have dried and cooled them sufficiently, grind them into as fine a powder as possible, add powdered sugar to them, and grind them all together once more (preferably in a blender on the highest speed). Next, whisk the egg whites in solid snow. Crystal sugar should be added twice, once in the middle of mixing and the second time near the end. If you want colored macaroni, it is best to add color to the egg whites while mixing them.
Step 2: Manually add a mixture of almonds and powdered sugar to the egg whites. Stir vigorously with a spatula, turning the bowl in half circles each time. Repeating this ten times ensures the mixture is the right consistency. The mixture must quickly fall off the spatula and flatten itself (there must be no firm tail on top as with whipped cream or egg whites). If it is not mixed enough, repeat a few more times and check again. This step is crucial because if you do not incorporate enough, the mixture will remain too firm. If you mix too much, it will be too thin.
Step 3: Line the baking trays with baking paper. Pour the mixture into a bag for decorating cakes with a simple, round top, then squeeze circles of equal size (approximately 2.5 cm in diameter). Leave 3 cm space between the macaroni. Leave the macaroni to stand on the baking sheet for a while. You will know that they are ready to bake when they no longer stick to your finger when you touch them. This can last from half an hour in dry weather to more than an hour if there is a lot of moisture in the air. Preheat the oven to 140 ° C and bake for 12 to 15 minutes. During baking at the bottom, it should form that characteristic ring.
Step 4: Remove the baking tray from the oven and slide the paper or silicone pad with the macarons onto the rack to stop baking. Wait for them to cool before removing them from the paper. Then, carefully separate them from the substrate and leave them on the rack to cool completely. 
Step 5: Cream Instructions: Whisk the egg yolks and sugar until light. Boil the milk until it boils. Slowly add the milk to the yolks and mix everything for two minutes. Add the butter and mix for another two minutes. If you want a cream with hazelnut/almond flavor, increase the amount of milk to 100 ml, and while cooking, add 100 g of finely ground hazelnuts/almonds. If you want a rose-flavored cream, add 2 teaspoons of rose water before the end of mixing. The possibility of variations on the theme when it comes to the taste of the cream is endless!
Step 6: When completely cooled, combine the two macaroni with the prepared cream. Do not put too much, and do not squeeze so that the cream does not leak. Leave in the refrigerator in an airtight container for 24-48 hours before serving. Macarons are better after standing, and the flavors permeate. Leave them at room temperature for at least half an hour before serving.  
Tips & Warnings
Leave the egg whites at room temperature the night before. This will keep them warm, and it will be easier to whisk them in the snow. It is also a good idea to make the cream (s) the night before and cool them well in the fridge so that they are just waiting for you the next day.
It is essential to measure the egg white in weight so that the size of the egg does not affect the measure of wet and dry ingredients.
The birth of a new life is a significant time for the whole family. So, get creative and, using our ideas, organize an unforgettable party!