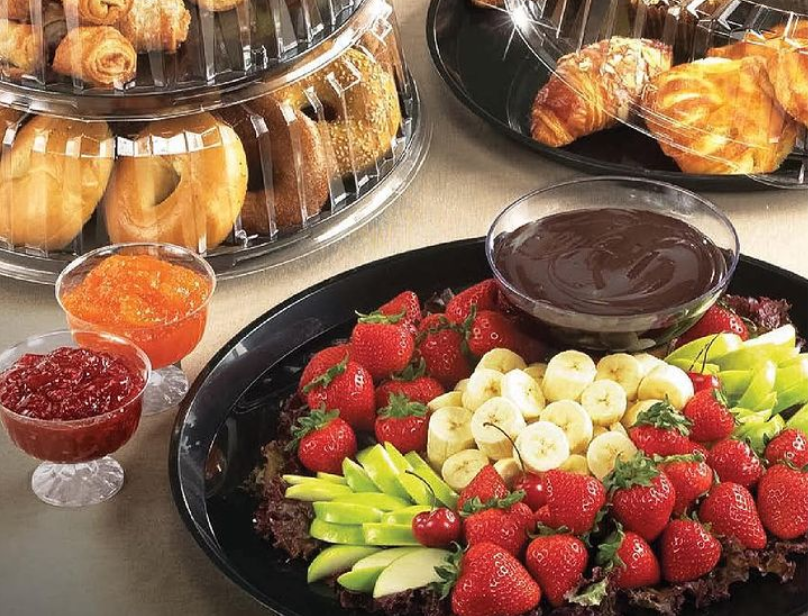 Premium Plastic Serving Supplies for Christmas
Isn't the winter season the most beautiful time of the year?
This is when the holiday spirit grows, and we gather with our loved ones to celebrate the most significant holiday - Christmas!
No person does not feel the magic of Christmas, a beautiful ambiance created with positive energy in homes. This is when we nurture family relationships and enjoy the company of loved ones in the comfort of warm homes.
Since this holiday is celebrated at home, we should do everything to make ourselves feel comfortable and beautiful. That is why decorating your home in the spirit of the holidays is essential. Every part of your home should show the magical beauty of Christmas.
We can start by decorating the table, creating an impressive Christmas arrangement in the center, drawing attention, and beautifying the table during the holiday season.
Christmas demands you to have a perfect premium plastic serving ware for your table decor and serving a purpose. Every day, many products are launched in the market with different dimensions and characteristics to provide benefits for specific purposes. You might be puzzled when you think about buying elegant party supplies for your Christmas party.
We have got you covered with our comprehensive guide to let you discover the best plastic serving supplies for your next big party. 
Why Buy Plastic Serving Supplies?
The ones who love ceramic and china might come up with a question of why they should consider the plastic serving supplies for upscale parties or other special occasions. But the answer to this question is straightforward and explains everything to the consumers.
If you are planning to throw a Christmas party but got stuck with your budget, it won't allow you to spend a hefty amount on expensive ceramics and china. Instead, plastic serving supplies are the way to make your party look superb with premium plastic serving ware.
Plastic serving supplies are cheap and come in plenty of varieties. So no matter what you opt for your Christmas table, there's something for you that plastic offers you. 
Moreover, plastic serving supplies are space-efficient as they take less space to store than others. Meaning you can buy them in bulk to store them for the rest of the year's parties. 
Disposable Plastic Party Supplies
Plastic party supplies aren't confined to the name "Plastic Party Supplies. " There is more you need to know about them. For example, plastic serving ware also comes in disposable items to offer minimal clean-up duties afterward the party.
There's a big industry of disposable plastic serving ware to fill the applications needed on different special occasions. The practical benefits of disposable dinnerware sets have made everyone switch to disposable for upscale events, such as weddings, birthday parties, and Christmas parties. 
Disposable party supplies are usually for single-use; they are supposed to be disposed of after one use. This way, you won't need to soak your hands in the water to clean dishes on cozy nights. 
It will also save you more water as this world will run out of fresh water by the prediction 2050. Finally, disposable party supplies make it easier to throw non-stop parties.
Our Disposable Party Supplies
After knowing so much about disposable plastic party supplies, you must be looking for a perfect place to shop the elegant disposable serving party supplies. You want spectacular and functional party supplies that won't only help you serve with style but will also save you from spending on other expensive materials. 
We have a wide variety of premium disposable servers to take your table decor to the next level. Our disposable serving tableware comes in various styles, designs, and vibrant colors for special Christmas-oriented parties. 
Look for the best disposable party supplies deals in our superstore for disposable items.
Christmas Table Decor in Traditional Colors 
This exceptional Christmas arrangement will fit perfectly if you place it in the center of the dining table. In traditional seasonal colors, it amazes with its richness, elegance, and style. It brings a festive spirit to the table and beautifies it in the most beautiful way possible.
Snow White Christmas Package 
If you choose a completely white decoration for your table, you will create a calm ambiance that looks like a beautiful, peaceful snowy night. Therefore, a white dining set, white decor, and white flowers are a clear assumption regarding the centerpiece of your Christmas table.
Colorful Flower Christmas Package for the Table
Get creative and transform your centerpiece into a unique floral table arrangement. Fill a bowl with colorful candles and flowers to create an impressive Christmas decor.
Christmas Decoration of Ornaments
Make a unique bouquet of Christmas decorations and create an attractive decoration for your table. Combine them with greens and berries on the branches. You will get charming and beautiful table decor.
Snowmen as Decor on the Table 
These sweet snowmen will bring joy and festive spirit to your Christmas decoration. So put them on the table; they will surely add warmth to your dining room and smiles to your family's faces.
Impressive Hanging Christmas Decor
To please your guests and family with Christmas decor, make a hanging decoration in the central part of your table. Take advantage of greenery, decorations, and candles and place them above the table. Choose just one color to make it look elegant and impressive.
Sequin Christmas Decor for the Table 
Never enough sequins and sequins for Christmas. Decorate the table with lots of silver ornaments, decorative elements, and accessories to get a modern sequin effect. Then mix sequins and sequins with blue to add a touch of dynamism to the Christmas table.
Christmas Cranberry Decor 
Creating a colorful table layout is an effortless task, and there are many suggestions. Creatively use cranberries. Fill clear glass jars or vases with salt, and add a layer of bright red berries. Decorate the dish with fresh or artificial greens.
Merry Christmas Smarties!