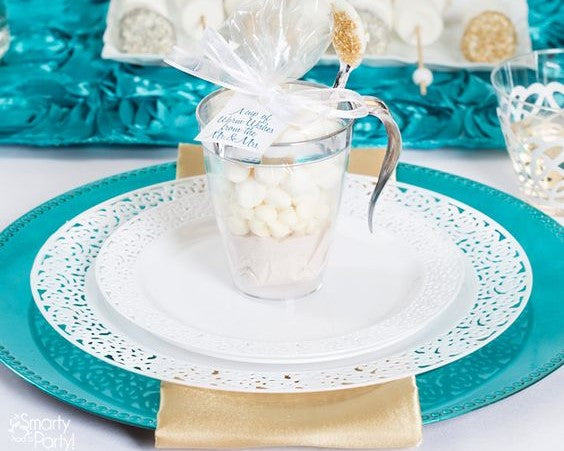 Winter Colors for Your Big Wedding Day
With the arrival of the lovely winter season, people have started to plan weddings because what's more fun than having a wedding in the winter season? The festivity, the crispiness in the air, and the weather, especially snow, make this season a perfect time to throw a wedding.
If you are happening to have a wedding this winter season, you should be prepared! If only you know the right colors for a wedding, it will become easier for you to decorate the venue.
Colors for a winter wedding are ever-expanding, so it can become challenging to choose one according to your personality. Therefore, we will suggest the trendiest winter wedding colors to make your big day extraordinary.
Nature Inspired Colors
Nature has its elegance, and it will beautifully add an element of grace to your wedding event if you follow a nature-inspired color scheme. It is the most effortless way to have a lovely decor for your big day. Add more green along with pastel colors to make your event look gorgeous. Then add a pop of color with different flower arrangements.
And to further add a touch of fabulous, rustic style to the natural theme of your wedding, use our biodegradable wedding party supplies. They are perfect for a green wedding.
An All Blue Combo
Blue is a color of faithfulness and modesty, and it looks incredibly gorgeous in wedding venue decor. A combination of different shades of blue would give a fabulous look on your big day. Royal blue drapes with light blue dinnerware and blue colored balloons are what every sophisticated wedding venue looks for. 
Traditionally, brides used to wear blue to represent purity. So, to keep that tradition, the bride can wear blue jewelry with a white dress - definitely an unmistakable combination!
White with Ivory and Gold
White and gold have always been a massive part of weddings in different parts of the world. The demand for these two colors is growing, and people are looking for ways to make this combination a part of their wedding decor. Therefore, you should anchor your party tables with classic gold vases and candle holders.
Use our white and gold plastic tableware sets for weddings and make your wedding tables elegant.
Mint Green, Beige, and Violet
Mint green might look challenging to pair with some other color, but it does go well with dark green, beige, and violet. We have all these colors available in our wedding plastic dinnerware collection, which presents the key to pulling off a gorgeous table look.
Burgundy, Blush, and Lavender
Let's move on to some bold, warm color combinations. Imagine wearing burgundy to a winter wedding with a touch of blush - oh-so-perfect!
At Smarty, we have a wide range of colors in our colorful wedding tableware collection, where you can shop your favorite products by color. Moreover, our wedding plastic dinnerware is the most durable and elegant option you can choose.
Timeless Gray
Although summer has its finesse, the magic of white snowflakes that elegantly fall from the sky and the smell of freshness in the air were created to say the fateful "YES." However, choosing colors for a winter wedding can be a bit demanding. If you don't want everything to be white or look too much like a Christmas celebration in a handful of colors, maybe you can find a solution in a sophisticated shade of gray. There is something irresistibly attractive in the bold scheme of gray tones, which are as if created for the wedding of your dreams under the veil of winter.
Suits And Wedding Dresses for Winter Wedding
In addition to the traditional white that does not come down from the throne, the current trend in recent times, which has received more and more positive reviews, is the one in the form of a gray wedding dress. Many wedding dresses are available to you in grayish shades and whose grace is extraordinary. In addition to the bride in a gray wedding dress, her beloved can also look great in a gray suit. Also, to complete the image with a gray tone, you can choose silver shoes, gray manicures, make-up, and other accessories that will make your appearance beautiful.
Gray Winter Wedding Decor
In gray winter, wedding decor can be presented in different ways - in a rustic style, modern, minimalist, vintage, and others. Silk gray fabrics - napkins, curtains, tablecloths, gray candles, floral decorations, and invitations for guests will make your wedding unforgettable.
Gray Wedding Cakes
Since the wedding cake is a necessary detail of every wedding, you will add the required dose of style and elegance to your wedding if you choose the one in gray. A refined gray cake will sweeten your special day with its unusual presence.
Benefits of Winter Weddings
People often decide to crown their love with marriage during the spring and summer, and therefore the wedding spaces are overbooked. It can very quickly happen that the one you wanted is unavailable until next year. We all know how important the place is where you will say the fateful "YES." It is of great importance, especially for the bride, and if there are no accessible terms, there can be a great disappointment. This is the main advantage of a winter wedding when the chances are that your perfect space will be available for the organization. Since weddings are located inside in the winter, they mean taking care of the interior but completely excluding the exterior from the organization. External or outdoor venues often require much more organization than is the case with interiors.
Another less concern is the room temperature. The interior space for the wedding can be easily controlled, and the temperature will be precise as everyone likes it to be - neither too hot nor too cold. This is not the case with weddings in summer, especially in the open space - then the guests are directly exposed to the sun, and it can often be too hot, and you never know when the summer rain will fall or strong wind will blow.
Let this winter be incredibly remarkable for everyone. Let it smell like chocolate and sound like a violin.