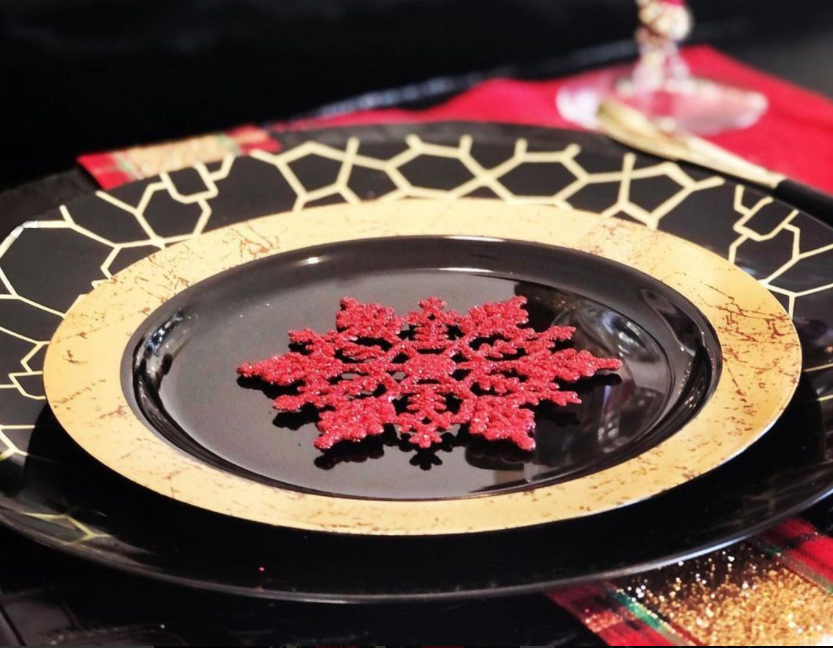 Modern Christmas Party Style
It's that time of the year when everyone is planning to get a fancy and well-decorated Christmas tree, modern dinnerware sets, and elegant Christmas ornaments. But, unfortunately, among all of them, you must be going through the same situation, where your mind isn't coming up with ideas you and your guests will love while being around you at the party.
Well, with so many decoration ideas and Christmas themes, it does get daunting to fall for the right one. So, we have come up with some of the best modern Christmas party styles to keep your guest's party spirit fully boosted.
Holiday Cocktail Making Party
What could be a better opportunity than showcasing your cocktail-making skills with your friends on a lovely and cozy winter evening? To make it come true, invite some of your friends who will entertain you throughout the party and keep the party on for everyone.
Set a cocktail bar indoor or outdoor, and showcase your cocktail-making skills in front of your friends like a magician. Make sure you have made a list of cocktails that you think nobody can be good at except you.
Delight Your Kids
Most parties aren't kids-centered. Time for you to take a step ahead this time and bring some modern change to your parties. Delight your kids at a party, and make them part of it so they can also have a lively evening.
Make a plan to read a story to your kids, but ensure they aren't suffering from boredom. There are lots of storytime ideas on the internet, do some research so you aren't just making them sleep early at a party.
Remember the time when you were super excited about toy shopping? Wasn't that delightful each time your parents agreed to get you your favorite toy? Make a similar plan with your friends, shop for new toys, and then distribute them to local charities.
Elegant Dinnerware Style
When looking for some modern party styles for Christmas night, you must be conscious about your dinnerware style because it reflects the style you carry. Don't forget to upgrade your party supplies and get fancy plastic drinkware and plastic glasses for Christmas. 
Moreover, Smarty has a wide range of disposable champagne flutes that will not only bring the modern touch to your table but will also provide ease and hassle-free experience as they are disposable.
Look around to get the fantastic collection of elegant wine glasses for your next Christmas party.
Christmas Movie Night
Christmas party ideas, where all the guests can enjoy themselves, are always a hit as there would be a sense of excitement and enjoyment. Plan a movie night with your friends to watch the masterpiece of your favorite actor/actress along with them.
Write down the names of different movies and ask one of your guests to pick one for the night to watch. Don't forget to have lots of snacks, popcorn, and any other homemade delicious item that your guests would love eating while enjoying every minute of the movie.
7 Non-Traditional Ways to Celebrate Christmas
Celebrating Christmas in the warmth of your own, decorated home with family and friends with whom you enjoy Christmas meals and wait for Santa to bring presents is always a real treat. But if this way of celebrating is not for you or you are looking for something different, try some of the 7 ideas for celebrating Christmas in a not-so-common or modern way. 
1. Wait for Santa in the Bathing Suit
Snow, cold, warm clothes, and shorter days bring something to the whole Christmas atmosphere. But if you are looking for something different this year, try to celebrate Christmas in warmer parts, where you can relax on the beach, swim, and drink delicious cocktails and replace the sun's warmth with the radiator's heat in the living room. But, of course, the most essential thing for Christmas is to spend time with your loved ones, and you can do that anywhere.
2. Enjoy the Snowy Slopes
For most people, the ideal way to celebrate Christmas is to sit at a table and eat Christmas treats, but if you like to spend your days a little more active, you can take your family skiing for Christmas. It is truly a phenomenal experience to go down the snowy slopes and soak up the Christmas atmosphere. Who knows, you might meet Santa and his reindeer delivering presents in a hurry.
3. Help Others
The essence of Christmas is to do good deeds and help those who need help. But most of us do something small for others or do it at all. So why not spend the money you would spend on expensive gifts for people who need help?
Invite people you would otherwise invite to dinner to help you and invest the money they planned to spend for Christmas!
4. Don't Wait for Santa - Become Santa
We suggest you do something fun this Christmas - one day mask yourself as Santa Claus and visit all your loved ones, deliver gifts around the city instead of giving them in a room full of people as every year. Of course, you can hire reindeer to help, but there are rumors in the city that they are hard to find at this time of year. 
5. Go to Work and Have Fun
Although the best way to celebrate Christmas is to spend it with your family in your home, most people do not have the opportunity to celebrate Christmas that way. Cops, doctors, farmers, tradesmen, waiters, and many others have to work on Christmas, so show them your solidarity and join them. It could even be a great way to convince your boss to give you a free all week after the New Year.
6. Go to the Concert
If possible, go to an outdoor concert which will be an unforgettable experience. Spending Christmas outside in the winter, surrounded by the joy of others, breathing in the fresh winter air, could be much better than staying home every year. Because Christmas is about sharing happiness with others, right?
In that case, invite loved people and celebrate outside. You have space! You have music! You have a good mood with the people around you! So what are you waiting for? Just dress well!
7. Watch the Stars
Pack a backpack full of sandwiches, dress warmly, grab a flashlight and take your family to a nearby hill, but don't tell them what you have planned for that evening. Instead, when you arrive, show them a miracle even more significant than Christmas - the stars above you and the infinity of the universe. This experience should give you and your family a completely different perspective and teach you one of the most essential Christmas lessons - humility.
Merry Christmas Smarties!