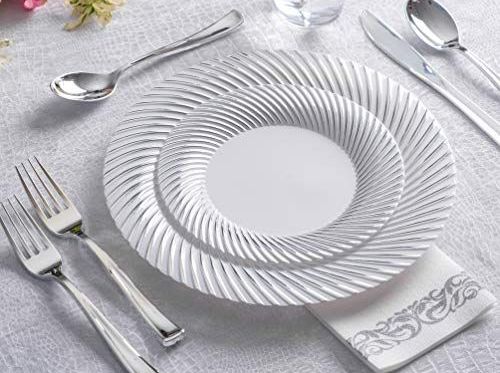 What Type Of Material Is Best For A Party Dinnerware?
If you are a party lover or love to host parties and dinners, you should know there is a lot of understanding in choosing the best material for a party dinnerware. Dinnerware's style, the material made up of colors, and embedded patterns complement the style you carry in your personality. An elegant dinnerware enhances the style of serving the food and sets the mood of your guests. There is a wide variety of tableware available in different materials. Choosing the best one for your day-to-day use and special occasions must be appropriately guided to land on a perfect choice. 
Choosing the proper disposable utensils for your party or dinner is best. You need to find out all about the available options, benefits, and limitations to select the best one for your celebration!
Disposable Dinnerware
Disposable dinnerware is trend-driven, available with a wide variety of everything that one guest will use at the dinner party. In addition, disposable dinnerware is the most affordable one compared to the other materials. Moreover, disposables have their advantage, making people jump from ceramic to plastic for party dinners and other events.
Foam Dinnerware
Foam dishes are a perfect option for informal gatherings and socializing, such as barbecues or picnics. It is great for isolation and keeping the temperature while it is strong enough to receive meals and meals, and at the same time, it is light! Primary colors such as black and white will blend perfectly with other ornaments and decorations.
They can be simple to superior, non-absorbent, and resistant to cuts. In addition, foam dishes will ensure that your food is served at the right temperature.
Plastic Party Supplies
If you are looking for a disposable material with many decoration options, plastic cutlery is. There is a large selection of styles and designs for the everyday and special occasions that will satisfy your taste. Moreover, it is resistant to leaks and cuts and does not absorb. Therefore, it is a reliable option for your event.
Our plastic cutlery can be elegant-looking porcelain, in the colors you want, for festive parties and can be used for sauces and various salads, appetizers, and sweets.
BENEFITS OF DISPOSABLE TABLEWARE
Plastic:
Leak-proof design

Cut-resistant and non-absorbent

Many color options are available

Elegant designs and patterns
Foam:
It takes less energy to create than paper alternatives

Lightweight

Affordable

Strong insulating abilities

Non-biodegradable

Non-microwaveable
Palm Leaves:
Biodegradable

Compostable

It can be used in the microwave on High for up to 2 minutes

It can be used to cook food in the oven at up to 350 degrees for up to 45 minutes

FDA approved

 
Paper:
Uses less storage space than other options

Most items available are microwave-safe

Environmentally-friendly design compared to other materials

Uncoated products may absorb grease and other food remnants

May bend or fold when used with heavy food
Disposable Dinnerware Sets Advantages
As mentioned above, plastic dinnerware is trend-driven because of its pros, making the serving with style more spectacular and affordable. Their material is high-end plastic, making them durable and safer to use as they aren't fragile as ceramic and other materials. In addition, the plastic used in them can withstand compression.
Moreover, disposables charger plates don't need to be washed when the party's over. You can throw them away and get into your bunk after a long tiring day as a host.
When you don't have enough space to arrange a sit-down dinner for your guests, setting up a buffet will make your problem vanish. You can efficiently serve numerous guests with disposables with no fear of getting your expensive crockery lost or broken.
Wide Variety of Disposable Dinnerware
Disposable dinnerware can be used for any event; their applications range from casual day-to-day use to special occasions like birthdays, weddings, and formal gatherings. No matter what event you are planning, our disposable plastic dinnerware and fancy plastic dinnerware sets will add the ambiance and a classiness that is missing on your table.
For casual use, you can go with disposable plastic dinnerware to give you the feel of a home. Further, with our elegant plastic plates, you can serve formal gatherings and formal dinner parties.
If you are a youngster and planning a house party for your friends, colorful and adventurous patterned plates will make you meet the style of your legacy. 
Purchasing at Ease
When you plan to buy the dinnerware sets for the formal events, you have to buy the whole set even if you need only some pieces. Disposable dinnerware resolves this problem for its consumer and makes purchasing individual pieces easy. In addition, you can buy the different colors of recyclable plastic plates and make a good combination for a household party.
Green Party!
If you have decided on a green party, then green cutlery is what you need, and our biodegradable plates, trays, and cutlery sets are a perfect addition. Since the transition to environmentally friendly products is more popular than ever, there is no doubt that you will be fashionable!
Several options are biodegradable. These materials include wood, bamboo, bagasse, palm leaves, biodegradable polypropylene, etc.
Biodegradable and composted containers help reduce landfill accumulation because they are high-quality, renewable materials. In addition to these "green" qualities, they do not limit the use of other disposable utensils. For example, items made of bamboo, wood, and palm leaves are as follows: these are plates and trays that provide resistance to cutting, oil, and water and are safe for the microwave.
The main attraction of your table is the dishes you choose. It is a reflection of your style and creativity, and fun.
Choosing the right party plate can enhance your meal and make your guests appreciate your effort to perfect your party.
In addition to colorful, unique colors, you can impress your guests with various designs, such as floral prints perfect for spring parties, plaid for picnics and barbecues, and holiday prints used for the New Year, Christmas, and Thanksgiving, etc.