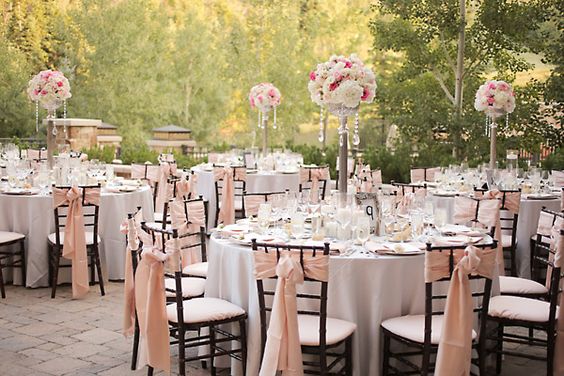 How to Pick the Best Wedding Decoration?
Weddings are an unforgettable day for the person getting hitched. That's why everyone tries hard to make it look splendid. Mostly, wedding decoration is done by the wedding planner, but if you are a couple who wants to do it by yourself or probably want the event to be budget-friendly. Well, here in this blog, we have summarized some of the best possible ideas that you can try to enhance the decoration of your wedding event.
Whimsical Wedding Theme
These days, the trend is driven by people who prefer to have lots of greenery and foliage for decoration. Probably, they want to feel like they are almost surrounded by the forest. So loads of flowers and lush green leaves cover the roof and the walls. You can try out this theme if you are a more nature-loving person and love the green sight of you. A beautiful venue with greenery and elegant furniture will make everyone feel at home.
If you are planning the event on a large property, make sure to have signs indicating where your guests should be. You can try wooden-style signs to add a class and make them a decorative piece for the event.
Moreover, you can play with the furniture style, color, and shape to make decorations even more mesmerizing for the guests. For example, you can try new styles of covers for chairs, and don't be afraid to mix different colors to find the best combinations.
50 Shades of Light
Perfect lighting is as essential as table decor. You can add different colors to the environment to set the guest's mood. Yes, change of light and precision of light colors can change your guest's mood. You can also try warm colors for dinner and add a bit of a romantic vibe. For the evening, you can try blue, red, and pink to turn on everyone's party mode.
Dining Table Decor
At any dinner party, the dining table is the heart of it, and it reflects everything you have done with your overall setup. The more stylish and classic it is, the more your guests will enjoy the party. So, make sure you don't forget about the dining table decor. Buy some good stuff for the table decor like fancy napkins and tableware. Everything is available online on our website. Buy what suits your budget and style.
Moreover, we offer plastic wedding tableware and disposable dinnerware sets for wedding events. We have a wide variety of everything your guest will use at the dinner party. From fancy plastic plates for weddings to disposable champagne glasses for weddings and wedding party silverware, we offer a complete variety of different shapes, designs, and colors.
Furthermore, disposable dinnerware sets have advantages that make your life more accessible than ever. They are much more affordable and durable than other materials like ceramic and china.
Enchanting Ideas for Wedding Decor with Peony Flowers
The peony flower looks so enchanting that its presence will turn your wedding into a fairy tale. Apart from its beauty, this flower is also characterized by a luxurious aroma, which will fill the entire space for your wedding. If you are interested in how you can use this flower for the decor of your wedding, the ideas we have prepared for you will surely inspire you.
Table Decoration
Peonies are simply perfect for creating unique decorations in the middle of tables for wedding guests and on the bridal table. Regardless of the colors and the amount you will use, peonies make striking displays that attract attention. There are many colors of this beautiful flower at your disposal, from gorgeous pink, through burgundy to white, which you can turn into an elegant decoration for the middle of the table with greenery. Also, peonies are not "selfish" in accepting other flowers because they allow you to highlight some beautiful roses, kale, or wildflowers. Whether it is a summer or autumn wedding, with this fantastic flower, you can use a broader range of fruits and vegetables and create unique decorations.
Peony Wedding Onion
Gorgeous flower bows have become a necessary detail of every wedding. If you choose peonies to make your bow or "paradise gate," as these bows are popularly called, you will create a very picturesque background for the act of your wedding. When creating onions, you can use different types of greenery near the peony, as well as dried flowers that will give the whole impression of a classy note. And the most beautiful thing is that this unique flower can find meaning in all wedding styles.
A Wedding Cake Inspired by an Enchanted Forest
The wedding cake is an essential detail at every wedding. It emphasizes your taste, as well as the style and theme, picked for the wedding. It can also make your wedding more serious if it is exquisite or indicates your unique sense of humor. Today, more and more young couples are opting for unusual and funny cakes, topped with the inevitable figurines of the bride and groom in a very picturesque edition. We dedicate today's topic to whimsical and creative wedding cakes that found their inspiration in a not-so-ordinary forest environment.
If you have chosen the "enchanted forest" as the theme for your special day, this cake will complete the event. What does "enchanted forest" really mean? The simplest explanation would be something at the transition from reality to the world of imagination, something on the edge of the forest with a step towards a magical elven habitat, a forest with a great turn. This is precisely the reason why these types of wedding cakes look so creative and impressive.
A wedding cake inspired by an enchanted forest can be displayed in different ways. It can be perfectly white with green details reminiscent of leaves, textured with sugar that emits bark, and described with a cream that resembles wood resin in layers. It all comes down to a color scheme that inspires you, with brown and green being indispensable. Throughout the story, the details are what make the difference. Enter pine cones, sugar mushrooms, deer figures, birds, and bird nests. Plenty of leaves and flowers are also welcome, as well as small twigs. Use moss and a sweet fern-shaped accessory to make the whole impression authentic.