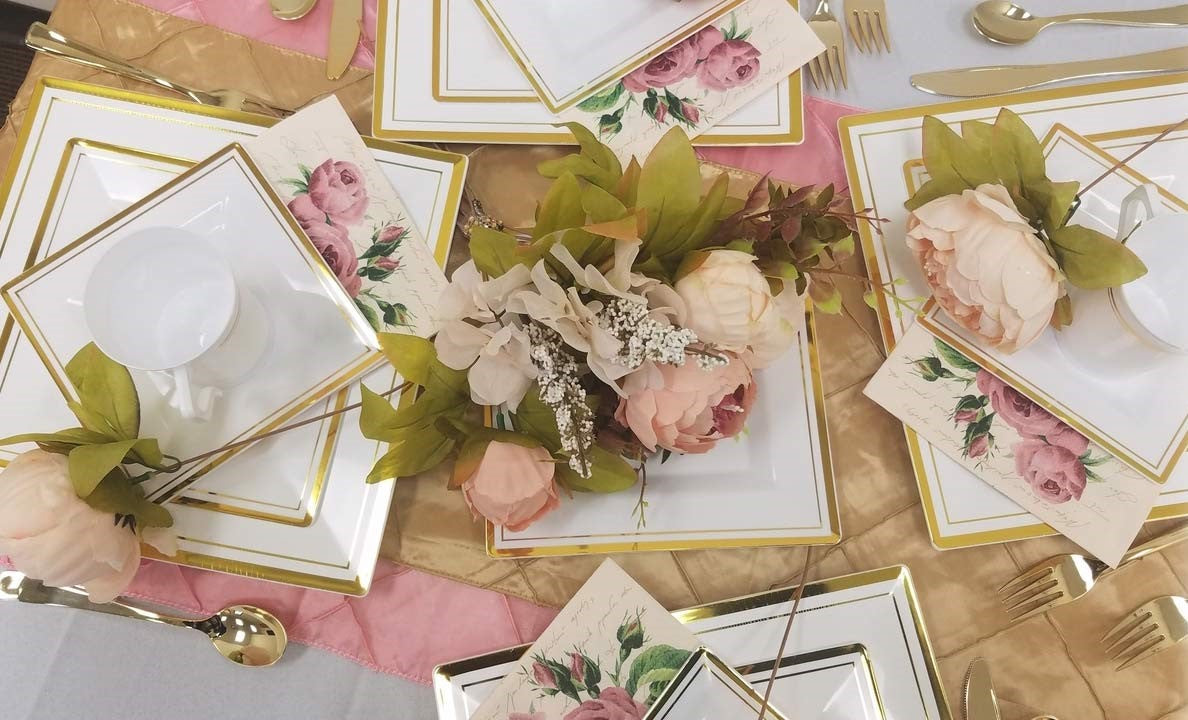 How to Create a Stunning Tablescape
The act of creatively arranging a tabletop to express a specific theme, emotion, or experience is what we call 'Tablescaping'!
Prioritizing flavorsome food does not exclude you from investing some time and effort to make your table look attractive. With a little effort, you can put together a remarkably elegant, stylish table setting at an affordable price. And a lot of times, you can also reuse items you already have in your home. The purpose of a tablescape is to enhance an entertaining experience at your party. It's a way of showing your guests how much you are concerned about them and how exceptional the meal is.
''A proper table setting provides no place for a cell phone'', Frank Sonnenberg.
We have enlisted several amazing steps to level up your table decoration and settings.
It All Begins With The Impressive Theme
We prefer to start with a theme. This can be based on a special occasion or holidays like Ladies' brunch, Christmas, July 4th, Baby shower, Thanksgiving, Easter, Birthday celebration, and Valentines' dinner. Different themes require different color schemes and decorations. Make sure that your tablescape suits well with the desired theme.
Although many people get motivated by special occasions to design their tablescapes, you don't need a particular event to make your table stand out.
Colors - The Most Influential Element On The Table
A great place to begin is with color. You must use one or two primary colors, as well as contrasting secondary colors. Your budget wouldn't be disturbed by the repetition of color across different elements that you preferred.
You can opt to work with only one color, layering different tones of the same hue. Alternatively, for a lively look, use shades from the opposing sides of the color wheel. In our opinion, the monochrome color scheme looks incredibly beautiful if it's done wisely.
Next Comes the Dishes for Your Splendid Tablescape
The foods you pick will be the stars of the show. Layering the plates may be a lot more fun. Mix things up a little. You can also stick around one collection.
It's simple to create swoon-worthy setups with our disposable silverware sets. Each collection has fascinating colors and adorable shape details. The fancy plastic silverware set and shiny metallic cutlery make the tablescapes' setting look like you're using magnificent antiques that you received from your grandparents. Also, the prices are unbelievably reasonable.
Go for a Fascinating Centerpiece
When it comes to Tablescaping, a beautiful centerpiece should be your beginning point. It may be designed to match the patterns on your dinnerware or the color of your napkins, but it will be the highlight of your tablescape, so it should stand out.
If you want to create an impact, the centerpiece must be longer and wider than the table can handle when it's loaded with food, so make room to relocate it to a side table once dinner is served. It must not be so large on the table that guests facing each other overlook it. 
Embrace Nature In The Settings
'Bringing the outdoors in at this time of year is an effective way to decorate your table,' says Ronny De Koning.
Plants look awesome in any area of the house and will bring a new buoyant, and vibrant perspective to your dinner table. A huge vase filled with twigs and ornamental plants may be spectacular as well as elegant. Making a living rug is one way to incorporate greenery into your tablescape. You can do this by using two methods.
To begin, gather long loose eucalyptus and ivy sprigs to run down the middle of the table, incorporating all the natural curves. To add to the rustic natural feel spread holly stems, and dried seed tips, around the corner of your plastic flatware.
Adding The Pretty Textures
When it comes to decorating a table, textures are crucial, and you should layer your textures freely to achieve an aesthetic look. Begin with a lovely tablecloth, then layer the designs with floral napkins. Set your table with stacked crockery and matching cutlery to add height and texture. Add flowers and beautiful lamp holders for the final touches.
Happiness Is Recycling
A single-used product can be altered into different beautiful products just by recycling it. You don't have to worry about your budget while thinking about buying a new vase. The plastic water bottle that you used for less than 5 minutes can be transformed into an elegant flower vase.
For this purpose, all you need is; three plastic bottles, one box cutter, two brushes, a pair of scissors, a colored marker, a ruler, a large piece of paper, fusion paints, and a bonding agent! You can also recycle your shampoo bottles or a fancy moisturizer bottle for this purpose.
Light Up Your Event With Glow Candles
With casual displays of spring flowers, layer a wool rug over a nylon tablecloth to create an appealing and informal environment. Simple gold candlesticks give the room a decorative touch. Bright glow candles make the event much more special. These can also be used as a centerpiece for your dining tables.
Don't Forget The Table Runners
Table runners are a great way to keep things simple and nice on any dining table. Pick a table runner that complements your tablecloths if you're using them. Choose colorful dishwares and flowers that go well with the rest of the decor. You can select the long table runners as well as short ones according to your choice. Incorporate your design to make the table runner look unique.
Hand Painted Tablecloth Would Work as Showstopper
A hand-painted linen tablecloth in a dark chocolate shade is both glamorous and amusing. 
For the most glamorous candle-lit fest, add bamboo cutlery, light pink water glasses, and polka dot rose napkins with a fancy frill at the end.
Create a magnificent tablescape by using the table decoration ideas given above to make your event memorable. Add your creative finishing details to surprise your guests.