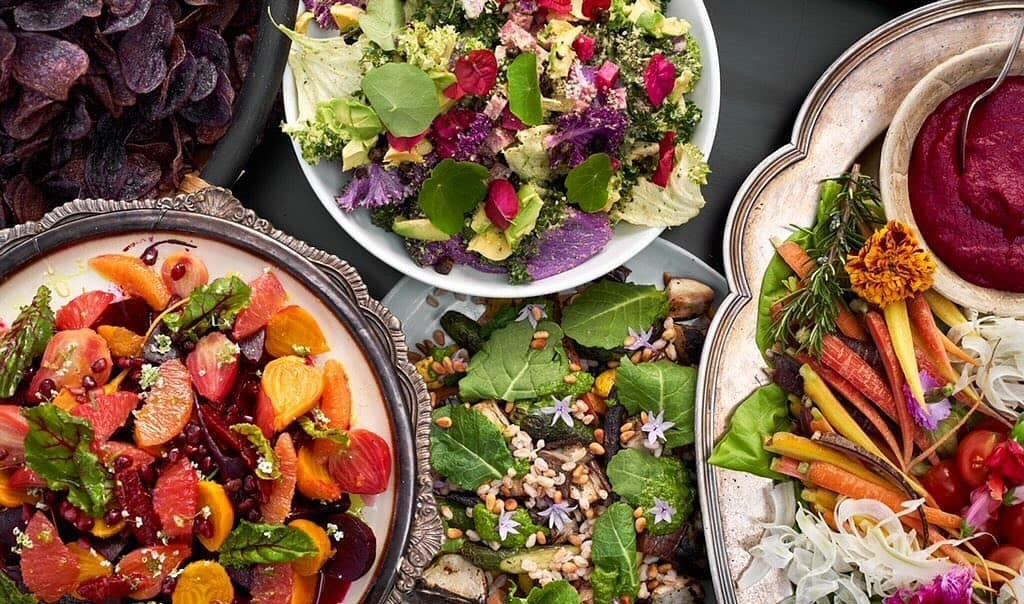 What Do You Serve at a Thanksgiving Dinner Table?
Thanksgiving is absolutely the best day of the year as it is all about cooking, eating, sharing, and enjoying while reminiscing on family memories and savoring some tasty recipes we only get once a year.
To decrease the pressure associated with getting your Thanksgiving meal on the table, many recipes can be prepared in advance or in the slow cooker. These make-ahead recipes can come in handy when there are numerous dishes to prepare and a limited amount of oven space.
A Thanksgiving meal would be incomplete without a roasted turkey with all the ingredients, a variety of creamy casseroles, celery, green beans, corn, dinner rolls, and multiple pies, including pecan, pumpkin pie, and sweet potato.
Buttery buns, cranberry sauce, and corn pudding are also essential to remember. We have brought some of the most delicious Thanksgiving recipes you must try this year to impress your guests. 
Appetizers
An appetizer is meant to stimulate your appetite, making your stomach crave the meal. Thanksgiving appetizers are the first things you and your guests will eat. After all, your guests need something to nibble on, keep them busy, and get them to engage in a conversation with one another.
Since appetizers take less time to prepare, you can serve your guests something to eat more quickly while getting more time to prepare the meal.
Start your Thanksgiving celebration by serving appetizers in disposable serving ware, including pecans, cranberry bread, bacon-wrapped dates, roasted pumpkin seeds, fried potato balls, and cheese puffs.
Salad
Salad is essential for every meal. For example, Thanksgiving dinner is incomplete without salad. Salad is frequently served before the main course to help control appetite and reduce overeating. In addition, salad first ensures that you will eat your vegetables, which is a huge gain!
As you can see, including nutritious salad in your diet has several advantages. They not only include a variety of beneficial nutrients, but they can also make you feel satiated, improve your body's absorption of vitamins and minerals, help you lose weight, and even keep you cool.
Having a salad after a meal is said to help with healthy digestion. So, fill your disposable serving trays with salad and impress your guests on Thanksgiving.
Turkey
Turkey has become the traditional Thanksgiving dish because they are fresh, affordable, and enough to feed a large crowd. Successful methods for cooking turkey include braising, roasting, grilling, frying, boiling, broiling, barbecuing, and more.
The turkey is submerged in a saltwater solution for 12 to 24 hours for wet brining. After this, rub salt over the turkey skin for almost 48 hours before cooking. 
Butter should be applied to the turkey. Add the remaining salt mixture for flavoring. Cook the turkey in the preheated oven, uncovered, for about 3 hours. 
Roasted Chicken
Although the turkey may seem to be the centerpiece of Thanksgiving, it is not always necessary. You can serve roasted chicken instead if you prefer. 
Roasted chicken is healthy and delicious because it contains proteins and nutrients. In addition, roasted chicken offers a quick and affordable alternative to less healthful fast food options.
Sweet Potato Casserole
This form of the traditional Thanksgiving dish has the ideal amount of sweetness and an enticing buttery flavor. The topping is even crisper with crushed cornflakes, but you can skip them if you like.  
Feel free to add more marshmallows to cover the dish altogether. Everyone will want more of this traditional holiday dish because of its unique blend of flavors and textures.
Pumpkin Pie
Pumpkin pie is an excellent dish for your Thanksgiving Day. The pie will still taste delicious on the big day even if you prepare and bake it up to two days ahead of time. Store the pie in the fridge rather than on the kitchen counter until you're ready to serve it.
You may make the best possible pumpkin pie, which is both ultra creamy and richly flavorful, by creating fresh cream from butternut and honey-nut and serving your guests in plastic serving ware.
Mashed Potatoes
Mashed potatoes and gravy are one of our favorite combinations for Thanksgiving dinner. People like to serve this dish with roasted turkey and other delicious dishes on Thanksgiving. The most fantastic thing about this dish is that you can make it in many ways.
On Thanksgiving, mashed potatoes can be made as you like. However, some people keep them simple with butter, salt, and pepper. 
Some people like to eat them with gravy. However, many people make their mashed potatoes garlicky or even filled with cheese, sour cream, and bacon.
Cranberry Sauce
Most of us can't have our turkey without cranberry sauce. It is delicious when eaten with roasted turkey and stuffing, whether it is canned or fresh. However, some people prefer to eat cranberry sauce on its own, without including any other dish.
This bright crimson dish remains a Thanksgiving favorite. So, this Thanksgiving, make this delicious cranberry sauce and serve it in plastic serving bowls to wow your guests.
Apple Pie
Thanksgiving feels strange without apple pie on the dessert table or in the kitchen. Apple pies can be made at home or bought from a nearby bakery. In either case, you should take advantage of this dessert when planning your Thanksgiving feast.
Some individuals love a traditional apple pie, while others like theirs with cranberries and cinnamon. But, of course, people enjoy it best when it is warm and served with vanilla ice cream.
Gravy
Nothing beats the mouthwatering gravy, especially with Thanksgiving turkey roast, mashed potatoes, or other side dishes. Most people can't imagine their Thanksgiving table without a gravy bowl because it adds so much flavor to delicious dishes.
Some people make gravy with flour, broth, and seasonings, while others use the juice from their roast turkey. It's one of the most well-liked Thanksgiving recipes, whether you use a little or a lot of gravy.
Happy Thanksgiving, Smarties!