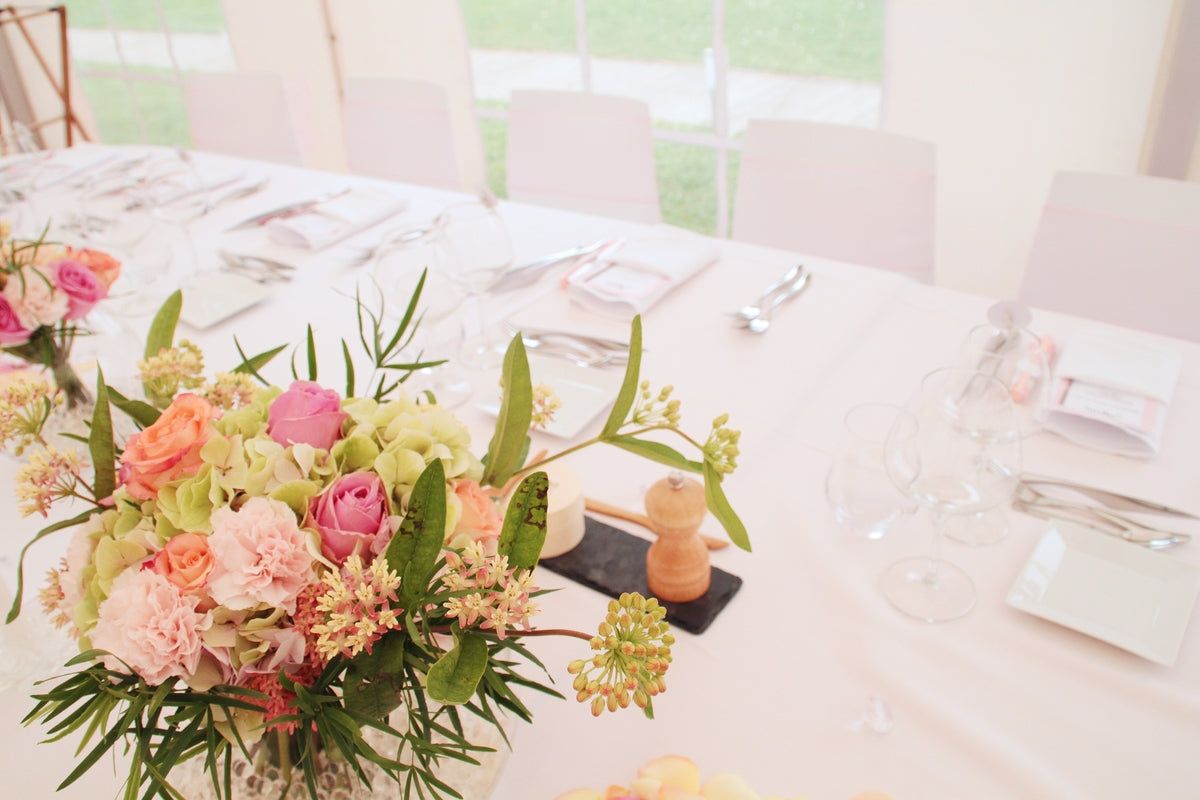 What Are The Most Popular Spring Party Themes?
As the chill of winter fades away and nature awakens with vibrant blooms and gentle breezes, it's time to embrace the joyous spirit of spring. And what better way to celebrate this delightful season than hosting a spring party? From casual gatherings to elegant soirées, spring-themed parties offer a splendid opportunity to revel in the beauty of the outdoors and create lasting memories with loved ones.
So, whether you're a seasoned party host looking for fresh inspiration or a first-time event planner eager to create a memorable occasion, this blog post is your go-to resource for the most popular spring party themes. So get ready to immerse yourself in the world of vibrant colors, fragrant blossoms, and a renewed sense of joy as we dive into the enchanting realm of spring celebrations.
Garden Party Theme
Step into a whimsy and natural beauty world with the ever-popular garden party theme. Whether you have a sprawling backyard or a cozy outdoor space, a garden-themed party captures the essence of spring most beautifully. The charm and versatility of this theme allow you to tailor the ambiance to suit your preferences, from elegant and refined to laid-back and casual.
Floral Decorations and Centerpieces
Transform your party space into a wonderland with captivating floral decorations and centerpieces. Consider using an array of blooming flowers, such as tulips, daffodils, roses, or peonies, to infuse the surroundings with color and fragrance. Arrange them in delicate vases or repurpose vintage containers for a touch of rustic elegance. You can also incorporate lush greenery, like ferns or ivy, to add texture and depth to your floral arrangements.
Incorporating Natural Elements like Potted Plants and Fresh Flowers
Enhance the garden atmosphere by incorporating natural elements throughout your party space. Set the stage with potted plants strategically placed around the area to create a lush and vibrant environment. Hang delicate string lights or lanterns amidst the foliage to create a magical ambiance as the sun sets. Fresh flowers can also be used as decorative accents, adorning fences, staircases, or floating centerpieces in water-filled containers.
Tropical Luau Theme
Transport your guests to a tropical paradise with a vibrant and festive luau theme. Inspired by Hawaii's rich culture and natural beauty, a luau-themed party is all about embracing the laid-back island lifestyle and infusing your event with a sense of warmth and celebration. From colorful decorations to delicious island-inspired cuisine, this theme guarantees everyone a memorable and enjoyable experience.
Ideas for Tropical Decorations
Set the stage for your luau party by incorporating tropical decorations that capture the essence of the Hawaiian islands. For example, hang strings of colorful paper lanterns or create a canopy of palm leaves overhead to evoke a tropical ambiance. Place tiki torches around the party area to create a warm and inviting glow. Use vibrant tablecloths adorned with hibiscus prints and scatter seashells or coconuts as accents for an authentic touch. Also, using environmentally-friendly dinnerware such as palm leaf plates and birchwood flatware is recommended when setting the table.
Hawaiian Music and Dance for an Authentic Atmosphere
Create an authentic atmosphere by playing traditional Hawaiian music throughout the event. Infuse the air with the ukulele's melodic sounds and the steel drums' rhythmic beats. Hire a live band or a local hula group to perform captivating hula dances, showcasing the grace and beauty of this traditional Hawaiian art form. Encourage your guests to enjoy the fun and learn a few hula moves.
Easter Brunch Theme
Easter brunch has become a beloved tradition for many, as it combines the joyous celebration of Easter with the indulgence of a delightful mid-morning meal. This popular spring party theme lets you gather friends and family to enjoy a leisurely and festive brunch together. With its relaxed atmosphere and emphasis on togetherness, an Easter brunch is the perfect way to welcome the arrival of spring.
Incorporating Pastel Colors and Floral Elements into the Decor
Infuse your Easter brunch with the soft hues and fresh blooms that epitomize the season. Incorporate pastel colors such as lavender, mint green, baby blue, and blush pink into your table linens, napkins, and decorations. Adorn the space with beautiful spring flowers like tulips, daffodils, or hyacinths, arranged in elegant vases or as part of charming centerpieces. The combination of pastel colors and floral elements creates a visually pleasing and inviting ambiance.
Ideas for Easter-Themed Table Settings and Centerpieces
Create an enchanting Easter-themed table setting that will captivate your guests. Set the table with pastel-colored disposable dinnerware. Enhance the centerpiece with a decorative Easter wreath, a vase filled with fresh spring blossoms, or an arrangement of colorful dyed eggs. Consider incorporating bunny figurines, egg-shaped place card holders, or nests filled with candy eggs to add a whimsy and festive touch to the table.
Outdoor Picnic Theme
Step into the great outdoors and bask in the beauty of spring with an enchanting outdoor picnic theme. This popular spring party theme allows you to embrace the natural surroundings while enjoying the company of friends and family. Whether you choose a picturesque park, a sunny beach, or your own backyard, an outdoor picnic creates a relaxed and intimate setting for a memorable gathering.
Picnic Blankets, Cushions, and Low Seating Arrangements
Create a comfortable and inviting space for your outdoor picnic by providing ample seating options. Opt for picnic blankets or large beach towels spread on the ground, offering guests a cozy place to sit. Enhance the seating area with cushions or throw pillows for added comfort. Consider incorporating low tables or wooden crates as makeshift picnic tables. This casual and relaxed setup will encourage guests to unwind and enjoy the surroundings.
Tips for Creating a Picnic-Friendly Menu with Finger Foods and Portable Treats
When planning the menu for your outdoor picnic, focus on finger foods and portable treats that are easy to eat and enjoy without utensils. Prepare a variety of sandwiches, wraps, and sliders filled with flavorful ingredients. Include bite-sized snacks like cheese and charcuterie boards, fresh fruit skewers, or vegetable crudités with dip. Finally, don't forget to pack a selection of small desserts, such as cookies, cupcakes, or mini tarts, for a sweet ending to the picnic.
Spring-Themed Party Tablescape
A tablescape refers to a table's artful arrangement and decoration for a specific theme or occasion. It creates a visually appealing and cohesive look by combining various elements such as dinnerware, centerpieces, linens, and accessories. A well-designed tablescape sets the tone and enhances the overall ambiance of a spring party, creating a memorable and inviting experience for guests.
Description of Colorful Disposable Dinnerware Options
When it comes to spring-themed party tables, colorful disposable dinnerware can add a vibrant and festive touch. Opt for elegant plastic plates, bowls, and utensils in pastel shades or cheerful colors that evoke the season's spirit. Consider options like paper or plastic dinnerware that not only showcase bright hues but also offer the convenience of easy cleanup after the event. These disposable options are practical, budget-friendly, and perfect for outdoor gatherings.
Plastic Party Supplies Suitable for Spring Parties
Plastic party supplies are popular for spring parties due to their durability and versatility. These decorative elements can enhance the table's visual appeal while ensuring your guests' safety, especially in outdoor settings where glassware might be less practical.
Advantages of Fancy Plastic Drinkware for Outdoor Events
Fancy plastic drinkware offers a stylish and practical solution for outdoor spring parties. High-quality plastic drinkware, designed to resemble crystal or glass, adds an elegant touch to the table without the risk of breakage. These sophisticated alternatives not only elevate the overall look of your tablescape but also provide convenience and peace of mind, allowing guests to enjoy their beverages without worrying about potential accidents.
Choose Disposable Chargers for an Elegant Touch
Disposable chargers are an excellent addition to a spring-themed tablescape, bringing elegance and sophistication to the setting. These decorative plates, typically larger than dinner plates, are placed beneath the main dish and act as a base to elevate the presentation. Opt for chargers in pastel or metallic finishes, adorned with intricate patterns or floral designs, to add a touch of refinement to your table without needing expensive china or porcelain.
Colorful Paper Napkins to Complement the Theme
Paper napkins play a significant role in tying together the elements of a spring-themed tablescape. Choose napkins in complementary colors or patterns to accentuate the overall theme. Consider options featuring floral motifs or pastel shades that evoke the freshness and beauty of spring. Fold the napkins creatively or use decorative napkin rings to add charm to each place setting.
Tips for Coordinating the Entire Tablescape for a Cohesive Look
Pay attention to the coordination of all the elements to create a cohesive and visually pleasing tablescape. Consider the color palette and ensure that the chosen dinnerware, drinkware, chargers, and napkins harmonize with each other and the overall spring theme. Incorporate natural elements like fresh flowers or potted plants to enhance the ambiance.