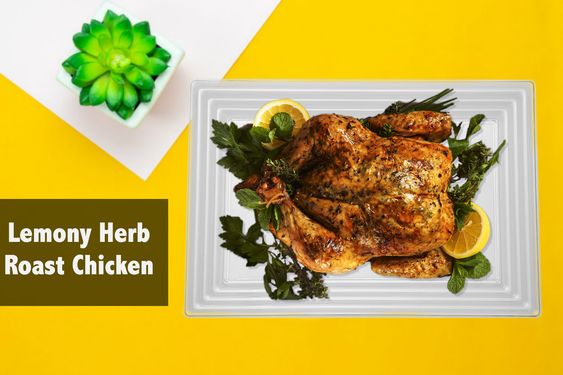 Brighten Your Plate: Lemony Herb Roast Chicken Recipe for Every Season
Are you tired of the same old chicken recipes lacking excitement and flavor? Look no further! This blog post brings you a delightful recipe that will brighten your plate and tantalize your taste buds no matter the season. So, get ready to brighten your plate and elevate your meals with our Lemony Herb Roast Chicken recipe. Discover the joy of exploring seasonal variations and innovative serving methods while savoring every bite. Let's embark on a culinary journey that will leave you craving more, all while being conscious of the environment. Get ready to impress your loved ones with a dish that will become a staple in your kitchen!
Recipe Overview
List of ingredients for the lemony herb roast chicken:
To prepare the tantalizing Lemony Herb Roast Chicken, you'll need the following ingredients:
Whole chicken (approximately 3-4 pounds)

Fresh lemons (2-3, depending on size)

Assorted fresh herbs (such as rosemary, thyme, and parsley)

Garlic cloves (4-5 minced)

Olive oil (1/4 cup)

Salt and pepper (to taste)

Seasonal vegetables (optional, for variations)
Cooking Process and Preparation Time:
Preparing the Lemony Herb Roast Chicken is surprisingly simple, even for beginner cooks. Here's a step-by-step guide:
Preheat your oven to 425°F (220°C) and ensure the rack is positioned in the center.

Rinse the whole chicken under cold water and pat it dry with paper towels.

Combine the minced garlic, olive oil, and a pinch of salt and pepper in a small bowl.

Place the chicken in a roasting pan or baking dish, breast-side up.

Rub the olive oil and garlic mixture all over the chicken, ensuring it is evenly coated.

Cut one or two lemons into slices and stuff them inside the chicken cavity with a handful of fresh herbs.

Squeeze the juice of the remaining lemon(s) over the chicken.

Sprinkle salt, pepper, and the desired fresh herbs over the chicken skin.

Optional: Add your chosen vegetables to the roasting pan around the chicken if preparing a seasonal variation.

Place the pan in the preheated oven and roast for approximately 1 hour and 15 minutes or until the chicken's internal temperature reaches 165°F (75°C). Adjust the cooking time as needed based on the size of your chicken.

Once cooked, remove the chicken from the oven and let it rest for a few minutes before carving.
With a preparation time of around 15 minutes and an hour of roasting, this recipe is perfect for busy weeknights or lazy Sundays when you want a delicious, fuss-free meal.
Benefits of using fresh herbs and citrus for flavor enhancement:
Using fresh herbs and citrus in this roast chicken recipe brings a burst of flavor that elevates the dish to a new level. Here's why they are essential ingredients:
Fresh herbs:

 Herbs like rosemary, thyme, and parsley add a delightful aroma and earthy flavor to the chicken. They infuse every bite with a fragrant and savory taste that enhances the overall experience.

Citrus:

 With their bright and tangy flavor, Lemons bring a refreshing zing to the dish. The acidity of the lemon juice tenderizes the meat and complements the savory notes, resulting in a well-balanced and lively taste.
Seasonal Variations
Spring: Incorporating Seasonal Vegetables and Bright Flavors
As the weather warms up and nature awakens, it's the perfect time to embrace the freshness of spring in your Lemony Herb Roast Chicken recipe. Here are some suggestions for herbs and vegetables to infuse a spring twist into your roast chicken:
Mint: 

Incorporate fresh mint leaves into the herb rub for the chicken. The mint will add a cool and invigorating note, enhancing the overall freshness of the dish.

Peas:

 Consider adding blanched green peas to the chicken cavity before roasting. They will infuse the meat with a subtle sweetness and provide a vibrant green color.

Baby Carrots:

 Roast whole baby carrots alongside the chicken for sweetness and a pop of color. The tender carrots will complement the citrusy flavors and add a delightful crunch to every bite.
Summer: Emphasizing Lightness and Refreshing Elements
When the summer heat is in full swing, it's time to brighten your plate with a Lemony Herb Roast Chicken that embodies the season's essence. Here are some ideas for citrus flavors to combat the heat and add zestiness:
Citrus Marinade: 

Prepare a citrus-infused marinade by combining lemon juice, orange zest, minced garlic, and a splash of olive oil. Marinate the chicken for a few hours before roasting to infuse it with a refreshing citrus flavor.

Citrus Salsa:

 Prepare a vibrant salsa using a mix of citrus fruits like oranges, grapefruits, and diced lemon segments. Add chopped red onions, jalapeños, and cilantro for a touch of heat and freshness. Serve the Lemony Herb Roast Chicken with a dollop of this zesty salsa for an extra zing.
Autumn: Incorporating Warm Spices and Earthy Flavors
As the leaves turn golden and the air crisp, it's time to infuse your Lemony Herb Roast Chicken recipe with autumn's cozy and comforting flavors. Here are some ideas for herbs and spices that complement the autumnal season:
Sage:

 Incorporate fresh sage leaves into the herb rub for the chicken. Sage's earthy and slightly peppery flavor adds warmth and depth to the dish, making it a perfect herb for autumn.

Cinnamon: 

Sprinkle a pinch of cinnamon over the chicken before roasting it to infuse it with warmth and cozy autumn vibes.

Nutmeg: 

Grate some nutmeg over the chicken or incorporate it into a marinade to add a subtle, nutty flavor that pairs beautifully with the other autumnal ingredients.
Winter: Adding Warmth and Comfort to the Dish
When the winter chill sets in, it's time to create a Lemony Herb Roast Chicken recipe that brings warmth and comfort to your plate. Here are some ideas for Utilizing winter herbs and root vegetables for a comforting twist:
Rosemary:

 Rosemary is a winter herb that pairs beautifully with roast chicken. Sprinkle chopped rosemary over the chicken before roasting to infuse it with a fragrant and comforting aroma.

Thyme: 

Another winter herb, thyme adds a subtle earthy flavor. Strip the leaves from the thyme sprigs and mix them into the herb rub for the chicken or scatter them over the vegetables for added depth.

Winter Root Vegetables:

 Take advantage of seasonal root vegetables like carrots, parsnips, and turnips to create a comforting twist. Roast them alongside the chicken, allowing their natural sweetness to enhance the flavors.
Serving Methods with Plastic Serving Ware
When serving your delectable Lemony Herb Roast Chicken, plastic serving ware offers a range of practical and visually appealing options. From plastic serving utensils to trays and bowls, these versatile pieces can elevate the presentation of your dish while providing convenience and ease of use. Let's explore some serving methods using plastic serving ware:
Plastic Serving Utensils: Types, Advantages, and Availability
Types of Plastic Serving Utensils: 

Plastic serving utensils come in various types, including serving spoons, forks, tongs, and ladles. These utensils are designed explicitly for serving and can be found in different sizes and styles to suit your needs.

Advantages of Plastic Serving Utensils: 

Plastic serving utensils are lightweight, making them easy to handle and serve. They are also durable and resistant to breakage, ensuring a long lifespan for multiple uses. Additionally, plastic utensils are often dishwasher-safe, making cleanup a breeze.

Availability: 

Plastic serving utensils are available at a fantastic Smarty Had A Party online store. They are affordable and often come in sets, providing various utensils to cater to different serving needs.
Plastic Serving Trays: Stylish Options for Presenting the Roast Chicken
Versatile Designs: 

Plastic serving trays are available in various designs, colors, and sizes. Whether you prefer classic solid colors, elegant patterns, or sleek modern designs, there's a plastic serving tray to match your aesthetic.

Enhanced Presentation:

 These trays provide a stylish and eye-catching base for your Lemony Herb Roast Chicken. Opt for a large rectangular tray to showcase the whole chicken or smaller individual trays for serving individual portions. Consider transparent or translucent options to highlight the vibrant colors of the dish.

Easy to Clean:

 Plastic serving trays are designed for disposable use. You can discard them after the event or meal without washing or storage. This saves valuable time and effort, allowing you to focus on enjoying the occasion or attending to other important tasks.
Disposable Serving Bowls: Practicality and Ease of Cleanup
Convenience:

 Disposable serving bowls offer the ultimate convenience for serving your roast chicken. They eliminate the need for washing and can be easily discarded after use, saving time and effort.

Hygienic Option: 

Disposable bowls provide a hygienic serving solution, especially when hosting larger events or outdoor gatherings where handling and washing multiple bowls can be challenging.

Versatility:

 Disposable serving bowls come in various sizes, shapes, and colors, allowing you to choose options that best suit your needs and desired presentation. They are available in clear plastic and solid colors, enabling you to showcase the chicken and create an attractive table setting.
The Lemony Herb Roast Chicken recipe is a delightful dish to be enjoyed every season. By embracing the flavors and ingredients of each season, you can create a culinary experience that is both satisfying and memorable. So, gather your ingredients, embrace the season's flavors, and let the aromas of this Lemony Herb Roast Chicken fill your kitchen. Whether enjoying it with family or friends or savoring a quiet moment alone, this recipe will brighten your plate and bring joy to your dining table, no matter the season. Bon appétit!