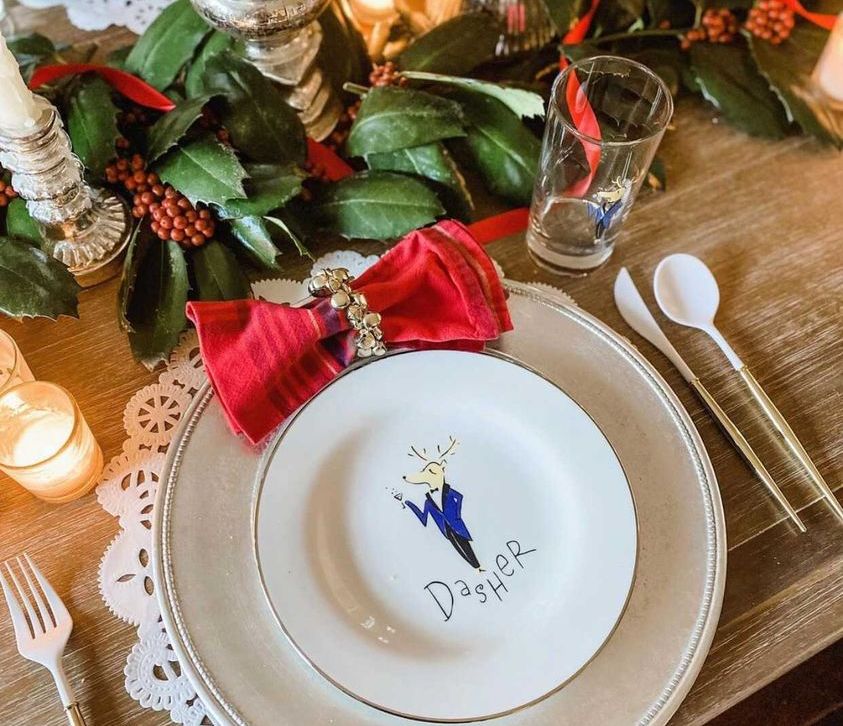 What are Necessary Christmas Decorations?
The festive euphoria begins at the beginning of December, and it heats up somewhere around December 20. Mass New Year's shopping starts. Decorative papers, Christmas tree decorations, collage paper, candles, and light bulbs. Homes become magical, windows shine at night, and everything gets a new look - a New Year's suit.
New Year's and Christmas interior decoration is an important ritual, and most people try to make the area in which they live or work shine.
Home decoration is what essentially depicts the holidays and completes the Christmas atmosphere. This year, there may be no snow, but there is a decoration that will give us a natural feeling of the New Year and Christmas.
The true spirit of Christmas begins when you start decorating your home. Everybody knows the basics of decorating a home with various decoration items, but we will level up the game this Christmas. We will tell you the necessary details to add to your cart before it's too late. We don't want you to have a boring Christmas party. There are many more innovative decor projects you can do with just a few items.
Christmas Tree
The idea of Christmas never comes alone. It always brings along a beautifully lighted tree. It's a tradition, but we can safely say that it's our favorite tradition. There are a thousand ways you can decorate a Christmas tree. So without having a second thought, just grab a Christmas tree and some stuff to decorate it, such as lights, ribbons, gold stars, or maybe a banner that says "Merry Christmas."
You can even get a miniature Christmas tree that looks even more gorgeous when the tables are decorated with our fancy disposable mini partyware. The mini partyware and a tiny Christmas tree give your place a beautiful makeover.
Tree Stand
Make your Christmas tree stand tall with a tree stand. The tree needs water to stay fresh throughout Christmas. The tree stand ensures it stays well hydrated and looks and smells good.
Santa Claus Figurines
You deserve to have at least one Santa Claus figure in your Christmas decor. It is perfect for kids celebrating Christmas. Remember, Santa doesn't come alone; he always brings a reindeer. So, it would be nice to have a reindeer figure and the Santa Claus figure.
White Snowflakes Hanging
Who doesn't want to give their home a Frozen vibe on Christmas? With some beautiful artificial white snowflakes, you can bring the true spirit of Christmas into your home. You can make wall hangings made of snowflakes or even hang them down the ceiling.
Elegant Tableware
You cannot call a party table elegant until it is spruced up with exquisite tableware that matches the decor. It creates an ever-lasting impact on your Christmas party table that you can't afford to get boring china. So get Smarty's disposable mini ware for Christmas and make your party tables stand out.
Our Christmas party supplies are a must to add to your Christmas shopping cart. The Christmas tableware is available in a wide variety of colors, and the fact that they are disposable gives you a hassle-free, gorgeous Christmas tablescape.
String Lights
No matter what theme you have selected or what kind of decorations you have installed, string lights always add an alluring element to your party. The best part about string lights is that they are available in different colors to choose the ones that match your party table's requirements.
Candle Set
The ambiance of Christmas can be elevated by decorating the place with beautiful candles. Buy beautiful candle sets for Christmas and create an intimate atmosphere on Christmas Eve.
The Christmas tree and candles are now a traditional decoration of every household, but candles on the table and the warmth of the flames in the house are also symbols that the holidays bring us.
One of the most beautiful details of the holiday atmosphere is the candles that will give your home a pleasant warmth. Whether white, red, or yellow, they will significantly enrich the space with their light.
Scented candles are exciting. By choosing one, you will bring the most beautiful and exciting scents into your home, from vanilla or lavender to magnolia. In addition, you will create an authentic holiday atmosphere with New Year's candles combined with Christmas tree bulbs.
Christmas decorations Made of Gold and Copper!
The most popular color scheme associated with Christmas is the combination of green and red. However, holiday arrangements appear more and more often in the most modern colors of copper and gold. We can use cones, bamboo sticks, and linen napkins to prepare such decorations. They are perfect for decorating tables and windows. These colors mix nicely with white and brown. They get a lively character and bring a festive atmosphere to the interior.
Scandinavian Style Decoration
Christmas in the Scandinavian style is, above all, simplicity and minimalism. Therefore, limiting supplements is limited to the minimum necessary. If you do not have time for Christmas decorations, just buy a decorative pillow in a festive atmosphere, put a few candles and Christmas trees, and have ready a quick and straightforward Christmas decoration from Norway.
Alternative to the Christmas Tree
The Christmas tree is associated with a green tree dressed in bright lights and colorful decorations. However, her image has changed over the years, and the traditional Christmas tree is increasingly being replaced by decorations that are only intended for her. As an alternative to the Christmas tree, cardboard boxes decorated with gifts arranged on top of each other resemble a miniature Christmas tree. An exciting idea for ​​replacing the Christmas tree was a dry twig hanging above the table. If we decorate it with New Year's colors, it will bring a festive mood to the interior.
New Year's and Christmas decorations remain until mid-January when all the holidays and celebrations are over. Then it returns to the boxes until next year when your home will shine again.
Merry Christmas Smarties!