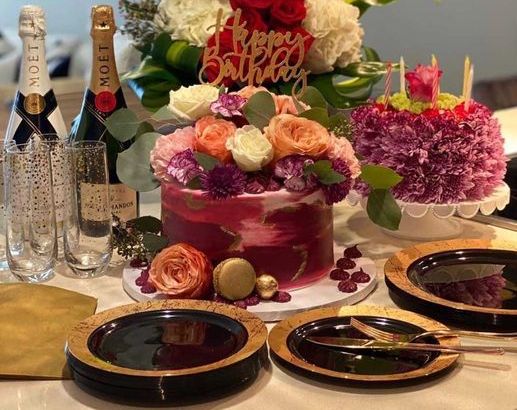 How do you Decorate a Simple Birthday Party Table?
No matter how old you are, birthdays always bring a feeling of joy and make you realize how far you've come in life. You get to celebrate a full day with your loved ones, and they make you feel special in different ways. When one throws a birthday party for you, they appreciate your presence in their life and tell you how much they care for you. The effort they put into making you happy matters to them.
Throw a fun birthday party for someone whose birthday is coming up and make them feel valued. Think about their most significant achievements from the past year and what they did for you, and make sure to appreciate them. Then, focus on making their day the best and leave the decor on us. Smarty is here to save the day with its elegant birthday tableware. You can decorate a perfect birthday party table following these tips and ideas.
Invitation Card 
While this is a use of modern technology, a Facebook invitation can be a good idea because it includes a surprise effect and allows you to post a striking photo with it that will attract attention and make your friends talk about it more than they would if they got classic invitations. Also, it is a good idea to inflate balloons and write on them the necessary information about the time and place of the party, then send them by mail or deliver them in person. Interesting and different! 
Some new and unusual tendencies appear in the modern decoration for birthday celebrations. For example, instead of serving plates, you can use jars, hats, baskets, etc. Anything that comes to your mind, which is stable and can bring a smile to the guests, is a great idea. If you want the central part of the party to be a movie screening, play music from that movie throughout the party and decorate the walls with posters of the actors who appear in it.
Balloon Arch
Balloon arches are a new trend in birthday party decor and add to the beauty of your party tables. An ideal birthday table decor is the one, which is well thought of, and everything around the table looks gorgeous as well. Create a balloon arch with balloons of different sizes and hang it in a suitable area.
Cupcake Stand
Another innovative idea to beautify a birthday party table is to make a cupcake stand. You can find a tutorial for making a cupcake stand online, and with a little effort, your party tables will slay throughout the event.
Mason Jar and Flowers
Nothing can beat the elegant flowers and floral centerpieces added to a party table. But, no matter the occasion, you can always beautify it with flowers. For a birthday table decor, take some mason jars and put freshly picked flowers. Furthermore, you can customize the mason jars by writing a text for your friend.
Elegant Tableware
What's a party table with essential tableware? It's time to take a step ahead and get the fabulous tableware pieces that serve both food and serving looks. Our disposable serving ware for birthdays does precisely that. Its design and texture make it your favorite choice for birthday decor.
We make your special moments extra special with our plastic birthday party serving ware and serving plastic supplies, and that too, within a budget. This affordable serving partyware is what you need to host an elegant and budget-friendly birthday.
The Birthday Cake
As for the cake, it must always be the fulfillment of the celebrant's dreams. Regardless of the birthday in question, if the celebrant adores Barbie - let her cake be inspired by Barbie. If the celebrant is fascinated by football, the cake above which he will make a wish from which he will extinguish the candles should be a model of a football field. It is the central and most beautiful part of a birthday celebration, so it is necessary to be tailored to the one who blows candles.
No matter how perfect is a table you set, the cake will still steal all the attention, which means it should be eye-catching. If it's for someone special, bake the cake yourself. Otherwise, you can always get one from the store. Now what to write on the cake? Don't just write their name with a "Happy Birthday"; that's too boring for us. Instead, you can write their nickname or a reference to an inside joke that only you two know.
Contests, Lotteries, and Birthday Games
 You always want to make this day unforgettable and exciting, cheerful and incendiary, and guests invited to the holiday will feel comfortable and relaxed. To do this, you need to organize many exciting games, competitions, and sketches at your party that will unite and makes friends with your guests. But do not forget that competitions should be such that they do not create inconvenience and do not offend anyone.
Congratulations - Birthday Wishes 
Everyone knows that the main thing is not a gift. The main thing is attention. Therefore, pay special attention to the choice of birthday cards. Of course, no one knows better than you what exactly you should wish for the birthday of your mother, beloved friend, or boss. We should not limit ourselves to simple, understandable desires for happiness in private life and success at work. Show yourself as an attractive, creative, and sensitive person, choosing the warmest and most beautiful birthday greetings and wishes.
Birthday 
Gifts
For every guest at the birthday celebration, the best surprise will be the opportunity to receive a gift even though it is not his birthday. So prepare a bag of candy or something similar for everyone they will get with their jacket when leaving your home.