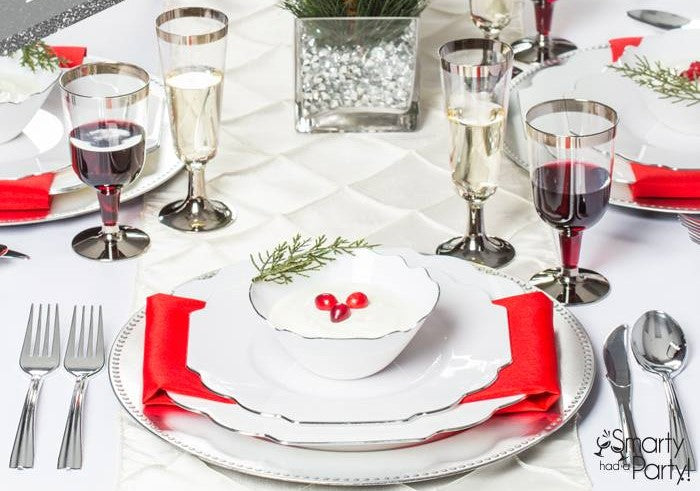 A Classic Christmas Holiday Table
Feel the true spirit of a lovely Christmas by decorating a picture-perfect tablespace. Your Christmas party table should reflect your personality and enthusiasm for celebrating Christmas. So, it is essential to create a captivating and trailblazing tablescape. Especially this year, when the Covid restrictions are lenient, and we can gather around our friends and family and celebrate, it is even more critical that we put our efforts into giving them quality time.
You can create either a bold or a minimalist Christmas holiday table; if you follow these instructions, you will be able to wow your guests either way.
Decorating your Christmas table is a way to show your loved ones and guests a little extra love and care. There are many ways to dress a holiday party table, whether you're a minimalist or like to go all out.
A Minimalist Christmas Table
Minimalist party tables never go out of trend. As much as they look elegant, they are super easy to pull off. Generally, tones of white, black, and grey are used to complete the look of a minimal Christmas table. Get plain white table runners and Christmas party plates in white and black colors to achieve the look. Our wine glasses are everything a minimal Christmas party table needs.
A neutral base is created by a white table cloth, gray dishware, linen napkins, candles, black cutlery, and clear glass. Add seasonal notes with pinecones and fir trimmings, and put black-and-white paper stars hung above the table on the wall.
Usually, a minimal party table does not need too many centerpieces, but a candle set and a floral vase will add an element of chicness to your minimal party table. The subtle and exquisite combination of flowers and candles will amaze your guests.
A Vibrant Christmas Party Table
Decorate a bright and bold party table this Christmas if you feel like stepping out of your comfort zone. A typical Christmas party table involves a lot of red, so we will give touches of different shades of red to the decor. Think of an explosive combination of burgundy, peach, and lavender. Mint green also goes really well with red or burgundy.
Now that you've picked a color combination for yourself, it's time to match the tableware with the decor. Our elegant disposable plastic plates, available in almost all color ranges, are perfect for your Christmas party tables.
You can use wildflowers, hand-painted mini lamps, citrus garland for a pop of color, or customized disposable plastic plates for centerpieces. You can paint them and write texts on them or, even better, make a wall hanging out of multi-colored disposable plates. Use our bulk plastic plates that are stylish, functional, and budget-friendly.
Formal and Informal Fusion
If you hosting a party with a long list of guests for a Christmas family dinner, subtly blend a formal and an informal table setting. It will look gorgeous and equally approachable. Use chargers, dinner, and salad plates for dining, and for centerpieces, use a vase full of white flowers.
On the other side, set up and decorate a table for children with simple table linen, a pine vase, small figurines of trees and snowflakes, and porcelain candles in the shape of reindeer! With plastic plates and cups that will not break, decorate with napkins with a print of reindeer and Santa Claus, snowmen, and snowflakes. However, they are most looking forward to this defeat and of course, let's not forget gifts! So we have to pay specific attention to this holiday!
Go All-Green with a Hint of Red
The lovely combination of green and red is a typical combination for Christmas, and it never disappoints. No matter what tablescape you are setting, it would be great to incorporate these two colors into the decor. Use Santa Claus figurines on the table as centerpieces when pulling off a look using this combination.
For an even more rustic look to your Christmas table, you can add pine cones, bright red holiday berries, and water glasses and napkins with the same print to add a playful note. Fresh cranberries, and tree decorations imprinted on brown kraft paper labels, will create a festive ambiance for Christmas lunch that will make your guests feel special.
Romantic Christmas Lights
If you want to spend this joyful day in an intimate atmosphere with your loved one, this decor will make a fairytale dinner!
Gently crumpled linen, tablecloth, a soft washed palette of pink, cream, brown, and peach, and coffee colors make the space romantic, cozy and warm. And combined with candlelight and lamps in the window behind the curtain, creates a romantic ambiance and a special feeling for an intimate Christmas dinner.
You can use a disposable plastic set of white plates with a gold circle in the middle will be a white napkin in the shape of a Christmas tree, with gold forks and knives!
The combination of old wooden chairs and old wooden candlesticks in the middle of the table, with a small Christmas wreath of delicate pink, white and peach flowers, will make your Christmas table like a fairy tale!
Sweet Christmas Table
Decorate the dessert table or sweet table with a linen tablecloth sprinkled with birch branches and New Year's decorations, paper Christmas trees of different sizes and heights, candles, berries, and many sweets.
A necessary part of every Christmas is Christmas cookies! These are the famous vanilla biscuits made in various forms of Christmas decorations! Use green, white, and red, make sarees, put beads, and show your imagination! The perfect opportunity to relax with your children with this Christmas game! They can be soft or crunchy, just dip them in chocolate, sprinkle with powdered sugar or serve them plain!
Whatever decor to decide on, with your loved ones, delicious food, gifts, and Christmas songs, this joyful day will be like some Christmas fairytale!
Dashing through the snow in a one-horse open sleigh...Jingle bells, jingle bells, jingle all the way.....Marry Christmas Smarties!