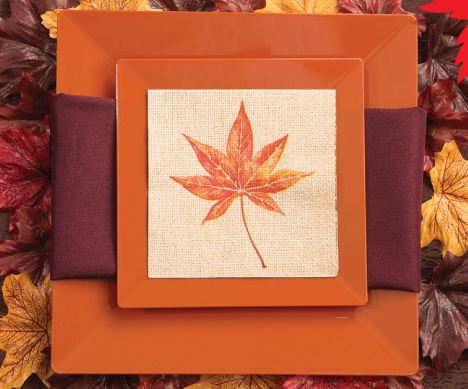 Welcome the Party Season with Lovely Fall Colors!
Fall is here and brings us the lovely weather and colors, which compels all of us to go for something besides a dull routine. What else could be a great idea than throwing a welcome party with lovely fall colors? If you are wondering about throwing an epic fall party and running out of ideas to flourish it, stick to the end to discover what you shouldn't miss at your next fall party.
Pick up a Perfect Party Theme
If you will be a host for the first time, then there's a lot for you to figure out to choose the best package for your guests at the party. Firstly, choose the party theme to give an aesthetic touch to the party.
If you are expecting teens at the party who are hard to press, freak them out with the spooky decorative party theme. There are plenty of ideas to give your party stylish touches, like a batman party theme and a ghost party theme.
When arranging a party, make sure everything you are having at the party cooperates with the party theme.
Fall Party Menu
Parties are incomplete without the delicious menu. So indulge your guests with your favorite seasonal food. In fall, pumpkins, apples, and maple, with their stunning colors, are the favorite seasonal food items that can be a hit at your party.
Apples are a versatile fruit, and they can go with everything, cut apple slices and serve with the cheese or serve apple cider with juicy orange slices.
Maple leaves and maple syrup are the musts at any fall party, and it's challenging to picture fall parties without them. Expressing the maple syrup on delicious cookies or roasted chicken can be special seasonal food items on the menu.
Moreover, pumpkins, apple, and maple leaf colors will give the party a lovely fall touch.
Fall Party Decoration Ideas
Fall party decorations are easier to do as there are plenty of things and fruits you can bring in the party frame to make the scene even more attractive and dressed up.
Pumpkins are the most desired food item in the entire season, but it's also can make your party decoration next level. Carve pumpkins into different shapes and designs you like, and then place a candle inside them to add warmth to the party scene.
You can use autumn gifts to decorate the table, for example, bright berries, walnuts, and autumn nuts. Lay a decorative tablecloth on the table, and in the middle, you can put a ribbon of raffia or rope. In small cavities, pull dry twigs, cranberries, or callus. Choose beautiful dishes, and you can also decorate the table with beautiful napkins and cutlery.
Candles in Apples
You can use apples to make decorative candles for the table. First, cut a small part of the bottom with more giant apples. Next, cut a groove the size of a small candle. Finally, insert a candle into the resulting recess. Make a few of these mini candle holders, put them on the table, and you will create a charming, magical autumn atmosphere.
A Delicious Surprise
Sweet little things are becoming more and more popular at feasts - personalized gifts for guests. Prepare delicious sweets or small chocolates and mini-bouquets. Also, the hospitable hosts plan the space for the guests in advance. They combine work with pleasure.
Take as many apples as you expect. Make leaflets out of paper, write the names of the guests and tie them to the handle of an apple with raffia or twine. Place on a plate for each guest. Your guests will be pleasantly surprised.
There are a million ways to decorate your table during autumn gatherings. Of course, decoration in the autumn style is not obligatory, but drinking coffee or tea will be more pleasant in a beautiful ambiance. 
Colorful Dinnerware Set
Colorful dinnerware set with matching fall colors will complement the food and the overall decorations. Moreover, the food gives an entirely different feel to the guests when served on elegant plates.
If you don't find buying a new dinnerware set a good idea, you can go with a few details. Colored cutlery sets can cover up that gap to bring the lovely colors vibes to the table. In addition, we offer an extensive range of colorful disposable flatware and disposable plastic flatware.
All our products are FDA-approved plastic approved, which gives them an edge over ceramic and china.
Autumn Yard Decoration
Autumn has finally here, and it is time to decorate our house, yard, and garden and organize a party for the spirit of the most magnificent season.
Many do not like the autumn season because of the rain, cold weather, and wind, but we cannot deny that this season brings us the most beautiful colors and decorates our yards uniquely.
The lovely golden colors of autumn can serve as an excellent inspiration to decorate the yard impressively. However, you do not need the expensive decor to decorate the yard because you can decorate it using objects from nature.
Pumpkins
Pumpkins are a feature of the fall season, and they bring color, texture, and warmth to your garden. You can arrange them in the garden's center or border the garden path. Also, don't forget to order a few pumpkins next to the front door.
Autumn Flowers
Chrysanthemums and gerberas in various colors are the most beautiful newspapers of autumn. There are many ways to decorate a yard with flowers, just as you do in the spring season. First, arrange chrysanthemum pots in front of the front door or on the edges of windows. Then, using autumn flowers, miniature pumpkins, acorns, and berries, make an arrangement.
Autumn Fruits
You can use autumn leaves and autumn fruits for decorative wreaths with which you will decorate the front door. Use pine cones, acorns and autumn leaves in the most beautiful colors, and decorate your porch.
There are many ideas to decorate the garden during the fall. All it takes is a few things from nature and a lot of imagination to bring color, warmth, and texture to your outdoor space.