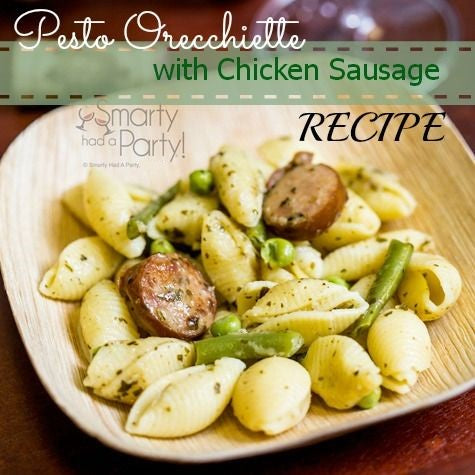 Pesto Orecchiette with Chicken Sausage
I love pasta salad at ANY time of the year, but it is primarily a spring BBQ side dish favorite. So here is a new one - Pesto Orecchiette with Chicken Sausage - for you to test out that could even include sausage cooked on the grill! It is an easy pasta dish, ready in under twenty minutes, and always a crowd-pleaser!
Ingredients you need:
12 ounces orecchiette or similar pasta (we used shells)

1/2 pound green beans, trimmed and cut into 1-inch pieces

1 

cup

 

frozen peas

1 

tablespoon

 

olive oil

8 ounces fully cooked Italian-style chicken sausage links, thinly sliced

1/3 

cup

 

pesto

1/2 

cup

 

grated Parmesan (2 ounces)
Preparation:
Step 1: Cook the pasta following the instructions on the package, adding the green beans and peas during the last 3 minutes of cooking.
Step 2: Save 1 cup of the cooking water for later before draining the pasta and vegetables. 
Step 3: Put them back in the pot.
Step 4: Heat the oil in a large skillet over medium-high heat while cooking pasta. 
Step 5: Cook the sausage, occasionally turning until browned, 6 to 8 minutes - or, if you so choose, fire up the grill instead! Just be sure to slice the sausage AFTER they are grilled if that's the route you go.
Step 6: Mix the sausage, pesto, Parmesan, and 1/2 cup of the reserved cooking water to the pasta and vegetables and toss them together. Add more cooking water if the pasta seems dry.
Step 7: Serve with one of our sustainably produced, biodegradable palm leaf plates and bowls.
This recipe is a keeper! Simple and delicious! I hope you will love this recipe as much as we do! It's hearty and just so good.
Make Your Own Homemade Pesto Sauce
The real and original name of the region around Genoa is Pesto Genovese. Everything else is a variation on the theme. You can get various options of ready-made pesto sauces at the grocery store, including Pesto Genovese, but that's not it. To ensure there is no confusion, everything that goes into the original recipe for pesto sauce can be found in stores.
What you can't do without an authentic pesto sauce is basil. 
Then Parmigiano-Reggiano, Pecorino Sardo (sheep's milk cheese), European pine nuts, olive oil, garlic, and salt.
Fresh, fragrant... incredibly green, and delicious.
So it's time for the pesto sauce.
One option is to put it all together in a blender and grind it, and the other is to add a little love. Well, let's do it all the same way.
First, I lightly toasted the pine nuts for extra flavor and texture. Then, I put the pine nuts in a heated pan and toasted them on all sides. I opened all my eyes so they wouldn't burn. I didn't need any extra oil because the pine nuts are oily.
I bought pieces of the cheeses I needed for the pesto sauce and grated them myself. Just as it is better to grind pepper before use than to use it already ground, the same applies to these cheeses.
Garlic from the market, homemade. I also sautéed the garlic in a little olive oil.
Grated lemon peel. Previously, I washed the lemon well and kept it in water for at least 30 minutes. Then, when I grated the rind, I squeezed the lemon because I would need it for the pesto sauce.
And finally, a lot of olive oil and a little salt.
Once you have all this ready...you can put everything except the oil in a blender and blend. However, there were no blenders in the past, so everything was done by hand and in the oven. You choose a blender. This time I chose a blender and added olive oil gradually until I got the required thickness.
The sauce prepared this way can be stored in the refrigerator for approximately ten days. It should be used within that period. Otherwise, it will spoil or indent (especially if there is not enough oil).
The smell of fresh spices is indeed intoxicating.
When you make your first homemade pesto sauce, you won't even know all those jars at the grocery store exist anymore.
Lunch in Half an Hour: Pasta with Chicken and Pesto in a Creamy Sauce
This recipe is for you if you want a quick and tasty meal.
Ingredients (for two):
300g of foam pasta

350g of chicken

2 tablespoons of pesto sauce

400 ml of cooking cream

Parmesan

Spices
Preparation:
Cook the pasta. During this time, fry the chicken well until it turns brown, then cut it into cubes. Mix the pesto in the cooking cream. Drain the pasta and add to the pan with the chicken. Pour over the mixture of sour cream and pesto sauce. Season to taste. Simmer until a bit of cream is cooked. Serve warm.
Roast Pesto Chicken
Chicken can be prepared in so many ways that everyone in the house will enjoy it, and this is one of the easier ones, so even a novice in the kitchen can get involved in preparing this Baked Pesto Chicken. With seasonal salad, potato balls, and Coca-Cola, enjoyment is guaranteed.
Ingredients:
600 g of chicken fillet

2-3 tablespoons of olive oil

1 jar of Pesto Genovese sauce (190 g)

Salt and pepper

100 g of Trapis
Preparation:
Pour olive oil into a suitable bowl and brush it over. Pour half of the Pesto Genovese sauce over the oil. Cut the chicken into pieces and place it on top of the sauce. Season with pepper and salt, then cover with the rest of the sauce. Cover the baking sheet with aluminum foil, then put it in the oven heated to 200 °C for 25-30 minutes.
After this time, remove the baking sheet and remove the foil. Be careful not to get burned by the steam when removing the foil. Place the grated cheese over the chicken and return to the oven for another 10 minutes, depending on your oven.
Featured Smarty Products: