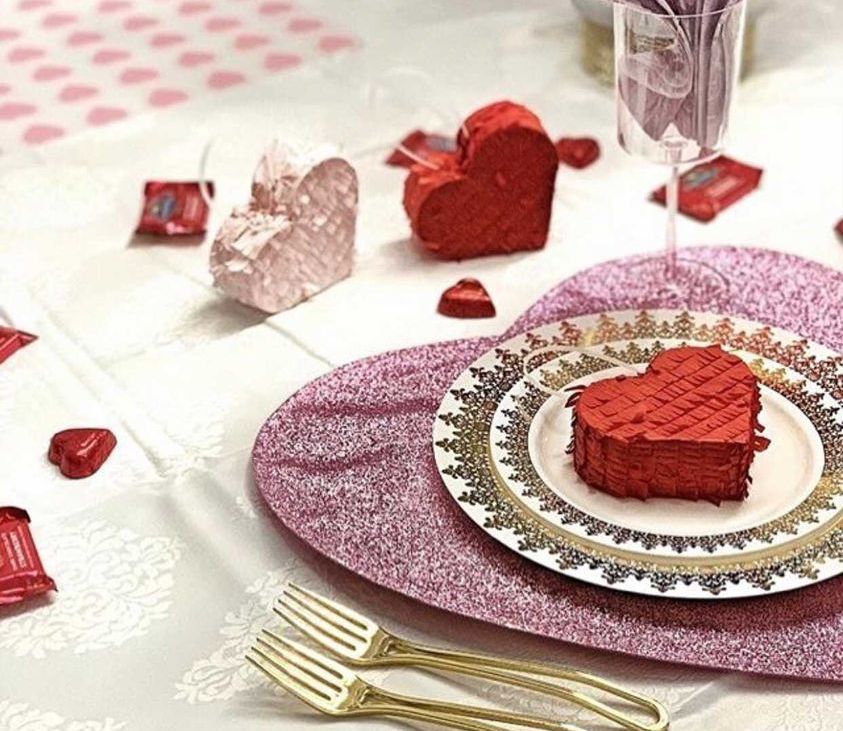 Valentine's Day Ideas You'll Fall in Love With!
Valentine's day is not here yet, but it is officially February, and we are utterly excited about it! We love to decorate and celebrate Valentine's Day every year because, regardless of whether they love you have in your life is romantic, it's nice to do the ones that mean the most to you to feel valued regardless of your relationship. Of course, one of your favorite parts of celebrating something is that our homes look as festive as possible! Valentine'sAs the most romantic date of the year, Valentine's Day is traditionally celebrated around the world - by giving a sign of attention to your partner with a gift or a particular time reserved "for two."
When it comes to celebrating love, it's not material but the effort that matters. So this Valentine's Day, let your special one know what they mean to you by giving them a surprise dinner. But since it's Valentine's Day, put some extra effort into it to make it more memorable.
Here are some exquisite Valentine's Day ideas to impress your loved one:
Make Hot Chocolate
What's a better way to feel cozy than having a mug of hot chocolate? So make a creamy, rich hot chocolate and drink it while watching your favorite movie.
Make Dinner Together
If you genuinely want some intimate moments with your partner, we suggest you prefer eating a home-cooked meal to dining at a busy restaurant. The time you two would spend making it and setting the table will leave you with so many memories to cherish.
Set the table beautifully with red flowers and candles as centerpieces. For tableware, get our disposable chargers for Valentine's Day and set a one-of-a-kind table for your partner. Our Valentine's Day paper charger plates and fancy charger plates serve as tableware items and adornments for your tables.
Write them a Love Note
In the name of conventional love, it's time to write some love letters. Handwritten notes create an everlasting impact on the reader. So write something you've always wanted to tell them but couldn't or your favorite memory of your relationship. It will genuinely bring a smile to their face.
Chill Up with Cocktails
Set up a small bar at home and set the mood for a perfect Valentine's evening. Make a sparkling cranberry sangria or a strawberry shortcake daiquiri and enjoy the night.
Stream a Romantic Movie
There are endless options for watching a romantic movie on Valentine's Day. First, you can watch a classic rom-com to lighten your mood for the day. If you are not into romantic movies, you can always watch a film or series of your favorite genre.
Go for a Long Walk
Hold your bae's hand and go for a walk while the cool breeze of February crosses your body. Then, stop by at a local coffee shop and enjoy a perfect Valentine's evening.
Go Stargazing
What's more romantic than going camping and looking at the stars? Go to a place where you can see the stars. While stargazing, look for the constellations, especially the bright red star called Valentine's star.
Make a Scrapbook
To relive the memories of your relationship, make a scrapbook that includes elements that are special to both of you. 
Plan a Hike
Going for a hike would be the best thing to do for all mountain lovers. Even if you have visited a place several times, you can revisit it and enjoy nature's beauty.
Exchange Thoughtful Gifts
Even if choosing a gift is a task that you usually do without much trouble, Valentine's Day as an opportunity to give gifts can sometimes be a real challenge. That is why gift ideas for Valentine's Day are more than welcome. Indeed, you should not associate this day with giving and taking gifts, but it's always nice to give a gift to your partner (without expecting something in return, though).
Gone are the days when Valentine's Day was celebrated by exchanging flowers. Instead, modern Valentine's Day gift ideas include candlelight dinners, a few dances, expensive gifts, etc. Which helps make the day more successful for both lovers.
Delight your other half with some of the following gifts:
Do It Yourself!
Look forward to February 14, Valentine's Day. Let this day be an excuse to do something special for you and your loved one. We have selected some cute ideas for creative gifts that you can make yourself.
Hearts On the Window
Make heart-shaped paper decorations and hang them on the window on Valentine's Day. It looks nice, and every man will surely be happy. 
Hearts that Warm
Hearts and warmth, what will you do better in this cold weather? These hearts are made from an old sweater and are filled with rice. You can heat them in the microwave and put them in the pocket of a dear person to warm your hands. 
Jars with a Message
You can pack everything in jars: a flower arrangement or your favorite candies, chocolates, or something homemade. Add decorative details to the cover, attach a message, and here is a beautiful gift. 
Balloons 
Get heart-shaped balloons, make a bundle and decorate the house, or even use them for painting. Be proud of your love! 
Sprayer
Bend the heart-shaped sprinkles and place them as a decoration for dessert. A cute way to delight a loved one. 
Imprints
A very authentic way to make greeting cards with the prints of your fingers or palms. 
Heart of Photos on the Wall
Choose pictures that illustrate the beautiful moments you spent together and shape a heart on the wall. This will be a wonderful romantic gift and surprise.
A Cup with a Message
If you don't already have one, buy a beautiful cup without patterns and print it with love messages. You have a large selection of ceramic markers in bookstores, so it will be an easy task.