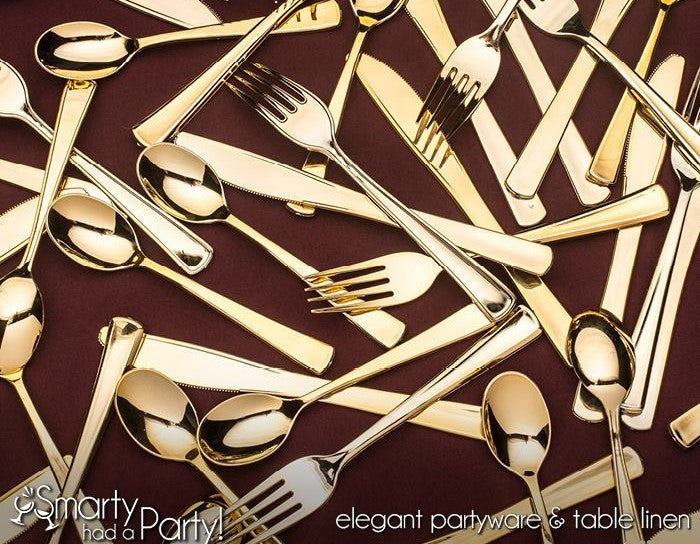 Upgrade Your Party Table with Our Modern Cutlery Sets
Let's talk about the kitchen today, shall we? Certain things are needed in a kitchen for it to be functional. A kitchen's major must-haves are a stove to cook food, pots, and pans to prepare the food, dinnerware sets to serve the different courses, and cutlery sets to eat the food off the plate. 
We believe good cutlery with unique designs can bring aesthetics and practicality to your table setup. So, today we thought about sharing some points about our modern flatware and what you should consider when buying your own set. We have curated a list of cutlery sets; how you can upgrade your party table with our modern cutlery and what kind of cutlery sets you should buy for your next party.
Shiny Metallic Silver Cutlery Sets
If you are looking for a cutlery set for casual use, then these are the perfect fit for you to go for. This cutlery set is made of up high-end quality FDA-approved, and the list of its benefits is worth noticing. 
Just because these are made of plastic doesn't make them look flimsy or feel cheap. It also doesn't mean that these won't pass your durability test. The spoon, forks, and knives are durable enough to bear any bending and compression. Another reason we like these is that while they are sharp enough to cut into your food perfectly, they are designed not to hurt the diner. So, this cutlery is safe to hand over to your child.
You shouldn't miss these if you want to bring aesthetic vibes to your table without spending a hefty amount. We are sure your guests won't be able to notice whether they are made of plastic or the finest steel. 
Moreover, this fancy plastic cutlery is disposable, so no more cleaning is needed when the party is over. It's up to you - whether you want to reuse or dispose of them. Upgrade your tablescape with these metallic cutlery sets and throw your parties hassle-free. And we assure you, the price of these seats won't cost you an arm and a leg!
Danish Crown Metallic Silver Luxury Cutlery 
What if you are having a birthday party, a brunch party, a naming ceremony, or a housewarming party? While it's a casual gathering, but you still want the guests to feel luxurious, what cutlery set should you use? We have the perfect setting in our minds for you. You should consider getting the Danish Crown Metallic Silver luxury Flatware set. 
Shiny Metallic Silver Baroque Cutlery Set 
Do we have a silver-colored set that is suitable for weddings? This flatware set will be the perfect combination for your white dinnerware sets. These silver baroque cutlery will elevate your weddings and engagement, especially winter weddings! In addition, we have designed this set to feel light on the hands. Our guests are often astonished when we say they are made from plastic; that's how luxurious they look and feel! 
Shiny Metallic Silver Hammered Plastic Cutlery Set
This set is one of our favorites. We use them at brunch parties and picnics. They have a nice finish and texture to them. 
Tasting Cutlery
Do you wonder whether we have a line of tasting spoons and forks? The answer to that is yes. We do offer Mini Plastic Disposable Tasting Forks and spoons. What are the colors we recommend using for special events? Our mini gold wars and silver-colored ones are fast selling! We suggest using clear mini wars for casual occasions like a child's birthday party.
Gold Classic Cutlery 
This classic gold flatware set is perfect for all our boujee Smarties. These gold-colored cutlery sets should be what you go for when feeling fancy; they will make you feel as unique as you are. Although they come in a simple design, they work wonders in elevating the elegance of any event, be it formal or casual.
Shiny Gold Glamour Cutlery Set
In what events do we think you should incorporate this flatware? We recommend this set for special occasions like engagement parties. They have been designed to feel light and luxurious to the hand, have a firm grip, and are sturdy.
Shiny Gold Baroque Set
Is this flatware available for purchase? Yes, we offer these sets, especially for events like weddings and baby showers. Look at these baroque sets; we offer special discounts for days such as Mother's Day. 
Here is another one of our favorite sets.
Clear Plastic Disposable Set: Complete With Knives, Forks, And Spoons
We love using them at our children's birthday parties and day-out. Since they are clear, it is easy to dress them up. We can paint them, glitter-coat them, stick pearls on them, and many more. We also use them to make 
You are planning on hosting a black-themed party. Do we have any flatware sets we would recommend to you? Yes! We have just the set for you.
Black Plastic Disposable Cutlery Set
These will be perfect for your black-themed party. And how can we forget Halloween? So trust us on this advice: Set the Halloween party's bar high by pairing these with our gold-rimmed-black dinnerware. 
Do we offer eco-friendly serving? 
We are pleased to inform you that we do have a whole line of eco-friendly disposable dinnerware and serving ware. You are welcome to give it a scroll. We offer products made from palm leaves, birchwood, and many more.
Why Disposable Cutlery Sets?
You might have many questions regarding disposable cutlery sets, as many other options are available. But if you pay heed to the practical benefits (mentioned above) of disposable cutlery, you will know why disposable cutlery has the edge over other materials. 
If you are on a budget and planning to throw an upscale party, disposable are for you to cater to your all-serving purpose without spending a hefty amount. 
At a fraction of the cost, you can get a variety of disposable cutlery sets and elevate your table decor by mixing & matching them.