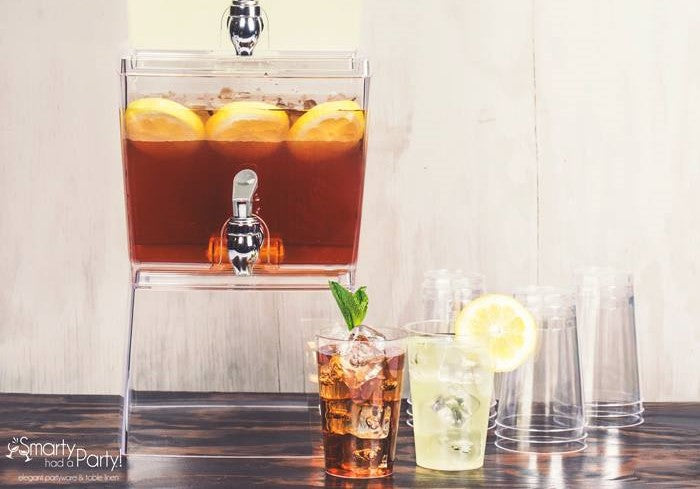 How to Set Up a Drink Station for a Party?
The perfect host always asks what you would like to drink the moment you walk in the door. Drink stations at your party are what your guests look for when they need to refresh themselves. But setting up a drink station at your next party might be a challenging task for you as there are lots of things that need to be considered. 
We have curated a list of the things that will help you set up a fantastic drink station at your next party.
Perfect Spot for Drink Station
The perfect spot for the drink station will make it easy for your guests to access it whenever they need to refill. Avoid high-traffic areas such as bathrooms and entrances when setting up your drink station. 
If your drink station can be accessed from several different sites, it would be fantastic because your guests can make drinks at the same time, rather than waiting in line. 
Some guests might appear at the drink station to add some chilled wine or soda, so leaving some space for a bucket filled with ice will make your guests feel at home.
Table Presentation
Beverage stations are a great place to play with creative ideas to enhance their decoration. First of all, cover the surface whatever you choose with a white vinyl tablecloth. Spills are inevitable, so it's a great way to keep them hidden on your table. 
Use a water dispenser or pitcher to serve the drinks or if you want to leave the bottles to guests, make sure you have labeled the ingredients on them. Doing so will let your guests know what they are about to quench their thirst with. 
Moreover, when leaving the bottles to your guests, use a tray to bucket and put together them to elevate your serving style. Place high-quality plastic drinkware along with the bottles in the tray.
Our plastic party drinkware comes in different styles and designs. It is perfect for any upscale events such as exclusive parties, wedding ceremonies, birthday pirates, and a lot more than you can think of as an event. 
Look around to get an elegant disposable drinkware collection for your next party and serve with style and honor. 
Provide Non-Alcoholic Options
You should always provide non-alcoholic options to your guests. However, maybe your guest needs something else to drink to slow down for the evening. 
If nothing, providing a water pitcher would be a great idea to provide your guests with other options too.
Similarly, try to serve a versatile menu of alcoholic drinks so your guests have a list to choose from. Don't let them leave the party without discovering new cocktail recipes from you. Moreover, having a signature cocktail for your party is a must thing to go for.
Don't forget to have a signature cocktail for your guests so when they walk in the door, you can welcome them with a deliciously refreshing drink. 
If you like to prepare cauldrons for friends and organize a party at home, creating a drink station must be on your wish list. These few ideas for creating a drink station can help you make an original space functional and attractive enough to survive the focal point of your home entertainment. The first thing you need to do is decide where to set up your home bar. Candidates for this are mainly the kitchen, and dining room, although living rooms and basements are not excluded from the game because many people often entertain their guests in these rooms. If you live in a climate where the weather is pleasant all year round, you can consider creating a bar in the outdoor environment.
Use Built-In Cabinets
Using built-in elements or large furniture, you can make your bar look more unusual and highlight your drinks, glasses, and other bar accessories. Built-in cabinets are the most expensive option, but they also give your bar the most festive, lasting look. If their installation is too big a job for you, you can use a buffet table, shelves, or kitchen elements in a way that will fit them into your bar, allowing you to store your things.
Buy a Standalone Bar
In case you have enough space, a factory-created unit is the easiest way to add a bar to your home. They are available for purchase in many stores and furniture stores and are usually created from wood or some of its composites. Things to consider when buying a standalone bar include the size of your space, the style of the bar, and whether or not you want to have a plumbing fixture.
Add an Island 
Give your bar a larger countertop area to expand and upgrade your kitchen island, which can serve a combined purpose. The islands provide additional space for preparing and serving drinks during precious hours of home entertainment. By adding bar stools, guests can sit and socialize in your space. You can also create a wet knot by adding a sink to your bar, which will help you prepare clean glasses and serve drinks faster. This will cost you very little if you make your bar within certain rooms, such as the kitchen, which already has a plumbing fixture. 
Make Place for Guests
Sitting is essential if you want your guests to relax in the bar, whether it is traditional bar stools or some more comfortable furniture settings. In addition, you want your friends to have a comfortable place where they can socialize comfortably, which you can achieve by adding a few retro armchairs near the bar or decorating your space so that this furniture is complementary to the bar space.
Get a Bar Cart 
If you are not ready for a complete renovation, bar stools are an ideal way to create a bar space and highlight your particular types of drinks. At the same time, this component can be easily moved to different places in your home to serve other purposes or parties. Although there are plenty of options available online, you can also look for your bar cart in antique shops, various sales, and private collections, to afford a unique piece.