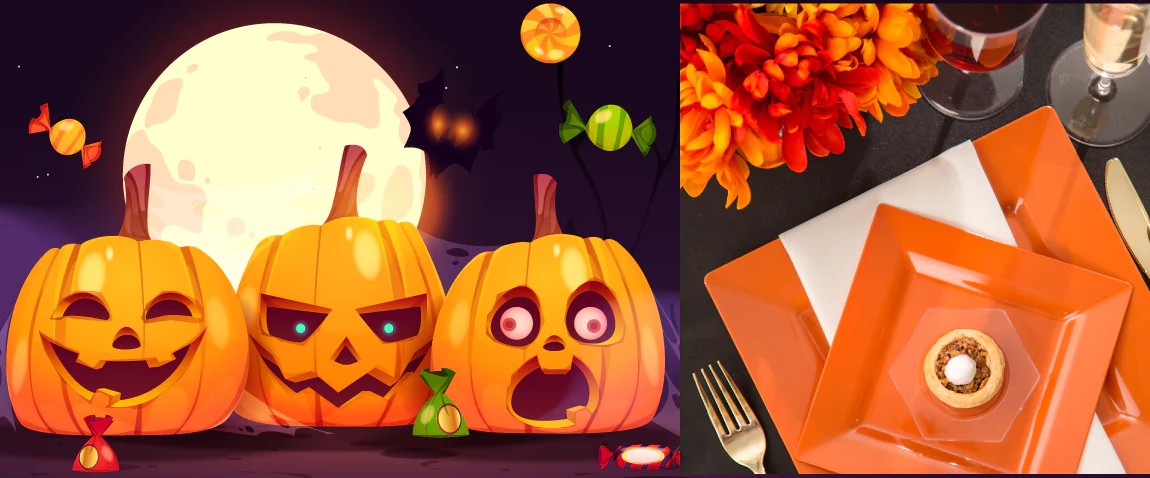 Ultimate Halloween Party Checklist
With the end of summer comes the beginning of fall, which means the spooky season is also right around the corner. Yes, we are talking about Halloween!
It's time to plan for a perfect Halloween party. However, checking important things is quite challenging, so we recommend making your own Halloween party checklist to keep all the necessities in mind and ensure you get all the essential items.  
Your next Halloween party will not be disorganized with our tips and tricks. From spooky decorations to eerie appetizers, our Halloween party checklist will keep things organized and help you prepare for the monster mash.
1. Venue
The first thing that tops your Halloween checklist is the venue. Where will your spooky party be held? Your chosen venue for your Halloween party should be based on the number of guests you invite.
Select nearby places if you want to avoid hosting guests at home. On the other hand, if your venue is an interesting and exciting place, your guests may wish to arrive early and explore it.
2. Invitation Cards
After deciding on your venue, you must work on your invitation cards. Invitations are the most essential part of your party as they carry the details about an event, when and where it is taking place.
To create a spooky atmosphere, you should design some creepy Halloween invitation cards. Send your friends frightening invitations for Halloween that feature everything we enjoy, such as witches, vampires, skulls, ghosts, and pumpkins. You can send these invitations through the mail, email, or WhatsApp. Last but not least, you should also mention when the event starts and ends so that your guests arrive on time.
3. Pick Your Favorite Theme
Your Halloween party's unique theme will differentiate it from other events your visitors may attend this year. Once you pick the theme of a Halloween party, your decoration, costumes, and everything else will fall into place.
A Halloween party with an amazing and unique theme will transport your guests into another world. Remember to include the theme in the invitation so people can plan their costumes accordingly.
4. Tableware
Before throwing a Halloween party, you should count how many pieces of platters, charger plates, bowls, and other serving dishes you have to ensure you have enough space for all your party treats and extra dishes.
To throw a hassle-free Halloween party, it is advisable to use plastic party supplies to save you from the worry of washing a large pile of dishes. If you don't have any extra plastic plates and bowls, buy additional sets from the market.
5. Drinkware
Count your glasses and cups before the event so you can pick them up from the market if you run short of drinkware. You should plan on having at least two to three disposable plastic cups and glasses for each person.
6. Napkins and Tablecloths
Pairing your table with tablecloths and napkins offers protection for your table and adds to the elegance of your tablescape. You should keep a stash of these essentials in different colors and designs that match your table decor and disposable dinner set.
7. Plan Your Menu
It's essential to plan a killer menu for your Halloween party that includes delicious and simple finger appetizers and desserts. Passing around eerie appetizers and Halloween treats should be plenty to satisfy your guests' cravings without drawing their attention away from the party.
Think about hiring a caterer if your guest list involves many people. Keep a collection of candies on hand. Include a variety of choices, including chocolate, gummy candies, truffles, M&Ms, and sweets.
Make three to four spooky desserts and serve them on plastic plates. Additionally, you can make ghoulish skulls and pumpkin soup or spider web carrot soup for your guests to add a creepy touch to your tablescape. 
8. Haunted Beverages
Depending on your guests, decide which beverages to serve. Serve your guests with lemonade juice and other non-alcoholic drinks. Label the beverages with some creative and terrifying Halloween names.
Make a red drink, label it "Vampire Blood," and serve it. Make green jello, and you can call it "Monster Slime ."Combine chocolate pudding, oreo cookies, and gummy worms to make a "Worms in Mud" drink.  
9. Spooky Decorations
To enhance your Halloween party, use spooktacular decorations. You should choose whether you'll make your own Halloween party decorations or buy them from a nearby party store. Pick a creepy and haunted home theme. When arranging a Halloween party, don't forget to include decorations like ghosts, brooms, spider webs, skulls, witch hats, bats, bandaged mummies, white sheets, and gravestones.
10. Lights
Even though it's sometimes overlooked, lighting is essential for setting the ambiance of any party. Your Halloween night is meant to exhibit enchantment and mystery. Therefore, you should create a cozy atmosphere for your gathering by utilizing candles, various lamps, Halloween pumpkin lights, or hanging fairy lights and turn your home into a haunted house.
11. Fog Machine
Terrify guests by renting out or buying a fog machine from your nearby store. It creates a thick, low-lying fog that floats just over the ground. It is fantastic for Halloween events, and the vivid colored lights that shine through it help create a spooky atmosphere indoors.
12. Photo-Booth
Photos, photos, and photos! You cannot imagine a party without photos. In the era of social media, taking pictures has become an essential part of our lives, which is why photo booths have become more common at social occasions.
There will be a long queue of people wanting to take their pictures if there is a photo booth. Your guests will be thrilled and entertained by the photo booth. Choose a friend or member of your family to be the party photographer so you can relax. Happy Halloween!
Eat, drink & be scary, Smarties! With love, 
Smarty had a Party
!