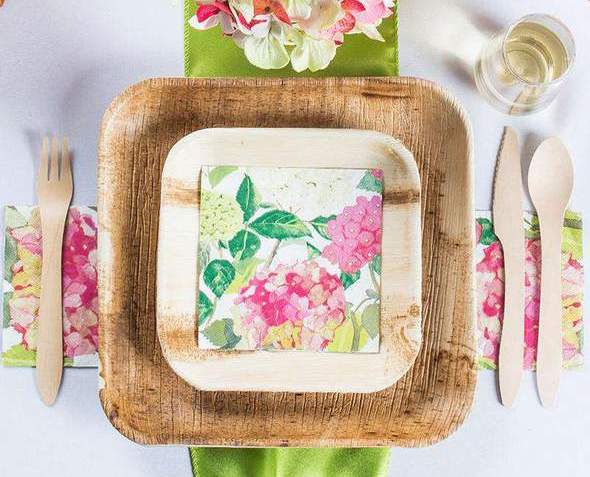 How Do You Set Up a Fascinating Party Table?
A nicely decorated table will improve the impression of the served dish, but it is also essential for the overall picture of the environment. Table decoration is not only about choosing tablecloths, plates, and cutlery. It also requires some imagination and creativity to leave your mark.
Different occasions call for customized table decorations, so if you're running out of inspiration, check out this short guide, where you can find plenty of ideas.
Setting up a fancy party table is the best way to give your guests a homely atmosphere to appease their sweet tooth. There are hundreds of ways to set up a party table effortlessly. But it may become quite demanding since you can't decide what to buy and where to put the things. So we are here to serve you with the finest party supplies to make your party tables look alluring without spending much money and effort. Smarty is here with its exquisite collection of disposable plasticware and eco ware that will glorify your party tables and set up the vibe. Here are a few brilliant ideas to perfectly set up your party table with Smarty Had A Party.
Less is More
Simplicity is the key to setting an elegant party table. The modernity of your table depends on what kind of event you are planning, but a minimalist table goes with any type of event. If you are a person who struggles with getting together a perfect party table, a minimalist table is your go-to. First, take a neutral-colored tablecloth and beautify it with fresh flowers from your garden. Then, purchase our fancy disposable dinnerware sets to elevate the beauty of your table even more. Our expert team has skillfully created these beautiful collections to match perfectly with all your parties.
Don't Compromise on Quality
Let us remind you that elegance is not the only thing that can glorify your table. Your dinnerware should be of high-end quality. Make sure it doesn't break or mend on serving food, and it should be microwavable and freezer safe. In addition, the materials used in the manufacturing process should not be, in any way, toxic, non-recyclable, or health-hazardous. You must wonder how to get all these qualities in one dinnerware set. Our fancy disposable dinnerware sets are everything you need for a fun-filled party. Our disposable plasticware and eco ware are BPA-free and can be recycled to make the best out of your parties and achieve sustainability.
Elegant Glassware is a Must-Have
The most vital part of a party begins when you serve the drinks; ensure you serve them elegantly with our beautiful plastic champagne flutes and elegant disposable wine glasses. The streamlined look of these beautiful plastic champagne flutes allows the bubbles to form well to give the drinkers an aromatic experience of the drink. Regulating the good drinks flow makes your guests believe your party is going perfectly.
Add a Touch of Sustainability
You need to consider the safety of our dear Mother Nature while celebrating your special moments. Our fancy disposable dinnerware sets are environment-friendly, recyclable, and made from non-toxic materials. In addition, eco-friendly, disposable partyware can act as a conversation starter as people will ask about the elegant designs of your eco-friendly party supplies. Serve your healthy meals in our disposable party plates and pair them with our disposable charger plates to positively impact the ecosystem.
Various Options
It should be noted the variety of all options for decorating tables that modern designers offer today. In addition, thanks to the beautiful ambiance, it will be easier for you to find a common language with others and to express your culinary skills.
In this case, you can create a composition under different styles... So you can emphasize the general direction of your home and organically fit the set table into the room's concept. The mood of the general serving will be set by the tablecloth. This product plays a vital role in food intake. The tablecloth can be the same color or dazzle with different colors.
Attention is also paid to napkins. They should be in harmony with the dishes and tablecloths in terms of tonality. As for the dishes, you can choose them according to your taste. These can be options in the country style, the 30s, 90s, or Gatsby style. In addition, marine, autumn, oriental, rustic, eco, or Italian styles will look great.
Among the many options, choose the one you like and which can evoke only positive emotions.
Country Style
This style will be characterized by rustic simplicity. Rough materials, subtle colors, and fine details are used here. As for textiles, it is better to choose cotton or linen. The table itself must be wooden. Be sure to use hot coasters, knitted napkins, and large candles. Excellent addition to the design will be a bouquet of simple flowers: chamomile, primrose, and daffodil.
Japanese Style
You will not confuse Japanese-style registration with any other. The most important thing is to stock up on all the necessary accessories. It's no secret that the Japanese are particularly serious about their food intake. Special attention is paid to the symbolism of numbers. The ratio of the number of flowers and plates should be 1: 5. The range of colors can be different: red, black, brown, yellow, and green shades. All dishes are served immediately. Of course, rice takes the central place.
Provence Style
Setting the table in Provence style is not difficult. This style will appeal to all France fans. Refinement and sophistication are stylistic characteristics. The main thing is to pick up all the details. As for the color scheme, these are tones of lavender, olive, blue, yellow, and gray shades.
Scandinavian Style
This option assumes restraint, asceticism, simple forms, and natural materials. There should be no random elements. Everything is carefully selected. The color palette is presented in natural shades. Mostly white and gray colors. Accordingly, it is worth choosing textiles of similar colors.
English Style
English interiors are characterized by sophistication, sophistication, and at the same time, comfort. The style includes the use of furniture made of natural wood. As for the color, you can choose any suitable range. Shades of yellow and red look great. Draperies are welcome on the table. The most excellent attention should be paid to napkins and tablecloths. It is better to use dishes with various floral ornaments. This style involves the use of crystals.