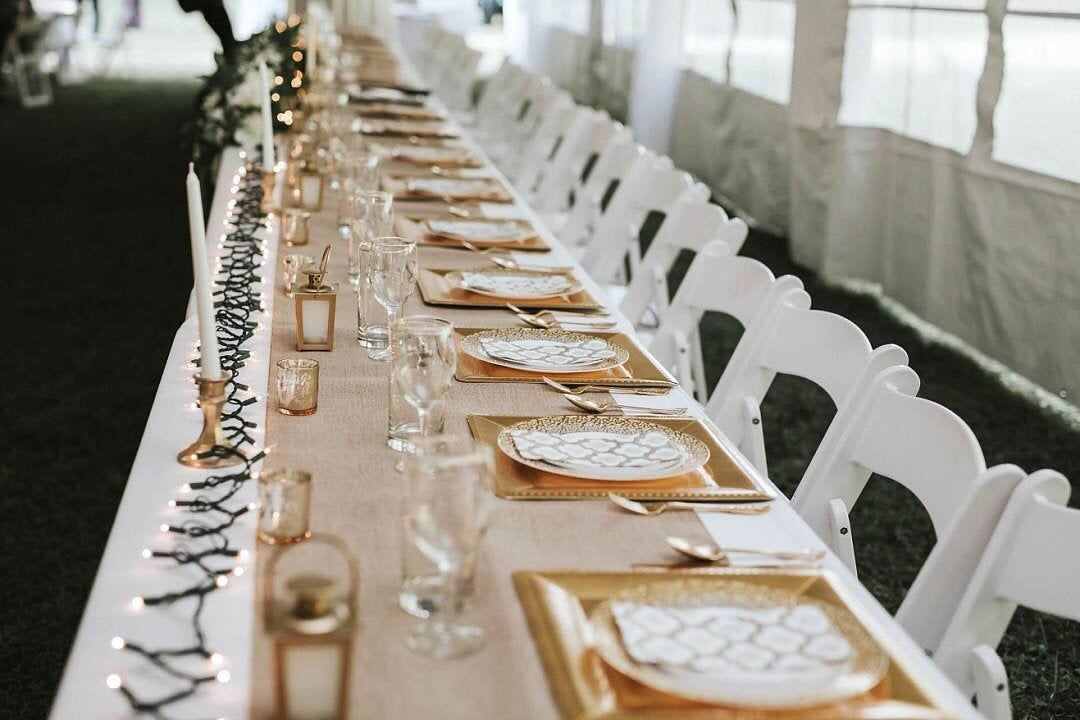 Top Reasons to Use Disposable Partyware for Your Wedding
Smarties, I'm sure you have noticed in recent times, there has been a rise in the use of disposable cups, glasses, trays, plates, chargers, and cutlery. We had mainly two questions regarding the upcoming increase in disposables. Our first question was whether it's worth the hype, and the second question was whether it is the best replacement for traditional dinnerware. After giving much thought to those two questions, we concluded that without a doubt, disposable party ware is the best solution to aid you while arranging mass events like wedding receptions, baby showers, bridal bashes, and professionally catered events. There are many benefits, including their domination over ceramic and china party ware. The price, the variety, the user-friendliness, and being easy to repurpose or replace were some of the reasons that encouraged us to choose disposable party ware over the traditional ones.
Let's go through some of the benefits provided by disposable partyware and how they can make your wedding stress-free, shall we? 
Affordable Price
A wedding is an expensive affair, as we all know. In the quest to be unique, we are met with a setback; the cost of ceramics ends up costing an arm and a leg. One of the most influential factors to bringing disposable party ware into your wedding is its affordability. Disposable dinnerware comes at pretty reasonable prices, so it will fit any budget. When compared to other available options in the market, such as ceramics and china, plastic disposable partyware is the best tableware choice available in the market when you are looking to be cost-efficient.
However, we must say, a cheap price tag doesn't mean you will be compromising on the quality and durability of the serving ware at your wedding. There are plenty of options available, from average to premium quality disposable partyware for formal and informal events. The reasonable prices allow you to stay up to date with the current trends with dinnerware, too. 
Made To Go With Any Theme
A theme or concept followed in a wedding is pretty special. And finding the best custom partyware to fit your wedding party is undoubtedly a daunting task. You would think of renting in china, but it's way too expensive, and the hassle of managing them might give you headaches. Plus, if you end up damaging the utensils and cutlery that you rented, you need to pay an extra fee as compensation. 
Disposables can be easily found in different varieties, enabling you to find custom partyware for your wedding that fits the theme and your expectation to create a lovely and dramatic scene. 
Disposable party supplies aren't limited to a white plate that restaurants use to serve their customers. Disposables are available in unique designs, patterns, and colors that will impress you and your guests. You can get gold-rimmed dinnerware if you are going for an elegant approach. If you are following a modern approach, you can choose to mix and match colors to fit your theme. You can also use the clear partyware sets to customize them to suit your needs and the theme.
Durable & Easy To Carry
There would be kids with their parents at your party, and serving them in ceramic or china isn't ideal. A minor drop on the floor will give you a nightmare at your wedding, and nobody wants it to happen. Handing a child ceramics and worrying about the possible injury is not what you should have to feel at your wedding.
The disposable partyware comes in handy as they are super durable in terms of compression and floor drops. However, if you don't want to see the mess of shattered pieces, then make the wise decision and get disposable partyware for your weddings.
There's a huge variety of durable wedding party supplies available in the market; look around to get the best of them at your fingertips.
Disposable's durability allows you to throw a wedding party somewhere where you won't be able to carry the ceramic and china, as they will get damaged on the way. Since this dinnerware is lightweight, moving them to places won't be difficult. In addition, this dinnerware is designed so that it won't get slippery, so they are easy to handle while wet, unlike glass or china.
When talking about disposable plastic cutlery, we love them for their design. It's designed, sharp, and sturdy enough to cut into meat and vegetables, but not enough to harm us. 
Hassle-Free Clean Up
Getting disposables for your wedding will make the clean-up process for you hassle-free and super simple. As disposables are made for single-use, you won't need to worry about cleaning dishes after the event is over. That is also one of the convincing points for going to fancy wedding plasticware on your big day, as you will end up saving some water, energy, and the time required to clean dishes. Plus, the money spent on dishwashing liquid is saved too.
Get the elegant collection of disposable wedding party supplies at the smarty had the party superstore. We have endless and limitless varieties of disposable wedding partyware for you.
We Can Stop Worrying About Hygiene
These work well to make guests comfortable because they are single-use. No one would have used these before them. Plus, when using disposables, most of the time, the cutlery and utensils are used per person. Suppose a guest's cup is empty; he can refill it at the assigned station. Guests won't have to worry about cross-contamination. 
Safe for the Helping Staff
Since disposable party ware is made to be lightweight, the helping crew at your party, celebration, or event won't have to strain their hands or backs. Plus, there is always a chance of the glassware being damaged, causing cuts and injuries. But with disposable plastic drinkware and dinnerware, that issue can be avoided. In addition, since the items can be discarded after use, the workers don't have to spend hours rearranging them too. 
Party on Smarties! With 
Mother Nature's 
Love, 
Smarty Had A Party
!