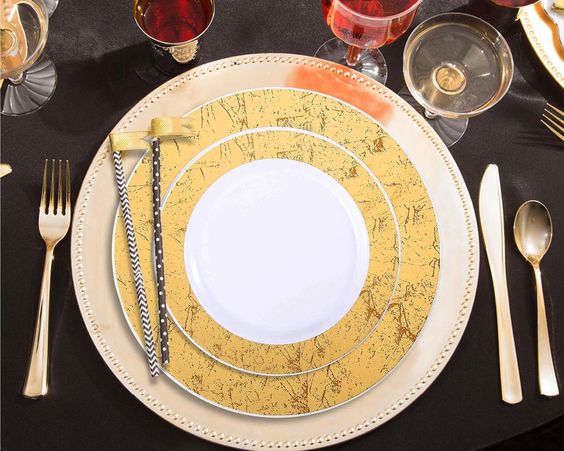 The Newest Trend in Disposable Dinnerware
In recent times, there has been a massive growth in the graph of disposable users. No doubt, disposables are the best solution as their practical benefits have the edge over the other types of dinnerware.
If you are considering replacing your traditional or old dinnerware with something that offers more, stick to this blog. Here, you will get a detailed overview of the newest trend in the disposal dinnerware market. 
Why Disposable Dinnerware?
If you haven't used the disposable dinnerware, then chances are you would come up with a question mark arising in your mind that should you give preference to the disposables.
Well, there are several practical benefits that disposable party supplies offer in comparison to other material dinnerware. The practical benefits of disposable dinnerware make them the ultimate and the best option to serve your guests at upscale parties & events. 
The disposable dinnerware is way more affordable than other materials. They are inexpensive for any budget (depending on the event). 
Moreover, they make the clean-up process super easy and hassle-free as they are supposedly disposed of after a single use. 
Casual Dinnerware Set
They are affordable to any budget doesn't mean they lack anything such as quality and premium looks. It depends on your budget and your requirement to get the perfect disposable dinnerware sets.
Our dinnerware sets are the best option if you are throwing a casual party along with your best buddies.
Our casual dinnerware plates aren't just for serving your guests but also enhance your table profile with their premium and fabulous look.
The round trip over the edges of the disposable party dinnerware gives them an edge, and your guests won't be able to feel the difference whether they are plastic-made or some premium china. 
Premium Dinnerware Set
Suppose you are throwing an upscale party where you have invited formal guests. You can't spend much on premium ceramics or china as you have to see all the event expenses. 
This is where the premium dinnerware sets come in handy and help you serve your guests most gorgeously.
A premium dinnerware sets category is designed and made just for special occasions such as wedding ceremonies, birthday parties, and much more.
Premium dinnerware sets will cater to all serving needs and elevate your table's decor. To make things communicate on the table formally, our modern plastic dinnerware sets are the best choice for you to go with. 
The gold trim over the edges of the black dinnerware plates is what will give your guests royal feelings at your event. 
Our Dinnerware Sets Range
If you have made up your mind to get disposable dinnerware and save some money, then we have covered you with our fancy disposable dinnerware collection. 
There's an endless variety of dinnerware sets and almost everything your guests would use at the table. So look for the best serving ware collection for your next party and wow your guests. 
Season Trend: Disposable Eco-Friendly Dinnerware 
Every civilized person in the world uses dinnerware. Currently, the market of kitchen products has a vast selection of materials, designs, and shapes of dishes. Manufacturers offer many different variations of serving with smart appliances. As a general rule, durable glass, earthen, and porcelain dishes should be washed.
Fast food restaurants often use disposables for convenience. However, a set of such a dish is also necessary for going out and is thrown away at the end of the meal. Ideally, modern man strives to live in an ecologically clean environment and makes every effort to preserve the richness and beauty of nature. With that in mind, manufacturers have started producing eco-friendly dinnerware.
With Smarty's disposable, eco-friendly disposable dinnerware, you have a spectrum of options to create the perfect table setting for a wedding, shower, or any other kind of event, whether you want elegant and classy or interesting, funny, and exciting. So party like a smarty, enjoy your celebration and worry no about the environment thanks to our eco-friendly disposable palm leaf dinnerware.
Palm Leaf Plates
Disposable eco-plates, made of environmentally friendly materials such as palm leaves that decompose, are gaining more and more popularity in the modern world. Safe-to-use ecological goods meet all the requirements of a planet-conscious citizen.
1. First, it does not pose a danger to the consumer and does not release toxic substances during disposal.
2. Also, it does not harm nature. It decomposes safely in the soil for a short period.
The simplest example of eco dishes is palm leaf plates. They are made from naturally fallen palm leaves. The purity and safety of such products are credible. Moreover, producing eco dishes is primitive and economical and does not require high production costs.
Advantages of Eco Dinnerware
For ecological production of clean dishes, use different plants and natural raw materials: palm leaves, sugar cane, and corn starch. The absence of chemicals in its composition allows you to create safe dishes: lunch boxes, glasses, plates, cutlery, and more.
All accessories are used only once. Organic plates and bowls are popular because they are versatile and allow you to freeze food and semi-finished products and use them as lunch boxes for food to take away from restaurants or cafes.
Disposable eco utensils are very durable and resistant to various types of damage. Lunch on the plane is served exclusively with the use of eco dishes. In addition, the used eco dinnerware is an excellent organic fertilizer for the soil.
In the modern world, there is a large selection of dishes for everyone's taste. You can buy dishes made in different countries, practically from any material - from traditional (clay, wood) to modern (polymeric materials, various alloys). However, diversity will not benefit your health in any way because now you have to be quite careful when choosing dishes - some manufacturers are unreliable, and some materials have not been studied enough for their effect on the human body. But you have no risk with Smarty's fully compostable, disposable, and biodegradable dinnerware.