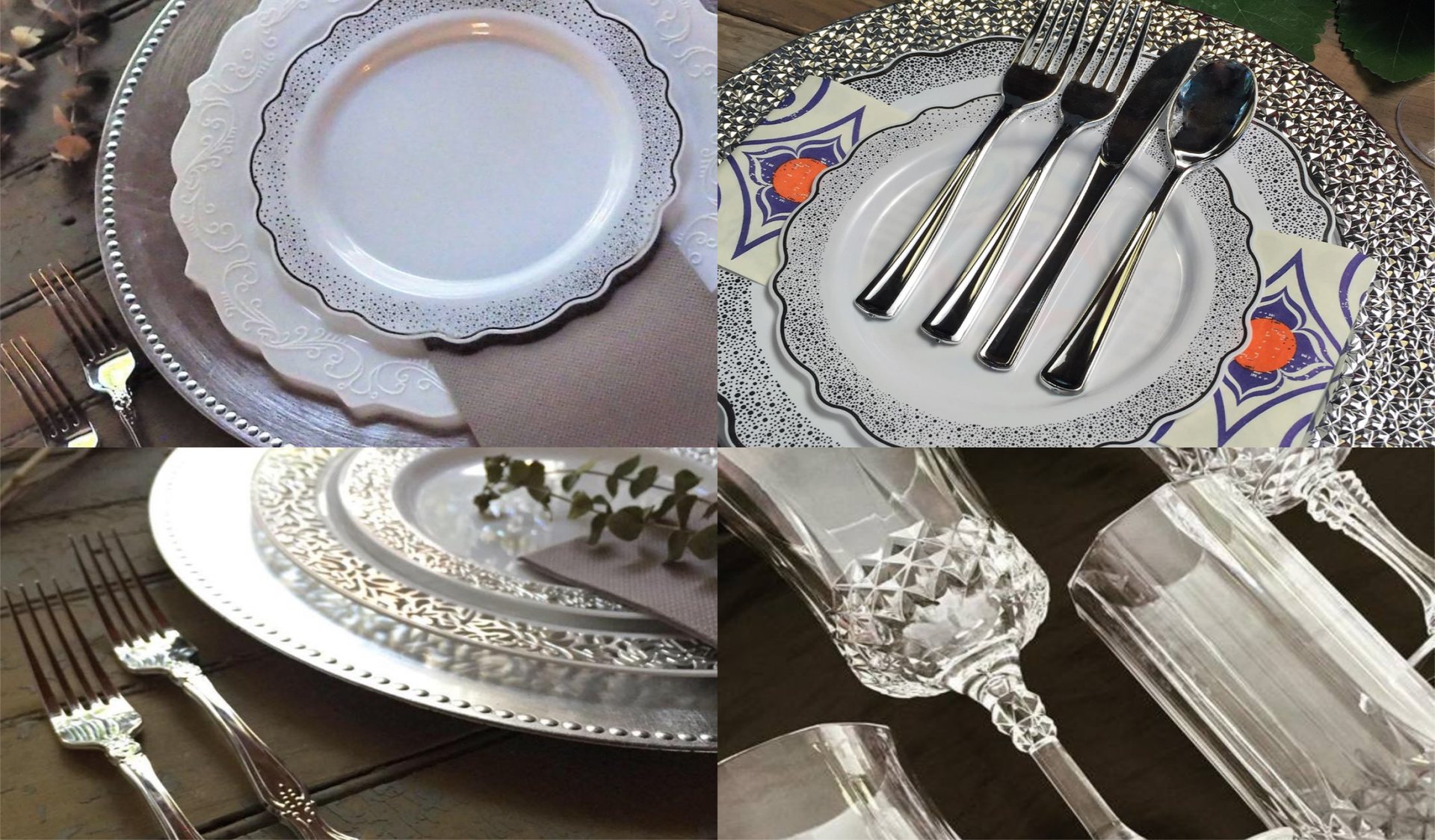 Top 5 Disposable Plastic Supplies You Should Buy for Your Next Party
Hosting a party can be an exciting and enjoyable experience, but it often comes with the challenge of dealing with post-party cleanup. Thankfully, disposable plastic supplies provide a convenient solution that saves time and effort, allowing you to focus on creating memorable moments with your guests. 
5 Essential Disposable Plastic Supplies to Enhance Your Next Party Experience
This blog post will explore the top 5 disposable plastic supplies you should consider for your next party. Whether you're planning a casual backyard gathering or an elegant celebration, these disposable plastic party supplies will simplify your preparations and add a touch of style to your event. So, let's dive in and discover the must-have party essentials that will make your next gathering a breeze.
Tablecloths
Tablecloths play a crucial role in creating an inviting and cohesive party atmosphere. Disposable plastic tablecloths offer a range of advantages that make them an excellent choice for your next gathering.
Advantages of Disposable Plastic Tablecloths
Convenience:

  Plastic tablecloths are incredibly convenient. They come pre-cut and pre-folded, saving time and effort compared to traditional fabrics that require washing and ironing.

Cost-effective:

 Hosting a party involves numerous expenses, and plastic tablecloths are budget-friendly. They are more affordable than renting or purchasing fabric tablecloths, allowing you to allocate your budget to other party essentials.

Protection: 

Accidental spills and stains are inevitable at parties. Disposable plastic tablecloths act as a protective barrier, preventing spills from seeping into your tables and potentially causing damage. This means less worry and stress for you as the host.
A Wide Variety of Colors and Designs are Available
Disposable tablecloths have come a long way. With a vast selection of colors, patterns, and themed designs, it's easy to find an elegant or bold tablecloth that complements your party style and enhances the overall decor. Whether you're hosting a birthday bash, a holiday gathering, or a themed event, a disposable plastic tablecloth suits every occasion.
Easy Cleanup and Time-saving Benefits
One of the greatest advantages of disposable plastic tablecloths is their easy cleanup process. They are perfect for large parties or frequent events and are stain-resistant for messy foods and colorful drinks. No need to worry about spills or stains as they can be easily wiped away or disposed of.
Serving Ware
Durable and functional serving ware is crucial for a successful party. Disposable plastic serving ware is designed to be sturdy and reliable, ensuring your food is served and enjoyed without mishaps. 
Benefits of Disposable Plastic Serving Trays and Platters
Versatility: 

Disposable plastic serving trays

 and platters come in different sizes to fit all types of food.

Convenience: 

Disposable trays and platters make food prep and serving a breeze. They're lightweight and easy to transport, perfect for buffet-style setups or moving food around your party.

Hygiene: 

Plastic serving trays and platters are hygienic and single-use, ensuring each guest is served with a fresh and clean vessel, promoting food safety.
Stylish and cost-effective options:
Elegant Designs:

 Elegant disposable plastic trays & platters imitate traditional serving ware. Choose from sleek modern designs or ornate patterns that match your party theme.

Color Variety: 

Serving trays and platters come in various colors. Whether you want to match them with your table setting or create a contrasting pop of color, there are plenty of options to suit your preferences.
Dinnerware
Choosing the right dinnerware is essential for serving meals and creating an enjoyable dining experience. Disposable plastic dinnerware offers numerous advantages, making it a popular choice for parties and gatherings of all sizes.
Advantages of Disposable Plastic Dinnerware
Convenience: 

Disposable plastic dinnerware is convenient for hosts and guests. No washing is needed. Enjoy the party without worrying about cleanup.

Time-saving:

 Use disposable plastic dinnerware to save time and avoid washing and storing dishes. Spend more time socializing with guests or preparing for the party.

Durability: 

Our plastic dinnerware is high-quality and durable enough for heavy meals, including saucy desserts. Guests can enjoy their meals without worrying about fragile dishware.
Choosing Between Plates, Bowls, and Dessert Dishes
Plates: 

Choose durable 

plastic plates

 

in various sizes to match your party's theme and hold different types of food.

Bowls: 

Use sturdy 

disposable bowls

 

with proper depth and size for hot dishes.

Dessert Dishes: 

Use 

disposable plastic dessert dishes

 

to serve cakes, pastries, or ice cream in appropriate portions.
Flatware
Having the right flatware is essential for your guests' dining experience. Disposable plastic flatware offers convenience, versatility, and a hassle-free solution for your next party.
The Convenience and Versatility of Disposable Plastic Flatware
Convenience: 

Plastic flatware saves time and effort by eliminating the need to wash or dry utensils afterward.

Hygiene: 

Disposable flatware ensures each guest gets a fresh and sanitary utensils. Individually wrapped options provide peace of mind and spotless flatware for your guests.

Versatility:

 Plastic flatware comes in many types and styles, including traditional utensils and specialized cocktail picks, making it easy to find the perfect match for your party.
Different Types of Disposable Plastic Utensils Available
Drinkware
Choosing the right drinkware is crucial for serving beverages effectively and enhancing the overall party experience. Disposable plastic drinkware offers several advantages:
Adventages of Plastic Drinkware
Convenience:

 Disposable plastic drinkware eliminates the need for washing and allows easy cleanup after the event. This convenience saves time and effort, allowing you to focus on enjoying the party.

Safety: 

Plastic drinkware reduces the risk of accidents and injuries with glassware. It is particularly beneficial when hosting outdoor parties or events with children, as it minimizes the chances of broken glass.

Versatility: 

Disposable plastic drinkware is available in various sizes and styles, catering to different types of beverages. 
Disposable Drinkware Options
Tumblers:

 

Plastic tumblers

 

are an excellent option for serving cold beverages. They come in different sizes, and reinforced rims provide extra stability.

Glasses:

 For serving drinks, choose 

disposable glasses

 

with sturdy bases to avoid spills. They look more upscale than regular cups.

Stemware: 

Consider using 

plastic stemware

 f

or serving wine or champagne. Look for stemware that closely mimics the shape and style of traditional glass stemware.
Where to Buy the Best Disposable Plastic Supplies?
When finding the best disposable plastic supplies for your next party, Smarty Had a Party is a trusted and reliable source. Smarty Had a Party is an online retailer specializing in high-quality party supplies, including a wide selection of disposable plastic supplies.
Selection and Quality of Disposable Plastic Party Supplies
Smarty Had a Party offers a wide range of disposable plastic supplies to meet all your party needs. You can personalize your party decor and create the desired atmosphere with various colors, designs, and styles. What sets Smarty Had a Party apart is its dedication to quality. Smarty sources party supplies from reputable manufacturers, guaranteeing durability, functionality, and visual appeal. You can rely on their products to perform well and meet your expectations for both aesthetics and performance.
Online Shopping Convenience and Customer Reviews
Shopping at Smarty Had a Party offers the convenience of online shopping. You can browse Smarty's extensive catalog, compare options, and make selections from home, saving time and effort. Detailed product descriptions, images, and size charts help you assess the features and appearance of disposable plastic supplies. In addition, customer reviews provide valuable insights into quality, performance, and satisfaction, helping you make confident choices that meet your needs.
Frequently Asked Questions (FAQ)
1. Are disposable plastic supplies more cost-effective than traditional alternatives?
Yes, disposable plastic supplies are often more cost-effective than traditional alternatives such as renting or purchasing reusable items. They eliminate the need for cleaning and replacement costs, making them a budget-friendly option for hosting parties.
2. Can disposable plastic supplies be customized for a specific theme or event?
Yes, disposable plastic supplies come in various colors, patterns, and themes to match your party's specific theme or color scheme. Look for options that allow you to personalize and add a unique touch to your event.
3. Are disposable plastic supplies safe for food contact?
Yes, disposable plastic supplies specifically designed for food contact are generally safe to use. It's essential to ensure that your purchase supplies are FDA-approved and meet safety standards to avoid potential health risks.
4. Where can I find a variety of disposable plastic supplies for my party?
Smarty Had A Party is a reputable online retailer that offers a wide selection of disposable plastic supplies for parties and events. They offer convenience, affordability, and a range of options to suit various themes and preferences.