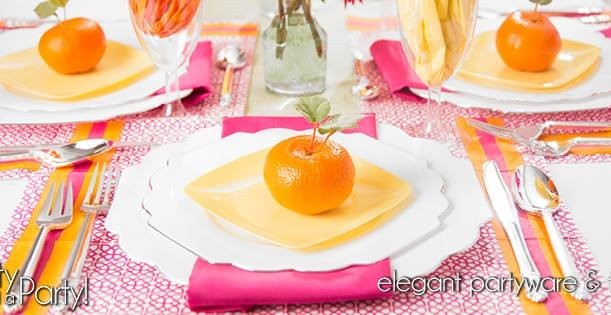 Summer Entertaining: Colorful Tablescape Ideas to Spice Up Your Celebrations
Summer is in full swing, and it's the perfect time to embrace the warmth, vibrancy, and joy this season brings. Whether you're hosting a backyard barbecue, a poolside gathering, or a delightful al fresco dinner, one element can instantly elevate your celebrations to a new level of elegance and charm – the tablescape. Gone are the days of mundane table settings; it's time to infuse your summer entertaining with a burst of color and creativity!
Luxurious Summer Tablescape Ideas for Special Occasions
In this blog post, we'll take you on a journey through the art of creating colorful tablescape designs that will leave your guests in awe. 
Are you ready to host unforgettable gatherings that exude the spirit of summer? Say goodbye to dull table settings and hello to inspiring designs that will make your guests feel like they've stepped into a vibrant paradise. Let's delve into the world of summer entertaining and discover the secrets to creating a tablescape that truly spices up your celebrations!
Embracing the Pink and Orange Color Theme
The Symbolism of Colors: Why Pink and Orange?
Infuse your summer entertaining with energy and warmth through a vibrant color palette. Pink and orange perfectly capture the season's essence, representing love, joy, playfulness, enthusiasm, creativity, and vitality. Combining these hues creates a visually striking and harmonious ambiance, radiating positivity and setting the stage for an unforgettable summer celebration.
Coordinating the Colors: Selecting Complementary Table Linens
To truly embrace the pink and orange color theme, it's essential to coordinate your table linens to create a cohesive and captivating look. Consider using tablecloths or table runners in alternating shades of pink and orange for a dynamic and eye-catching effect. If you prefer a subtler approach, opt for a neutral base, such as crisp white or beige, and add pops of pink and orange through napkins, placemats, or chair covers.
For an extra touch of sophistication, consider incorporating patterns that feature both pink and orange elements. Stripes, floral prints, or geometric designs can add depth to the tablescape while keeping the color theme front and center.
Captivating Centerpieces: Elevate Your Décor with Summer Flowers
The Beauty of Summer Blooms: Choosing the Right Flowers
Create a captivating summer tablescape with fresh, vibrant blooms that perfectly align with your pink and orange theme. Use sunflowers, daisies, zinnias, and roses to represent the essence of summer and add a touch of natural elegance to your setting. Choose flowers with a longer vase life suited for the summer heat to keep your centerpiece fresh throughout the event. Mix and match flower types for a visually appealing display.
DIY Mini Plastic Carafes: Creating the Perfect Centerpiece
Now that you've selected the perfect summer flowers, it's time to complement them with a creative and charming vessel. Instead of traditional vases, use mini plastic carafes as a unique twist to hold your blooms. These carafes offer a modern and playful touch to your tablescape while being practical and lightweight for outdoor entertaining.
You can easily find mini plastic carafes in various shapes and colors at Smarty Had A Party online store. They are affordable, disposable, and, best of all, won't shatter if accidentally knocked over during the festivities.
To add a personal touch, consider decorating the carafes with ribbons, twine, or decorative stickers that match your color theme. This simple DIY touch will elevate the overall aesthetic and make your centerpiece unique.
Arranging Flowers: Tips for a Gorgeous Display
Create a stunning and Instagram-worthy centerpiece with these simple flower-arranging tips. Trim stems at an angle for better water absorption and remove submerged leaves to prevent bacteria. Start with the tallest flowers in the center, gradually adding shorter blooms for a cascading effect. Let some flowers spill over the carafes' sides for a whimsical touch. Add texture with fresh foliage like eucalyptus leaves or baby's breath. Fill the carafes with water and flower food to keep the flowers fresh for your summer celebrations.
Tableware: Modern and Elegant Plastic Options
The Advantages of Using Plastic Tableware for Entertaining
When it comes to hosting summer celebrations outdoors, tableware is crucial. While traditional porcelain or glass options may be elegant, they are often not the most practical for gatherings. This is where modern plastic tableware comes to the rescue, offering many advantages that perfectly complement your colorful tablescape designs.
Durability: 

Plastic tableware is designed to withstand the rigors of outdoor use. Unlike delicate glass or porcelain, plastic plates, and drinkware are less likely to break if accidentally dropped or knocked over, making them safer for gatherings with children or in lively settings.

Lightweight: 

Carrying heavy plates and glassware from the kitchen to the outdoor dining area can take time and effort. Disposable plastic tableware is lightweight and easy to transport, allowing you to focus on setting up the perfect tablescape without worrying about dealing with heavy dishes.

Convenience: O

ne of the most significant benefits of plastic tableware is its convenience. After the festivities, you can simply gather the used tableware, dispose of or recycle it, and avoid the hassle of washing delicate dishes.

Wide Variety:

 Gone are the days of plain and uninspiring plastic tableware. Nowadays, you can find a wide range of modern designs and stylish patterns that elevate the visual appeal of your tablescape, adding a touch of sophistication to your outdoor entertaining.
Stylish and Practical: Choosing Modern Plastic Plates
Modern plastic plates have come far from their basic and bland predecessors. Today, you can find plastic plates that rival the elegance of fine china, with intricate designs and vibrant colors that suit any occasion. When selecting plastic plates for your colorful tablescape, consider those that complement your pink and orange theme, and look for durable options made from high-quality, BPA-free materials.
Raising a Toast: Elegant Plastic Drinkware
No summer celebration is complete without refreshing beverages, and your drinkware can add an extra element of charm to the table setting. Fancy plastic drinkware offers an array of elegant options, including plastic wine glasses, tumblers, and champagne flutes, designed to mimic the appearance of their glass counterparts without fragility. Look for drinkware with a sturdy base and a sleek design that will enhance the overall aesthetics of your tablescape.
Adding a Touch of Class: Fancy Plastic Silverware
Completing the look of your summer tablescape is the choice of plastic silverware. Gone are the days when plastic cutlery was plain and uninspiring. Modern plastic silverware now comes in sophisticated designs that emulate the elegance of traditional flatware. Look for fancy plastic silverware with embellished handles or metallic finishes that add a touch of class to your place settings.
Fruits as Decorations
Adding natural charm and freshness to your summer tablescape is easy with delightful fruit decorations. Opt for seasonal fruits in various colors and sizes to create an eye-catching display. Strawberries, oranges, peaches, and watermelon slices are popular choices that complement the pink and orange theme. 
Incorporating Fruits into the Table Design: Placement and Presentation
Fruit-Filled Centerpiece: 

Create a fun and stylish centerpiece using a decorative bowl or rustic tray with a mix of colorful fruits.

Fruit-Infused Water Station: 

Elevate your beverage station with a fruit-infused water display featuring sliced fruits in clear plastic pitchers.

Fruit Garnishes: 

Enhance the presentation of your drinks and dishes by using fruit slices or wedges as attractive garnishes.

Colorful Fruit Platters: 

Create a visually stunning fruit platter featuring a variety of seasonal fruits arranged in a captivating pattern. 

Individual Fruit Servings: 

Present individual fruit servings in stylish plastic bowls or disposable cups for a more personalized approach. 
Frequently Asked Questions (FAQs)
1. Where can I find affordable and stylish plastic tableware options?
Find budget-friendly and stylish plastic tableware at Smarty Had A Party's online store. They offer modern and elegant plastic plates, drinkware, and silverware that perfectly complement your vibrant tablescape design. Choose from their extensive selection to find the perfect pieces for your pink and orange theme without breaking the bank.
2. Can I mix and match different shades of pink and orange?
Certainly! Mix and match different shades of pink and orange to create a dynamic and lively summer tablescape. Experiment with various hues in linens, floral arrangements, and fruit decorations to capture the season's essence and add depth to your design.
3. What are some creative ways to use fruits as decorations?
Fruits can add both beauty and deliciousness to your summer gatherings. Get creative with their presentation in your tablescape design: use a decorative bowl or tray for a fruit-filled centerpiece, place fruit slices in clear pitchers for a refreshing beverage station, use fruit slices as garnishes, create a colorful fruit platter, and offer individual fruit servings in stylish bowls or cups. Let your tablescape become a feast for the eyes and the taste buds.
4. How do I ensure my tablescape design fits the overall theme of the celebration?
Start with a cohesive vision to ensure your tablescape fits your summer celebration theme. Consider the occasion, guest list, and desired ambiance. Harmonize the pink and orange palette with linens, plastic tableware, and decorations. Add natural elements like flowers and fruits for seasonality. Pay attention to details, coordinating napkins, drinkware, and silverware for a polished look. Your tablescape will seamlessly match your celebration and impress your guests.
Now it's time to gather your loved ones, create cherished memories, and let your colorful tablescape design spice up your celebrations in the most delightful way. Happy summer entertaining!