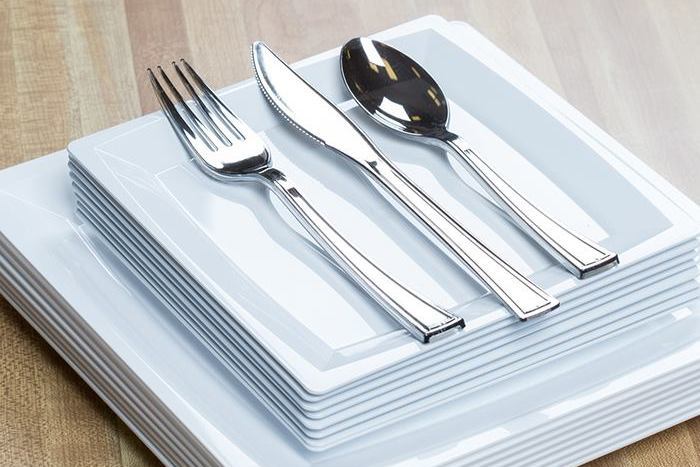 Top 10 Dinner Party Essentials for a Fantastic Party
There's nothing quite like a fancy dinner party to bring friends together. But, whether it's celebrating a special occasion or just an excuse to get together with loved ones, you must have the right party supplies to ensure your event goes smoothly. The following list of essentials will help you prepare for any occasion and ensure everything goes as planned!
1. Dinnerware
Plastic dinnerware is a must if you're hosting a large party, but it's just as useful for smaller ones too. It can be stacked and stored easily, making it convenient to take to your next gathering—or even use at home when hosting small dinners.
Plastic dinnerware is easy to clean and designed for one-time, single-party use, saving you time after your event.
Plastic dinnerware sets are also stackable, making them ideal for entertaining guests in your backyard or on the deck of a boat! In addition, they're lightweight, durable, and resistant against breakage thanks to their plastic construction—making them ideal choices for outdoor parties where there may be children running around playing games like cornhole or bocce ball!
2. Flatware
Disposable flatware is a must for any dinner party. Even if you have a dishwasher at home and plan to wash the dishes after your guests leave, disposable flatware is still an essential element of any successful dinner party.
Here are some reasons why:
Plastic flatware is affordable! You can buy enough for everyone at a great price by buying in bulk, saving you time and effort.

Disposable flatware is also lightweight and disposable, so you can use it once and throw it away without worrying about cleaning up afterward!

It comes in various colors and sizes, so you can find exactly what you need for your next event.

You'll never have to worry about breaking one of these cutlery pieces if it gets dropped because they're so durable.
3. Serving Ware
Plastic serving ware is a great alternative to real glassware. It is also inexpensive, disposable, and easy to clean. In addition, plastic serving ware comes in an array of colors and patterns, meaning you can coordinate your food presentation with the table setting or decorate the table for any occasion.
Plastic serving trays are perfect for hot appetizers and desserts that must be kept warm throughout the evening. You can even use them as mini buffets on their own!
4. Fancy Drinkware
You can't have a good dinner party without a great drink. There's more to serving drinks than just pouring a glass and placing it on the table. The right type of fancy drinkware can make your whole event seem much more unique and is an easy way to really impress your guests. Remember: no one wants their champagne flute to be shaped like a frog (unless frogs are actually your thing).
Besides just looking nice, elegant disposable drinkware also has to do its job—which means it needs to hold beverages without spilling them all over the place! So even if you have some spill-proof cups that can handle anything thrown at them (literally), you should still keep an eye out for proper glassware at whatever party store or restaurant supply shop is closest by so that everyone feels comfortable having fun and drinking responsibly at your next get together.
5. Disposable Serving Utensils
Disposable serving utensils are an essential part of any dinner party. It's important to have enough for all your guests, and disposable plastic forks, knives, and spoons are perfect for this purpose.
They're more affordable than renting and buying a bunch of silverware, especially if you're on a tight budget.
They're easy to use and clean up, so you don't have to spend time cleaning up after your party guests leave.
You can use them for many different parties—from birthday parties to weddings—so they're versatile tools that will last for many years!
Disposable serving utensils also help keep your party sanitary. They're easy to throw away and don't take up space in the kitchen. You can set up a buffet-style service and let people serve themselves without worrying about cross-contamination or getting sick from germs on other people's silverware.
And finally, they're just plain more fun! Your guests will be delighted at the convenience of using disposable utensils instead of washing dishes after each meal (and there's no need to worry about anyone leaving their fork in their glass).
6. Tablecloths
Disposable tablecloths are one of my favorite go-to party supplies because they get the job done without feeling like too much work—and I love that they exist in so many colors and patterns! In addition, they come in multiple sizes, so no matter how big or small your table is, these will fit nicely on top of it. You don't need any fancy tools or skills to set up these tablecloths; simply remove them from their packaging and lay them out on top of your dining table before guests arrive.
7. Napkins
Paper napkins are better than cloth napkins for parties because they're cheaper, more convenient, and more versatile.
They're more convenient because they don't have to be washed after each use (or even at all). All you have to do is throw them away! This makes it easy to keep the party going—you don't have to worry about changing out your napkins every time someone spills something on them.
They're more versatile because they come in many different colors and styles. You can buy plain white paper napkins or fancy printed ones; you can get solid colors or patterns; there are so many options that it's impossible to list them all!
Plus, they're highly durable and will be able to stand up to even the messiest of guests.
8. Wine Glasses
If you're hosting a party, you should ensure you have everything you need to make it a success. And one of the things that can make or break your party is making sure that your guests are comfortable—and that means having enough wine glasses for everyone.
But what if some of those glasses get broken? Or what if someone accidentally leaves theirs behind? That's where disposable wine glasses come in! They're perfect for parties because they're lightweight, sturdy, and easy to clean up when you're done with them. Plus, they're so inexpensive that it doesn't matter if they break or get lost—you'll be able to replace them without breaking your budget.
9. Carafes
Disposable plastic carafes are better for parties because they are more affordable, easy to use, and can be thrown out after use.
They're cheaper than buying glass that you'll have to wash after each party.
They're also much easier to clean up than regular carafes—you don't have to worry about getting them wet or using dish soap on them! Instead, you just throw them away!
And it's great for the environment because it keeps your trash from filling up so fast (and there's less waste).
For large carafes, you'll want to serve water or juice at your dinner party. The small carafe is great for serving iced tea and punch. Carafes can also be used to serve other drinks, such as lemonade or sangria.
10. Charger Plates
With disposable charger plates, you can throw a party without worrying about cleaning up after it. This is great if you need more time or just want to avoid dealing with the mess.
Charger plates are also great for parties because they help keep food hot longer than a standard plate would. You can even get disposable charger plates that are microwave safe, so if your guests want to keep their food warm, they can pop it back in the microwave without worrying about washing dishes.
Finally, charger plates come in all styles and colors, so you can match them up with your other decorations for an extra beautiful look!
With These Dinner Party Essentials, You'll be Well-Equipped to Throw a Great Dinner Party
You will want a few of these items for your next dinner party. I hope this post has helped you create a list of things to help turn your next dinner party into a success. It's important to remember that while some of these are essential, others are just nice to have. You don't need everything on this list for your guests to have a great time—but it sure makes things easier!