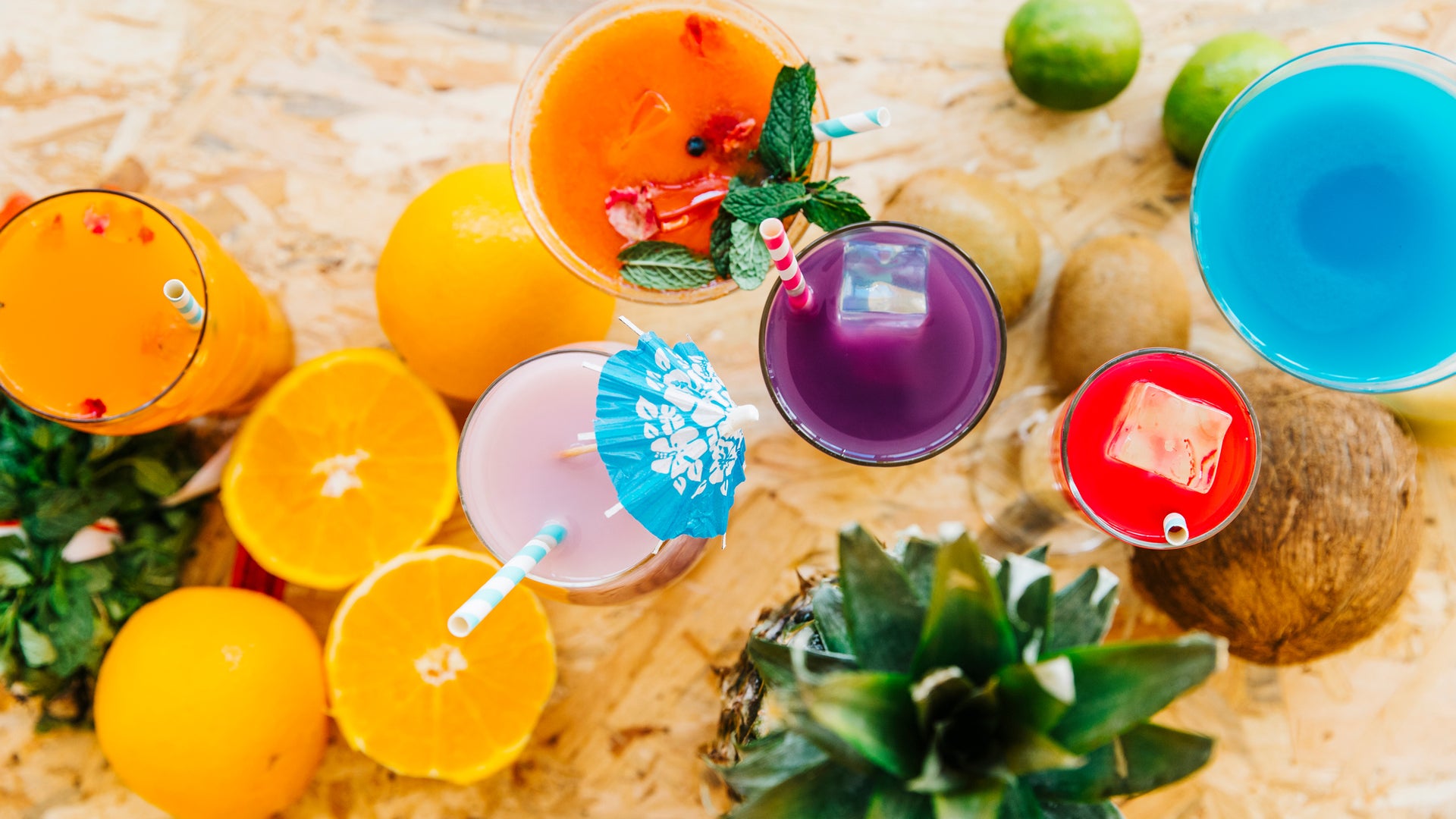 Toast to the Season: Hosting the Perfect Summer Cocktail Party
Summertime is the season of endless sunshine, warm breezes, and delightful gatherings. What better way to celebrate the joys of this season than by hosting a perfect summer cocktail party? Whether you're planning a backyard soirée, a rooftop gathering, or a poolside get-together, a well-executed cocktail party can create lasting memories for you and your guests. From refreshing libations to delectable bites, the key lies in striking the right balance between elegance and relaxation.
How to Host the Perfect Summer Cocktail Party?
This blog post guides you through hosting the perfect summer cocktail party. So, dust off your shakers, gather your favorite spirits, and prepare to be the host or hostess with the mostess. Let's dive into summer cocktails and create an unforgettable experience for your guests. Raise a glass and toast to the season of sunshine and celebration!
Crafting the Perfect Summer Cocktails
1. Tropical Paradise Punch
A vibrant and fruity concoction, perfect for a summer gathering.

Ingredients: pineapple juice, orange juice, coconut rum, grenadine, and fresh fruit slices.

Garnish with fresh pineapple wedges, colorful umbrellas, and edible flowers for a tropical touch.
2. Watermelon Mojito
A refreshing twist on the classic mojito featuring the juicy sweetness of watermelon.

Ingredients: fresh watermelon, mint leaves, lime juice, white rum, soda water.

Garnish with a sprig of mint, a watermelon wedge, and a lime wheel for a visually appealing cocktail.
3. Cucumber Basil Gin Fizz
A light and herbaceous cocktail that showcases the crispness of cucumber and the aromatic essence of basil.

Ingredients: cucumber slices, basil leaves, gin, lime juice, simple syrup, soda water.

Garnish with a cucumber ribbon, a basil leaf, and a lime twist for an elegant touch.
4. Berry Bliss Spritzer
Bursting with the flavors of seasonal berries, this spritzer is both refreshing and visually stunning.

Ingredients: mixed berries (strawberries, raspberries, blueberries), lemon juice, simple syrup, sparkling wine, or soda water.

Garnish with a skewer of fresh berries and a sprig of mint for a vibrant and inviting presentation.
Serving with Style and Elegance: Disposable Drinkware
When hosting a summer cocktail party, serving your beverages with style and elegance is a must. While traditional glassware may be elegant, it's not always practical for outdoor or large-scale gatherings. That's where disposable drinkware comes to the rescue. Let's explore the different types of disposable drinkware options available and how they can add a touch of sophistication to your summer cocktail party.
Plastic Tumblers
Advantages and versatility: Plastic tumblers offer numerous advantages for your summer cocktail party. They are lightweight, durable, and shatterproof, perfect for outdoor entertaining. Their versatility allows them to be used for various beverages, from cocktails and mocktails to refreshing juices and iced teas.
Recommendations for stylish options: Look for plastic tumblers that mimic the appearance of glassware to elevate the elegance of your party. Opt for clear tumblers with sleek designs or patterns that match your party theme. Smarty Had A Party offer stylish plastic tumblers that are functional and visually appealing.
Champagne Flutes
Elevating the celebratory vibe: Champagne flutes instantly bring a touch of glamour and celebration to any gathering. Disposable champagne flutes allow you to maintain that celebratory atmosphere without worrying about delicate glassware. Your guests can sip their bubbly with style and elegance, toasting the season and creating unforgettable memories.
Tips for selecting elegant disposable flutes: When choosing disposable champagne flutes, look for options with a slender and elongated design reminiscent of traditional champagne flutes. Clear or transparent flutes will showcase the champagne's golden bubbles and vibrant colors. 
Wine Glasses
Enhancing the wine-tasting experience: Wine glasses play a crucial role in enhancing the aroma and flavor of wines. Opting for disposable wine glasses allows you to enjoy the benefits of proper wine tasting while maintaining the convenience of disposable options. Your guests can indulge in their favorite wines without compromising on elegance.
Suggestions for disposable wine glass alternatives: Look for disposable wine glasses with a tapered bowl shape, allowing the wine to breathe and effectively capturing the aromas.
Party Cups
Casual yet functional: Party cups are perfect for serving refreshing summer cocktails and other mixed beverages. They are casual, easy to hold, and ideal for relaxed and informal gatherings. Disposable party cups come in various sizes and designs, making them a versatile choice for your summer cocktail party.
Ideas for fun and colorful party cup designs: Consider using party cups in vibrant colors or with fun patterns to add a playful touch to your event. You can find disposable party cups in various sizes, including options with lids and straws for convenient sipping. 
Martini Glasses
Adding sophistication to your cocktail selection: Martini glasses exude sophistication and class, elevating your cocktail selection to new heights. Disposable martini glasses offer the elegance of traditional glassware without the risk of breakage. Serve your signature martinis or other fancy cocktails in these stylish vessels for a touch of glamour.
Noteworthy disposable martini glass options: Look for disposable martini glasses with a classic cone-shaped design and a long stem. This timeless silhouette enhances the presentation of your martinis.
Pairing Cocktails with Delicious Summer Bites
1. Citrus Grilled Shrimp Skewers with Mango Salsa
The zesty and tangy flavors of grilled shrimp pair perfectly with the tropical sweetness of mango salsa. The acidity from the citrus marinade enhances the freshness of your cocktails.
2. Caprese Skewers with Balsamic Glaze
These elegant skewers feature fresh mozzarella, cherry tomatoes, and basil leaves drizzled with a tangy balsamic glaze. The combination of creamy cheese, juicy tomatoes, and aromatic basil complements a variety of cocktails.
3. Mini Chicken Satay with Peanut Dipping Sauce
These flavorful skewers of marinated chicken served with a rich peanut dipping sauce, provide a delightful balance of savory and nutty flavors. They pair well with cocktails that have hints of spice or tropical notes.
4. Watermelon, Feta, and Mint Skewers
This refreshing and vibrant combination of watermelon, tangy feta cheese, and fragrant mint leaves offers a delightful contrast of sweet, salty, and herbal flavors. It harmonizes particularly well with light and fruity cocktails.
5. Bruschetta with Tomato and Basil
Classic bruschetta is a crowd-pleaser that combines the juiciness of ripe tomatoes, the herbal freshness of basil, and the earthy tones of garlic. Its simplicity makes it a versatile pairing option for a wide range of cocktails.
Setting the Scene: Decor and Ambiance
Embrace the Colors of Summer: 

Incorporate vibrant and refreshing colors into your decor to evoke the essence of summer. Opt for turquoise, coral, lemon yellow, or lime green shades. In floral arrangements, you can use these colors in table linens, cushions, or accents.

Bring in Natural Elements: 

Incorporate natural elements that reflect the season's beauty. Use fresh flowers, potted plants, or succulents as centerpieces or scattered throughout the party area. Consider incorporating decorative accents like seashells, driftwood, or tropical fruits.

Set the Table in Style:

 Dress up your tables with summery tablecloths or runners in bright colors or playful patterns. Add pops of color with vibrant napkins, decorative plates, or themed coasters. Consider using seashell or starfish-shaped placeholders for a beachy touch.

Create Ambient Lighting: 

Set a relaxed and inviting mood with the right lighting. Use string lights, lanterns, or candles to create a warm and cozy glow. Place candles in hurricane vases filled with sand or shells to evoke a beachy ambiance. Consider using citronella candles to keep pesky bugs at bay.

Play with Fabrics and Textures: 

Incorporate lightweight and airy fabrics like linen, cotton, or sheer curtains to create a breezy atmosphere. Add outdoor cushions or throw pillows in playful patterns and textures to make seating areas more comfortable and inviting.

Set up a Beverage Station:

 Create a designated beverage station where guests can easily serve themselves. Use a stylish bar cart or a table adorned with a colorful tablecloth. Display your cocktail ingredients, garnishes, and drinkware in an organized and visually appealing manner.

Create Chill-out Areas: 

Provide comfortable seating areas where guests can relax and socialize. Arrange outdoor lounge chairs, hammocks, or picnic blankets with cushions and throw pillows. Add shade with umbrellas or canopies to offer respite from the sun.

Set the Soundtrack: 

Enhance the ambiance by curating a summer-inspired playlist. Choose a mix of upbeat tunes and laid-back tracks that match the vibe of your party. Consider incorporating tropical or beach-themed music to transport your guests to a summer paradise.
Frequently Asked Questions (FAQ)
1. What is the best way to keep drinks cold during a summer cocktail party? 
Consider using ice buckets or coolers filled with ice to keep your drinks refreshingly cold. Arrange the bottles or cans inside and surround them with ice to maintain their temperature. You can also freeze fruits or herbs in ice cubes to add a decorative touch and prevent dilution.
2. How many cocktail options should I offer my guests? 
It's ideal to offer various cocktail options to cater to different tastes. Aim for three to five cocktail options, including classic favorites and seasonal creations. Ensure that your offerings include a range of flavors, such as fruity, citrusy, and herbal, to accommodate diverse preferences.
3. Can I customize disposable drinkware for a personalized touch? 
Yes, you can add a personalized touch to your disposable drinkware. Consider adding your monogram, event logo, or a fun summer-themed design to make the drinkware uniquely yours.
4. What are some non-alcoholic cocktail options for guests who don't drink? 
It's important to cater to guests who don't consume alcohol. Provide a variety of non-alcoholic cocktail options, also known as mocktails. Some popular non-alcoholic options include virgin mojitos, fruit spritzers, flavored iced teas, and sparkling water infused with fruits or herbs. Be sure to garnish them with visually appealing fruit slices or mint sprigs.
Now, it's time to let your creativity shine, gather your loved ones, and embark on a summer soirée filled with laughter, clinking glasses, and the warmth of the season. Cheers to the perfect summer cocktail party and the unforgettable moments ahead!